Nebraska Theme License Plates - BUGEATR - Washington

I drove a 1998 RED VW Beetle for several years while living in Washington state. Most folks assumed that my BUGEATR plate had something to do with the fact that it was on a VW bug but occasionally a fellow Husker would recognize the significance and give me a thumbs up Go Big Red! My daughter, a student at Mizzou (ugh!), has the bug now. Unfortunately it now has Missouri plates on it but the last time I saw it it still had a Husker logo sticker in the rear window!
Husker in Spokane on the BBS (but now residing in South Carolina).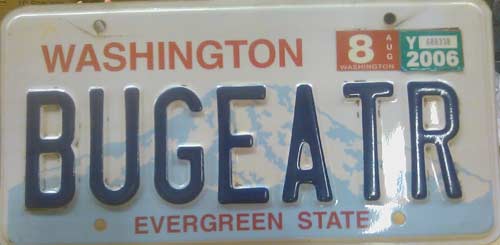 Send your plate image and story to plates@huskermax.com. Return to Return to license plate index.