Nebraska Theme License Plates - AZ4NB Arizona

I grew up in Colorado, but I hate the Buffs. I became a husker fan in about 1978. I've been living in Arizona since 1990.

I usually go to Lincoln for at least one or two games a year, and sometimes the Bowl game. Husker Football is my passion....can't live without it.

Living here in Arizona I am constantly reminded that ASU beat # 1 Nebraska in 1996. These folks have no idea what it is to be a true college Football team is. I always reply by saying " Yes you did win 19-0 that year. I bet you forget the year before when NU beat ASU 77-28. I also remind them that NU has more National Championships than ASU has Pac 10 titles. And of course no National titles.

That's my story and I'm stickin to it.

GO BIG RED !!!

Chris Gallegos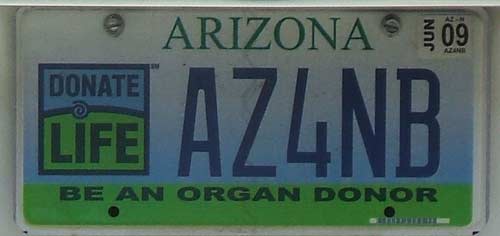 Send your plate image and story to [email protected]. Return to Return to license plate index.