Nebraska Theme License Plates - 2HUSKRS Utah

Driving home through western Colorado (a ??little?? too fast in a construction zone) we didn't think we would get much sympathy from the CHP officer who pulled us over. After remarking about the license plate he suggested I slow down and handed me a warning ticket. Sooner magic? You can have it. I prefer Husker Magic. Kathy is the baseball fanatic, we follow baseball using the internet feed. Looking for a better year next year with the bats.

In BO we trust.

Gary & Kathy Lemke
St. George, UT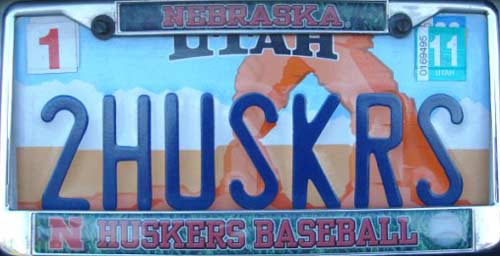 Send your plate image and story to [email protected]. Return to Return to license plate index.