Pernell: Should Frost Look to Add a Transfer QB?
It's been a hot-button topic during the young offseason. With two scholarships still available to maximize Nebraska's 25 initial counters in 2021, should Frost look to add a quarterback? During his postgame press conference following Saturday's spring game, Frost indicated he would likely look elsewhere to use those last two scholarships. I think it would be wise for him to keep his eyes and mind open to adding to Mario Verduzco's room.
Nebraska could use another veteran in the mix, but I agree with most pundits that Frost would be hard-pressed to find one who's willing to come to Lincoln only to be QB2 behind Adrian Martinez. After watching Frost pass on Joe Burrow during the 2018 offseason and McKenzie Milton this past December, it's clear Nebraska's head coach believes in the 27-game starter. No veteran worth his salt is going to choose to come to Nebraska and sit on the bench for his final season or two of college football. Especially when he doesn't have a shot at unseating Martinez, which clearly Frost is not willing to offer.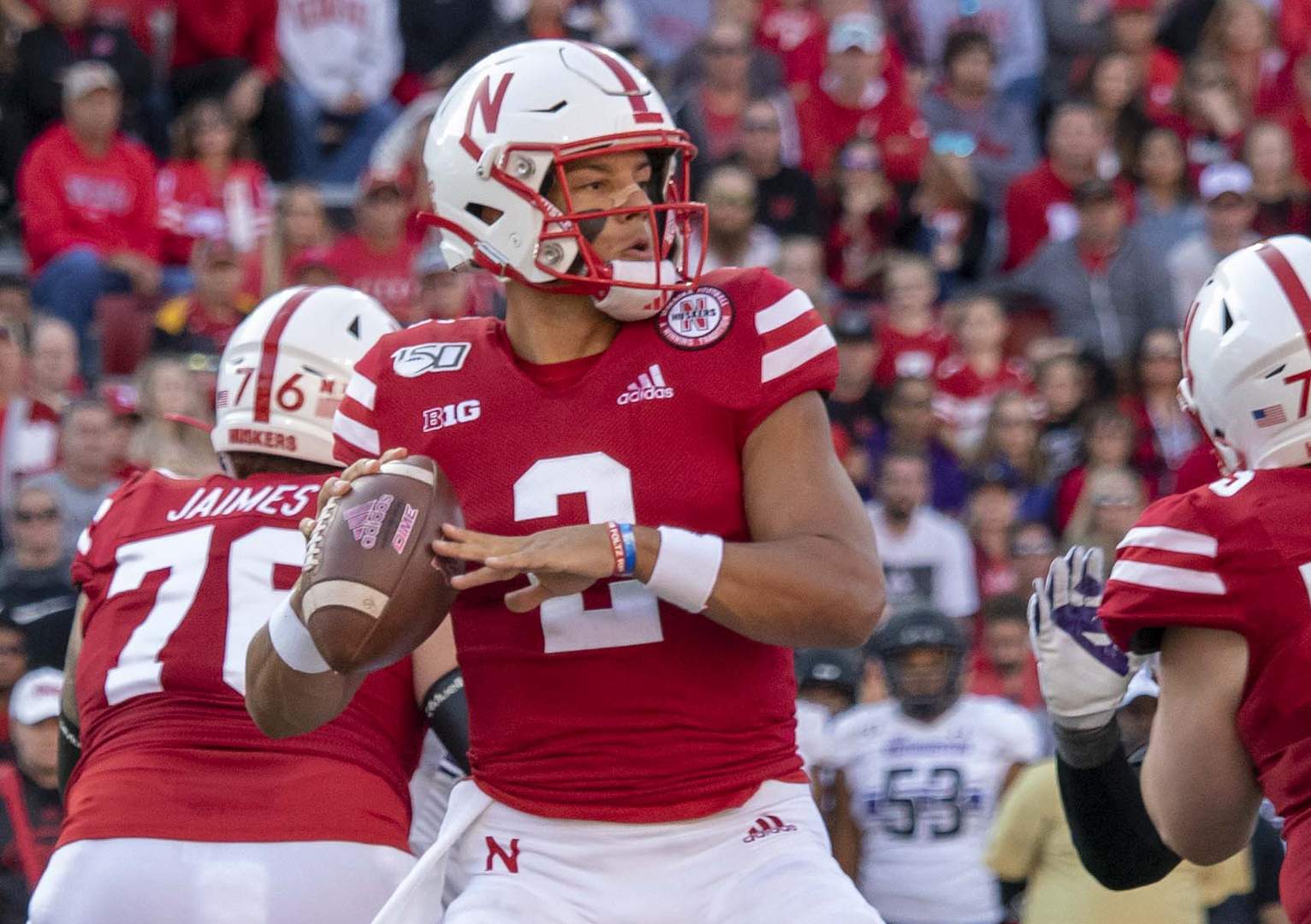 Adrian Martinez
| Kenny Larabee, KLIN
Later this month when the junior college season comes to an end, I suspect the staff will try and entice a promising juco transfer into walking-on, much like Mike Riley did with Andrew Bunch. The delayed juco season – coupled with the fact most teams have limited spots available – might prompt graduating juco players into accepting walk-on offers with limited opportunities this summer. The blue-chip kids will still have plenty of options, but the limited spots will trickle down to other players and there will be talented kids who are forced to compromise. For example, a kid who normally would sign with a Power Five program will be relegated to a Group of Five team. In turn, essentially bumping a kid who would get that opportunity and forcing them into the FCS ranks or into betting on themselves as a walk-on at a more prestigious school. You can trust Ryan Held will have his ear to the ground regarding prominent juco prospects who will become available soon, regardless of position.
Whether or not Nebraska is able to grab a veteran juco signal caller, I believe Frost should be monitoring the transfer portal in search of a promising youngster to add as well. With spring ball coming to an end across the country, you can expect another wave of attrition. Thursday morning saw talented LSU freshman TJ Finley enter his name into the portal. This is exactly the sort of talent Frost should be open to adding. A four-star prospect according to ESPN, Finley started five games as a true freshman last season for the Tigers. Thanks to the COVID eligibility freeze, Finley will basically be a true freshman all over again at his next destination. Frost has to consider someone like this.
Nebraska's head coach could communicate the situation and opportunity available to a youngster like Finley (or someone in his category). Let them come in, battle for the backup spot, and then if Martinez decides to move on after this season, they will have had a year learning the system and the chance to take over in 2022 and be a multi-year starter. Make them aware that Martinez could also come back for a fifth year, but the competition to take over in 2023 would be wide open – as would the chance to still be a multi-year starter. A guy like Finley could still redshirt in 2021 and have four-years of eligibility. The key would be communication. If a kid is okay with the path you lay out, I think it's advantageous bringing someone in.
I don't think Adrian Martinez has much of a shot at a pro career at this point, so I don't know why he'd leave a year of eligibility on the table, but if he does, Nebraska could be in trouble in 2022. Even if Martinez has a breakout season and is All-Big Ten caliber, he would still have enough red flags from his first three seasons to warrant returning for another season. If not, you're looking at:
* Logan Smothers. A tremendous athlete much like Luke McCaffrey. But like McCaffrey, he has questionable arm talent.
* Heinrich Haarberg. Like I wrote in my recruiting roundup, Haarberg might have the highest ceiling of all the quarterbacks Frost has brought to Lincoln. He has an NFL arm. But he needs to clean up his release and improve his footwork. Can he do that and master the playbook in a year?
* The 2022 class quarterback. Even if this ends up being the top guy on their board, MJ Morris, it's not an ideal situation asking a true freshman to take the reins.
What's the downside to adding someone? I don't see one. It won't effect your 2022 or 2023 recruiting. If Martinez leaves after this season, you'll have added another talented option who'd have a year in the system to battle for the vacant job. If Martinez comes back, what's the worst-case scenario? Again using Finley as the hypothetical example, would he transfer if Martinez stayed another year? He would have come knowing that was an option. Haarberg wouldn't transfer. He came to Nebraska knowing he would sit for at least two years, he's already looking at 2023 being his offseason to battle for the job. What are the chances your '22 class quarterback would bail? He's coming to Nebraska knowing what's ahead of him and the outlook of the position. Like Haarberg, he's already eyeballing 2023. You're 2023 class quarterback would be signing with an idea of his immediate and long-term future. The only negative I could envision would be Logan Smothers. But to be honest, whatever conclusions he and the staff come to in the 2023 offseason, will also be apparent in 2022 as well. Whether that's a decision to move him to the Duck-R position, or if it's obvious that other quarterbacks are progressing past him. The results are going to be the same. A portal addition this summer won't effect his trajectory.
Sure, this scenario would jumble four or five guys into basically the same eligibility cluster, but the guy that comes out on top will have had to beat out plenty of competition. A player or two would inevitably transfer, but that's already the landscape of college football that everyone is navigating through. That's inevitable regardless of whether or not you add a guy in the portal. Giving yourself more options is smart, especially at the games most important position. If the right guy becomes available and is comfortable with Nebraska's quarterback situation, Frost can't look past this option.
Jeremy Pernell has been contributing to HuskerMax since 2013. You can email him at jgpernell@comcast.net.