Pernell: Optimism is high with spring ball starting tomorrow
This time of year hope springs eternal throughout the college football landscape, and Nebraska is no different. Despite back-to-back 4-8 seasons that resulted in missing consecutive bowl games for the first time since 1967-68, the Huskers have been singled out by several publications as a potential dark horse team heading into 2019. In fact, they've appeared on numerous "Way-Too-Early" Top 25 lists, including those by ESPN (#24), USA Today (#21), Athlon (#19), CBS Sports (#18), SB Nation (#25) and Bleacher Report (#25).
The obvious catalyst for such high expectations is Adrian Martinez, who is coming off a rookie campaign that saw him earn Freshman All-American and honorable mention all-conference honors after breaking 11 school records. Don't forget, Martinez didn't play his senior year in high school after having surgery in March of 2017 to repair a torn labrum in his throwing shoulder. Martinez is tailor-made for Frost's offense. It's scary (for Big Ten Defensive Coordinators) to think how good he can become. When Frost discussed Martinez after inking him in the 2018 class, he flatly stated "When I was evaluating quarterbacks for this class a long time ago, Adrian was my favorite guy in the country." At the time, many probably figured it was a bit of hyperbole. Not anymore. According to the latest odds from Westgate Las Vegas SuperBook, which were released a few days ago, Adrian Martinez has the 3rd best Heisman odds in the country at 6-to-1.
With the Husker offense still in its chrysalis stage last season, Martinez helped Nebraska hit a few high-marks. The offense averaged 456.2 yards per game, the most for a Husker team since 2012. They averaged 209 rushing yards, the most since 2014. The team averaged 30 points per game, highest since 2015. Nebraska gained 450 yards in seven straight games, a school record. Four teams held the previous record of six: 1972, 1982, 1994 and 1995, some of the most efficient offenses in school history. The 2018 offense eclipsed 500 yards five times for the first time in a season since 2000. It hit 600 twice in Big Ten play over a four-game stretch after reaching that mark only once in its first 62 games in the league.
With Frost still building the roster to fit his system – and doing a fantastic job on the recruiting trail, the sky's the limit with this offense. Expecting it to reach levels enjoyed by former Frost teams shouldn't just be hoped for by fans, it should soon be expected. For a refresher, in 2017, UCF led the nation in scoring (48.2 ppg), were 5th in total offense (530.5 ypg), and 2nd in yards per play (7.46). Oregon finished in the top five nationally in scoring offense, total offense and yards per play each of the three years (2013-15) that Frost was offensive coordinator.
Scott Frost's message since being hired at his alma mater has been that the turnaround will happen – quickly. He's been consistent in saying as much since his arrival. Last April, a few weeks after the conclusion of spring ball, Frost told Bruce Feldman of Sports Illustrated, "We'll be a little better this year than they were last year, but it takes some time for the kids to really understand the scheme, and the systems and the details that make it work. We need a couple of years of training in the weight room and a couple of years of getting the culture established. Year two is when it's gonna take off around here—and taking off doesn't mean we're gonna go undefeated, but we'll be a really good team in two years." In the same interview, Frost added, "It takes a couple years or three years to get a program all the way there. Where you have the talent at every position that you need, that you have kids who understand how you need to do things, that you have kids who are putting needs of the team above individual needs. Those things don't happen overnight. The patience part of it comes in. We're going to be better this year, and judging by what I saw this spring, by Year 2, we're going to be really dangerous."
He continued the narrative throughout last offseason. "I know if we're getting better day by day, we're going to be really dangerous and hard to beat in the very near future," Frost said last July during Big Ten Media Days. "We'll see how this first year goes. People better get us now because we're going to keep getting better." The Husker head coach remains confident in the direction of his program. Two weeks ago he told Kansas City-area fans "I think we'll surprise people with how much better we get and how quickly it happens." Frost knows a thing or two about fast turnarounds. He has explained the progression that comes with a team thinking, then knowing, then expecting it can win. How close is this team to the latter? They certainly seemed to be on the cusp of that mindset towards the end of last year.
It was a tale of two seasons in 2018 for Nebraska. The Huskers began the year 0-6, extending its school-record losing streak to 10 games. Most teams in that situation fracture and throw in the towel. On the contrary, the team grew closer. They continued to battle. They continued to believe in their coaches. The Huskers would finish 4-2 the last half of the season. The teams last three losses were all on the road, with two of them coming on the last play of the game. They lost on a field goal in overtime to Northwestern, a 9-win team that finished No. 21 after winning the Big Ten West and the Holiday Bowl. Nebraska was leading by 10 points with less than 6 minutes to go. The Huskers led Big Ten Champion Ohio State at halftime before falling short by five to a Buckeye squad that won the Rose Bowl and finished ranked No. 3. The Huskers ended the year losing to a 9-win, Outback Bowl-winning Iowa team that ended up No. 25. Nebraska lost on a last second field goal. All told, five of Nebraska's eight losses were by five points or less – all games where one or two changed plays could have turned a loss into a win.
This season, it just feels like those one or two plays will be made. I believe Scott Frost has Nebraska on the road back to national relevance. He fixed a dysfunctional culture and created a fun and exciting environment to play and be a part of, but also one with accountability. His mantra of 'desire to excel and no fear of failure' has taken hold. It's often said that some of the biggest jumps for programs come in a coach's second year. Frost can certainly attest to that after what he accomplished at UCF. It's premature to expect an undefeated season from the Huskers, but flipping their 4-8 record into an 8-4 campaign in 2019 seems a reasonable benchmark to aspire towards.
There was a lot of hype leading up to Frost's first season. I have to admit, I cringed a bit last April when athletic director Bill Moos got ahead of himself a bit. Speaking at an Omaha Press Club luncheon a few days following the Red-White Spring Game, Moos gave the Big Ten's preeminent programs some bulletin board material. "You've got Urban Meyer and Jim Harbaugh thinking, 'We better put a little more into that Nebraska game coming up.' And that's the way we want it," Moos said, according to the Omaha World-Herald. "They're running a little bit scared right now. And they won't admit it. We'll leave that at that." Was the comment a bit tongue in cheek? Sure. But I guarantee it didn't go unnoticed by Ohio State and Michigan – and the rest of the conference. Knowing Jim Harbaugh, I'm sure he and his staff rehashed those comments and chuckled following their 56-10 blowout of the Huskers on September 22.
The thing is, by the time November rolled around, Big Ten coaches weren't laughing at that statement anymore. After Nebraska gave the Buckeyes all they could handle, Urban Meyer pretty much summed up the sentiment among the conference's coaches, "I get that that was a two-win team, but that's a two-win team that people don't want to play right now," Meyer said. "On videotape, I wasn't expecting to see what I saw." Meyer concluded, "Very good players, very good scheme and guys are going to get very good."
Moos' comments were made a year early, but they'll turn out to be prophetic. I think Nebraska will contend for the Big Ten West this season, but their big move will come in 2020 when they have the potential to return all 11 starters on offense. After 28 top-10 finishes between 1963 and 2001, the Huskers have finished in the top 25 just six times in the last 17 years – and haven't done so since 2012. That streak comes to an end this year. From 1963-2003, Nebraska won five national titles, 25 conference titles and had 23 double-digit wins seasons. They'll be ready to resemble those teams in 2020.
Prior to contributing to HuskerMax, Jeremy Pernell co-founded the all-football website N2FL.com. From 2002-2014, he served as the editor in chief of the college football portion of the website, which focused heavily on talent evaluation, which included NCAA recruiting and the NFL Draft. He has analyzed and covered the NCAA and NFL for 25 years. You can email him at jgpernell@comcast.net.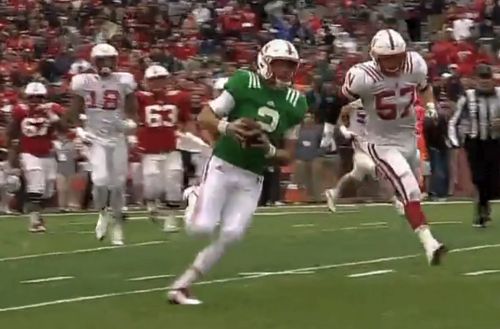 ---
---
---