Pernell: Nebraska adds elite JUCO Defensive Back
Scott Frost and his staff leave no stone unturned when it comes to looking for talent to add to the roster. He has reignited the storied walk-on program and this offseason has added several transfers from FBS programs. Most notable among them are offensive linemen Nouredin Nouili, who as a true freshman last season started seven games at guard for Colorado State, and Ezra Miller, a former four-star recruit in the 2019 class who signed with Iowa and was expected to contend for playing time this fall for the Hawkeyes.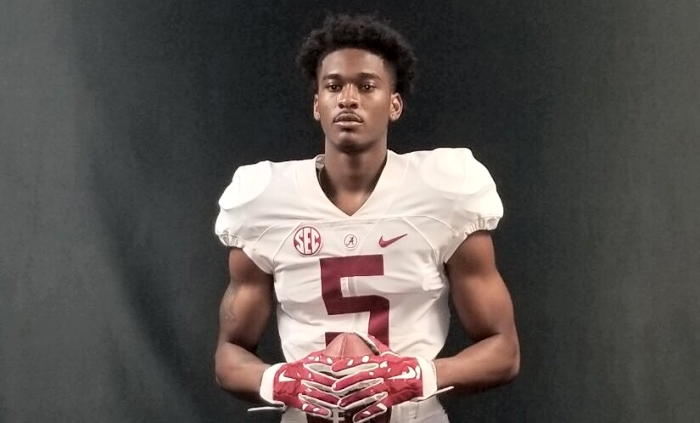 Following February's National Signing Day, the Huskers had two available spots to fill out its 2020 recruiting class. They used one of those spots in mid-May when they added Australian punter Daniel Cerni, who is expected to come in and compete for the job this fall. Cerni was identified by Jonathan Rutledge, who Frost hired away from Auburn in February to be his special teams analyst.
As much as any school in the country, Nebraska keeps an eye on the junior college landscape, even in the months following the traditional signing period. Fans might remember Frost adding Jahkeem Green out of Highland Community College in Kansas last August. Green was considered the No. 1 defensive tackle and No. 6 overall junior college prospect in the country by ESPN. A native of Sumter (SC), Green had been pursued by most of the top programs in the SEC, holding early offers from Alabama, Florida, Georgia, Mississippi State, South Carolina, Tennessee and others. Green wasn't able to sign that February because he was still a few credit hours shy of qualifying. Ryan Held kept tabs on him and the Huskers continued to recruit him as he worked on gaining eligibility. It ended up paying off. After arriving in Lincoln midway through fall camp, Green used his available redshirt and will look to make an impact this fall.
Scouring the junior college ranks for late gems is something Frost and his staff have done dating back to their days at Central Florida. In the summer of 2017, they signed North Carolina bounce-back Mike Hughes out of Garden City (KS) Community College. Hughes would go on to be drafted in the first-round by the Minnesota Vikings in 2018, becoming the highest-drafted defensive player from UCF in school history.
It was once again the junior college market where the staff went to fill their remaining spot. Last Friday night, Independence (KS) Community College defensive back Nadab Joseph announced on Twitter that he was committing to Frost and the Huskers.
Joseph's recruitment popped onto Husker fans' radar within days of learning that Henry Gray had entered his name into the transfer portal in late May. Behind the scenes, however, Husker coaches had been recruiting Joseph since initially offering him a scholarship in April of 2019. After catching wind of the mutual interest, new information was nonexistent for nearly two months. It wasn't until Joseph went public two days prior to his July 24 announcement date, letting everyone know he planned to finally commit.
A consensus four-star recruit, Joseph was one of the most sought-after prep players in the country. Coming out of Miami Norland High School, he received more than 20 offers including Alabama, Auburn, Florida, Florida State, Georgia, LSU, Miami, Mississippi State, Oklahoma, Ole Miss, Oregon, Penn State, South Carolina, Tennessee, West Virginia, Wisconsin, and many others. Joseph was considered a top-of-the-board target for each school who offered and received mutual interest.
Joseph's recruitment eventually became the focus of one of the most competitive SEC recruiting battles of the 2018 cycle. He initially committed to LSU in June of 2016, but that didn't dissuade schools from continuing to prioritize him. Chief among those was Alabama, who welcomed Joseph to a pair of camps in June of 2017. After standout performances, the Crimson Tide offered and were able to talk Joseph off of his commitment to the Tigers in August. After an official visit to Tuscaloosa in November, Joseph committed to Alabama the first week of December.
However, the school had concerns over Joseph's grades. As fate would have it, the 2018 recruiting cycle was the first to include an early signing period. Nick Saban wanted Joseph to wait until the traditional signing period in February, when it would be more apparent whether or not Joseph would be able to qualify. Being the talent that he is, several other teams were willing to take the chance on Joseph's academics. On December 20, the first day of the early signing period, Alabama chose not to send over a letter of intent for Joseph to sign. The University of Georgia did, however, and Joseph signed with Bulldogs. As it turned out, Saban was right to be concerned. Joseph didn't qualify out of high school and ended up enrolling at Independence.
In the summer of 2018, Joseph was a standout during camp for the Pirates when a sprained foot sidelined him for five weeks. Joseph had planned on re-signing with Georgia, so at that point it was decided the best thing for him to do was redshirt, get qualified, and return to Athens as a four-for-four transfer. Unfortunately, Joseph wasn't able to get his academic standing where it needed to be to accomplish that. Instead, he returned to Independence for another season in 2019.
Last June, prior to the start of his second junior college season, Joseph decided to attend another camp at Alabama. If he wanted to remind Nick Saban just how talented he was – well, mission accomplished. He reportedly ran a 4.44 in the 40-yard dash, posted a 42-inch vertical jump, and had an 11-foot broad jump. To put that in perspective for you, there were 61 defensive backs invited to this year's NFL Combine. Joseph's 40 time would have tied for the 7th fastest among them, and tied for 11th overall among all 337 participants. His vertical would have tied for 1st among DBs and tied for 2nd overall, and his broad jump would have tied the 4th best mark among DBs and tied for 7th overall. Yeah, this kid is an elite athlete. Did I mention he is every bit of 6-foot-2 and north of 190-pounds? On top of all that, he excelled in one-on-ones and the other drills Saban put together. Alabama reoffered him that day and vaulted him toward the top of their recruiting board.
Joseph became one of the most sought-after junior college prospects in the country. Once again he was ranked a consensus four-star recruit. Rivals, ESPN and 247Sports all considered him the #1 defensive back in junior college and among its top three prospects overall. Heading into the 2019 season, Joseph had offers from Alabama, Arizona, Baylor, Colorado, Georgia, Illinois, Kentucky, Mississippi State, Nebraska, Ole Miss, Texas A&M and West Virginia. But much like the tail end of his high school career, Joseph found himself deciding between Alabama and Georgia.
That fall, Joseph played in five games for Independence before suffering a minor knee injury. At that point, with plans on signing with Alabama, Joseph decided to skip the final three games of the season so he could concentrate on his grades. By that time, Georgia and most of the rest of his suitors had moved on because of academic concerns. Alabama soon followed. Joseph went unsigned because schools were apprehensive that he would earn his associate's degree in time to play this fall.
Nadab persevered and did in fact graduate from Independence on May 21. Because of COVID-19, Joseph was already back home in Miami taking two more summer classes in order to raise his grade-point average so he could become NCAA-eligible. Nebraska, who had continued to monitor his situation, shifted into overdrive looking to add him to their 2020 class. They weren't the only ones. Much like Jahkeem Green the year before, Joseph needed to take an online math class through an outside party rather than through his Junior College itself. The SEC doesn't take credits that are earned online via a third party. That meant schools like Alabama and Georgia couldn't take him. Joseph was far from lacking in options, however. Arizona, Illinois and West Virginia were just a few of the other schools publicly linked to Joseph.
Nebraska won out and are getting an incredibly talented player. With the added loss of Jaiden Francois to the transfer portal on July 17, the timing couldn't have been better bringing in a talent like Joseph. Look at his highlights, whether from Independence or Miami Norland High School, and you'll see a kid who can play all four traditional defensive back positions: boundary corner, field corner, free and strong safety. Travis Fisher loves to cross-train his guys, so he'll get a look all over the back end.
Joseph has the physical profile of a potential shutdown corner in my opinion because of his length and athleticism. He's outstanding in press coverage, where his physicality and long arms make it difficult for receivers to get a clean release. He disrupts the route and timing between the quarterback and receiver. He also displays excellent change of direction and moves so smoothly. Joseph has great hips and can turn and run with any receiver. He tracks the ball extremely well in the air, winning most 50-50 contests and has the ball skills to come away with turnovers. As a safety, Joseph has elite closing speed and doesn't shy away from contact. He is more than willing to come downhill in run support. He reads the eyes of the quarterback quite well and has the kind of range where he can close and break up passes as a centerfielder or with zone responsibilities.
Bottom line, Nadab Joseph checks all the boxes as they like to say. Had this been a normal offseason and Joseph arrived in January, I believe he would have unseated Dicaprio Bootle and moved the reigning two-year starter over to nickel, permanently. I wouldn't anticipate that happening now. Nebraska is currently in the middle of its two weeks of minicamp-style workouts. If things go as planned (knock on wood), the team will open preseason camp on August 7. It's unclear when Joseph will complete his summer school work and have his transcripts approved by Nebraska's compliance department. In all likelihood, Joseph will get a late start next month and be forced to play catch-up until the season (hopefully) starts. He's a 3-for-3 player, though, and if not this year, I expect him to make a name for himself somewhere as a starter in Nebraska's secondary. Soon.

Prior to contributing to HuskerMax, Jeremy Pernell co-founded the all-football website N2FL.com. From 2002-2014, he served as the editor in chief of the college football portion of the website which focused heavily on talent evaluation, which included NCAA recruiting and the NFL Draft. He has analyzed and covered the NCAA and NFL for 25 years. You can email him at jgpernell@comcast.net.
---
---
---