Pernell: Frost facing a Quarterback Crossroads
Scott Frost knows all about the highs and lows of being the starting quarterback at Nebraska. After all, he replaced Tommie Frazier – the guy who's most prominently featured on this historic programs 'Mount Rushmore.' Frost was booed by his own fans, and he also was able to lead his team to the pinnacle of college football. Since he's been a head coach, he's been sensitive of the plight of the position. Frost has tried to protect his quarterbacks from the scrutiny they receive. He does his best to keep his pupils level headed and prepared for the ups and downs that come.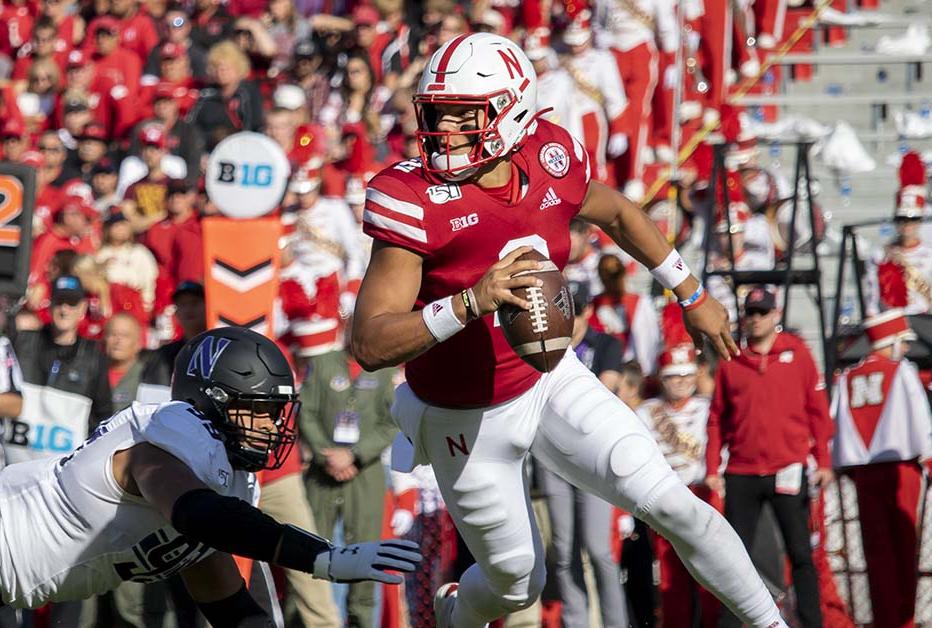 Martinez in 2019 vs. Northwestern.
| Kenny Larabee/KLIN
Adrian Martinez entered this season as a two-year starter. He became the first true freshman in program history to start an opener at quarterback after being Frost's hand-picked choice to take the reins when he got here. Martinez was supposed to grow with the offense and transform it into one of the most dangerous in the country. That hasn't happened, though the signs were certainly there in the beginning. Martinez broke 11 school records as a freshman. His 295.1 yards of total offense per game set a school record. His playmaking ability that year exceeded even the most optimistic expectations. He was a true dual threat. Martinez tied for third among Big Ten quarterbacks with 18 completions of 30 or more yards, while finishing fourth in the Big Ten in 10-yard runs with 30.
Martinez entered is sophomore season carrying exceedingly high expectations. He was given the fourth-best odds in Las Vegas of winning the Heisman Trophy, behind Trevor Lawrence, Tua Tagovailoa and Jalen Hurts. Unfortunately, he regressed in every capacity and the stats back that up. His completion percentage dropped from 64.6 to 59.4. He threw just 10 touchdowns compared to 17 as a freshman. He had only 1,956 passing yards, down from 2,617 in 2018. He threw 9 interceptions compared to 8, despite having 96 fewer attempts (347 in 2018, 251 in 2019). His rushing productivity was about the same, although he looked far less explosive and decisive as a runner.
Frost's track record with quarterbacks is off-the-charts excellent, which made Martinez's sophomore slump all the more perplexing. Martinez missed two games because of a knee injury and also dealt with an injury to his non-throwing shoulder that required offseason surgery. Were injuries to blame? Could we chalk up the fact he was hesitant, slow, and missed throws that he made so often as a freshman to being banged up?
This past offseason, we heard how good he was looking. He was healthy and looking like his freshman self. We also heard about the strides being made by Luke McCaffrey, the prized four-star recruit from the 2019 class. The competition was reportedly tight. Coaches said it helped push both kids. In the end, I believe that Martinez was given the starting nod because of his experience. It was the right move. Now healthy, Martinez deserved to show the progress we'd all been expecting. But then we saw the product on the field – and the same ol' struggles, inconsistencies, and poor decision making.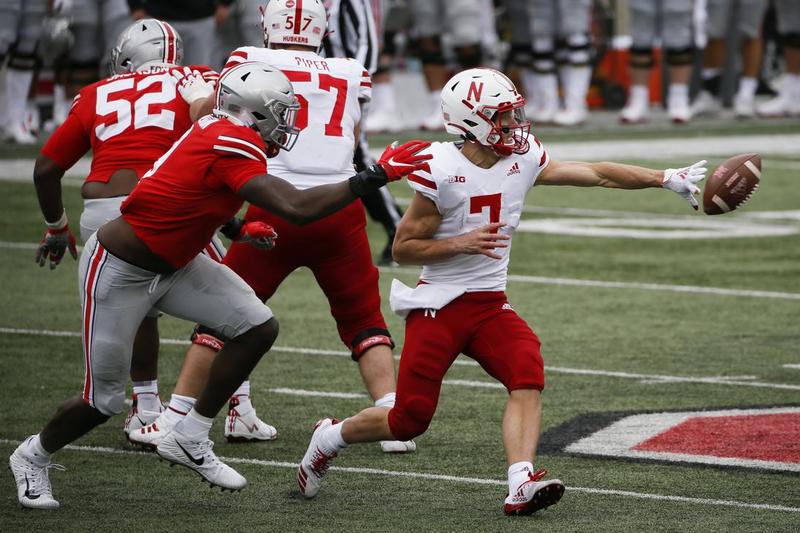 McCaffrey in 2020 vs. Ohio State.
| Joshua A. Bickel/pool
No coach wants to deal with a quarterback controversy, especially when the incumbent has over 20 starts under his belt. Unfortunately, that's the reality facing Scott Frost. He has given Martinez enough rope to work through mental and physical hurdles to try and seize control of the job long-term and get this offense humming. He's failed. It's becoming clear that Adrian Martinez is who he is at this point. We have a big enough sample size now to know a few hard truths. First and foremost, at least one of two things are true: either Martinez doesn't process information fast enough when bullets are flying, or he doesn't trust his eyes and what he's seeing in games while it happens. Those are big problems for a guy that experienced.
This is Year 3 for Martinez in this offense and it should run smoother than it does at this point. Martinez still doesn't anticipate throws well. He doesn't go through his progressions well. He struggles with the horizontal passing game – especially throws down the seams. He isn't good at leading his receivers on throws. He has average to poor ball placement on his passes and he's turnover prone. After 23 games and 640 career pass attempts, can you expect these things to get better at this point?
It'll shake up the entire quarterback room, but I think it's time to use this mulligan season to prep Luke McCaffrey. It's a small sample size, sure, but the redshirt freshman has begun his second season having shown marked improvements in every category. First of all, McCaffrey has taken strides filling out his frame and looks even more explosive than he did last year. While Martinez continues to show inadequacies in the passing game, McCaffrey has displayed clear improvements in arm strength and accuracy. The offense operates at a smoother, faster pace when McCaffrey has been behind center. His grasp of the offense has improved and more reps will only expedite his progress.
He'll take his lumps, no doubt, but McCaffrey's ceiling appears much higher than his counterpart's at this point. At best, Martinez has peaked – and arguably has regressed since taking the Big Ten by storm as a freshman in 2018. This season will carry a huge asterisk with it, but it's still a pivotal moment for a rebuilding program. Frost needs to use it to figure out the long-term prognosis of his quarterback situation.
Prior to contributing to HuskerMax, Jeremy Pernell co-founded the all-football website N2FL.com. From 2002-2014, he served as the editor in chief of the college football portion of the website which focused heavily on talent evaluation, which included NCAA recruiting and the NFL Draft. He has analyzed and covered the NCAA and NFL for 25 years. You can email him at jgpernell@comcast.net.
---
---
---
---