Pernell: Frost continues fusion of 'Oregon Speed and Husker Power'
When Scott Frost was hired, one of the most impressive things about him was how prepared he was for the Nebraska job. Sure, his time at Oregon laid the groundwork of the offense he has taken and evolved into his own. One of the most innovative and dangerous systems in college football. And without question, his two-years at Central Florida readied him for the big-picture CEO aspects of being the head coach. The recipient of six national coach of the year awards, Frost was the hottest coaching commodity in the country following the 2017 season. He could have taken the Florida or Tennessee jobs and been extremely successful at those universities.
But what made him uniquely qualified to take over in Lincoln was his knowledge of the blueprint that needed to be resurrected. "Coach Osborne had the formula figured out," Frost said after taking the Husker job. "Some of the things he did to make the program arguably the best in the country can still work today. Nebraska has just gone away from them. We're going to adopt a lot of the things again and do it in a modern way and do it in a way that recruits and kids are going to want to be a part of."
That meant a renewed focus on discipline and accountability. It meant restoring the walk-on program. By all accounts – from the mouths of both players and coaches – the culture is taking hold. The players have bought in. As for the walk-ons? Frost has welcomed roughly 50 to the program between the 2018 and 2019 classes. This years roster will have around 155 players, which is about 30 more than the next highest in the Big Ten. That sized roster, coupled with Frost's practice philosophy, facilitates an environment where players are fully engaged rather than standing around, and stimulates competition where walk-ons are given opportunities to push scholarship players for jobs. We've already seen players like Kade Warner and Trent Hixson take full advantage.
Frost had been preparing for the day he would become a head coach years before it came to fruition. He knew the sort of melding of philosophies that he wanted his future program to resemble. "I was at Oregon a long time, and one thing I thought was, what if you took that speed and tempo and the way we moved and put it with Husker power? It would be really dangerous," Frost has said. "That's what we did at UCF. We took the scheme I knew with the training I knew at Nebraska. We can do the same thing here." And he has done exactly that.
Thanks in large part to Frost's offensive reputation (and recruiting chops), Nebraska has quickly assembled an impressive collection of speed and playmakers at the skill positions and are building a quarterback room that is the envy of the Big Ten. It's safe to say Adrian Martinez has lived up to the hype. He's on a career trajectory that hasn't been seen from the position since, uhem, Tommie Frazier. And I don't say that lightly. Quarterbacks coach Mario Verduzco has since added four-star Luke McCaffrey, an early enrollee who has already impressed, to the room, and has a commitment from 2020 Athens (AL) native Logan Smothers, another four-star prospect.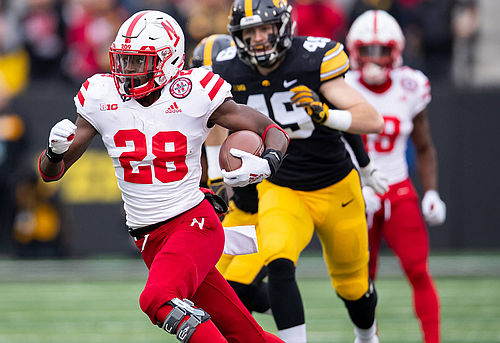 Running back Maurice Washington received a lot of recruiting hype and even more preseason praise from coaches and teammates leading up to last season. He delivered. Incoming Duck-R specialist Wan'Dale Robinson is expected to follow suit. If you look at the players who have been added in Frost's two classes, you see the speed coming in droves. Incoming recruits like running back Rahmir Johnson (6.54 55m, 10.75 100m, 21.46 200m), wide receivers Jamie Nance (10.66 100m, 21.62 200m) and De'Mariyon Houston (10.71 100m, 21.42 200m) will join 2018 additions like receiver Andre Hunt, who ran a 10.9 100m and 22.71 200m in high school. Duck-R candidate Miles Jones ran a 22.41 200m and was part of a 4×100 relay team that set a Florida state record at 40.31-seconds. This spring, wide receiver Jaron Woodyard participated in track for the Huskers and ran a 10.47 100m and a 21.42 200m. Throw in Mike Williams, who consistently runs the 40-yard-dash in the 4.3s, and the "Oregon" part of the equation is up and running.
Nebraska will never have difficulty finding dynamic quarterbacks and elite athletes while Frost is in Lincoln. But if the Cornhuskers are going to return to the top of the college football landscape, they'll need to fortify the trenches. They'll need "Husker Power" to be the fuel that drives the engine. Frost knows it and its arguably been the top priority since he arrived. "Nebraska football used to be built on being physical and being tough, and working harder than the other team," Frost said during his introductory press conference. "There are some pieces that have been missing here that we're going to try to get back." Frost has begun to do just that, but it's going to take time. The pipeline can't and won't be rebuilt in one offseason.
After Iowa's 31-28 win against Nebraska last November, Frost didn't sugarcoat his assessment: "What disturbs me right now is Iowa is a bigger, stronger football team," Frost said. "That's right now. I never thought I'd hear or see or say that about a Nebraska football team. That we can fix. We can get bigger, we can get stronger. Give their guys credit. They've had three, four years, each of those players in Iowa's strength and conditioning program. We've had one year with Zach (Duval). They leaned on us quite a bit in the first half … but I'm looking forward to the day we get that fixed where we're not going to get pushed around by anybody." Frost spoke about Iowa, but that same appraisal could have been made in regards to Wisconsin, Michigan and Ohio State. The Huskers haven't been consistently dominant upfront on either side of the ball for far too long. It has spanned several coaching staffs. Frost has made it his mission to change that.
In his first full recruiting cycle at Nebraska, Frost signed eight offensive and defensive linemen. The staff has a physical prototype they want to bring in and you could see their vision come together in the 2019 class: OL Bryce Benhart (6-9, 305), OL Matthew Anderson (6-6, 250), OL Jimmy Fritzsche (6-7, 255), OL Michael Lynn (6-6, 290), OL Brant Banks (6-7, 265), OL Ethan Piper (6-4, 280), DL Ty Robinson (6-6, 275), DL Mosai Newsom (6-4, 255). None of those kids carry any bad weight. All of them represent the sort of clay that Frost wants to hand over to strength coach Zach Duval to mold and transform over the next few seasons.
The plan is to include another large group in the 2020 class, with three or four O-linemen and at least four D-linemen being earmarked. They're off to a great start. Nebraska has landed its top two line commits on both sides of the ball in offensive tackle Turner Corcoran and defensive tackle Nash Hutmacher. Frost and his staff invested a significant amount of time recruiting the pair over the last year-plus. Even as they were putting the finishing touches on the 2019 class, Frost made sure Corcoran and Hutmacher received multiple visits last December and January.
Not only was Corcoran the top guy on the board for offensive line coach Greg Austin, he was probably the top overall target for this class, period. Nebraska offered the 6-foot-6, 280-pound Lawrence (KS) native on May 1, 2018, a few weeks after hosting him during the spring game. Over the next 11 months, Corcoran would come back to Lincoln eight more times: Twice in the summer of '18, three games in the fall (Akron, Minnesota, Michigan State), February's Junior Day, March 19 for a spring practice, all culminating with the 2019 Red-White Spring Game on April 13, when he committed.
Currently a consensus four-star prospect, don't be surprised if Corcoran eventually adds the fifth star I feel he deserves. He's the best run blocker I've seen the last few years and one of the five best offensive linemen in the 2020 class. He has the versatility to play all five line positions, but the staff envisions him manning the left tackle spot opposite Bryce Benhart. So far joining Corcoran in this O-line class is fellow Kansan Alex Conn, one of the top offensive linemen in the 500-mile radius. The 6-foot-6, 275-pound Conn picked up an offer from Nebraska in January and emerged as a preferred target by the staff over the past year. Conn has the versatility to play tackle or guard, giving the staff some flexibility when filling out the remaining spots.
If anyone was a bigger target than Corcoran, it would have been Nash Hutmacher. Frost has not signed a true nose tackle for his 3-4 defense in either of his first two classes. This kid was a must get. Most people will gravitate towards the headline-grabbing pass rushing outside linebacker when analyzing the 3-4, but the backbone of a good 3-4 defense has always been the nose tackle. Defensive coordinator Erik Chinander has said that the nose tackle in his system needs to be "the heavyweight champion of the world." New defensive line coach Tony Tuioti echoed that sentiment when he was hired, saying "One thing we always try to find is a nose guard who's a real war daddy."
Mission accomplished with Hutmacher, who had been recruited by Nebraska dating back to the previous staff. But it was Frost who gave Hutmacher his first Power 5 offer back on May 18, 2018, and made him a priority through two recruiting cycles. Hutmacher is a three-sport standout for Chamberlain High, winning gold in the shot put and discus this past spring, while being considered an Olympic-caliber wrestling prospect as well. This past winter he became the first South Dakota heavyweight to win three consecutive state championships (he placed 5th as an 8th grader). He is currently ranked as the nation's No. 3 heavyweight wrestler by both InterMat and TrackWrestling, who pegged him as the No. 8 overall wrestling prospect in the nation for the 2020 class and the top-ranked heavyweight. At 6-foot-5 and 300-pounds, Hutmacher has great size and is unbelievably strong – he's arguably the strongest player in the entire 2020 class. The 'Polar Bear' is physically mature enough to come in and play as a true freshman for Nebraska which is very rare at his position.
Nebraska isn't resting on their laurels, either. They are a finalist for Kentfield (CA) Marin Catholic defensive tackle Jamar Sekona, a four-star prospect who was a top-of-the-board target for Tony Tuioti when he was at Cal. The 6-foot-3, 305-pound Sekona was the first scholarship offer Tuioti made after being hired by Nebraska in February. Sekona visited in April for the Red-White game and is looking to take an official visit in the fall, likely for the Ohio State showdown.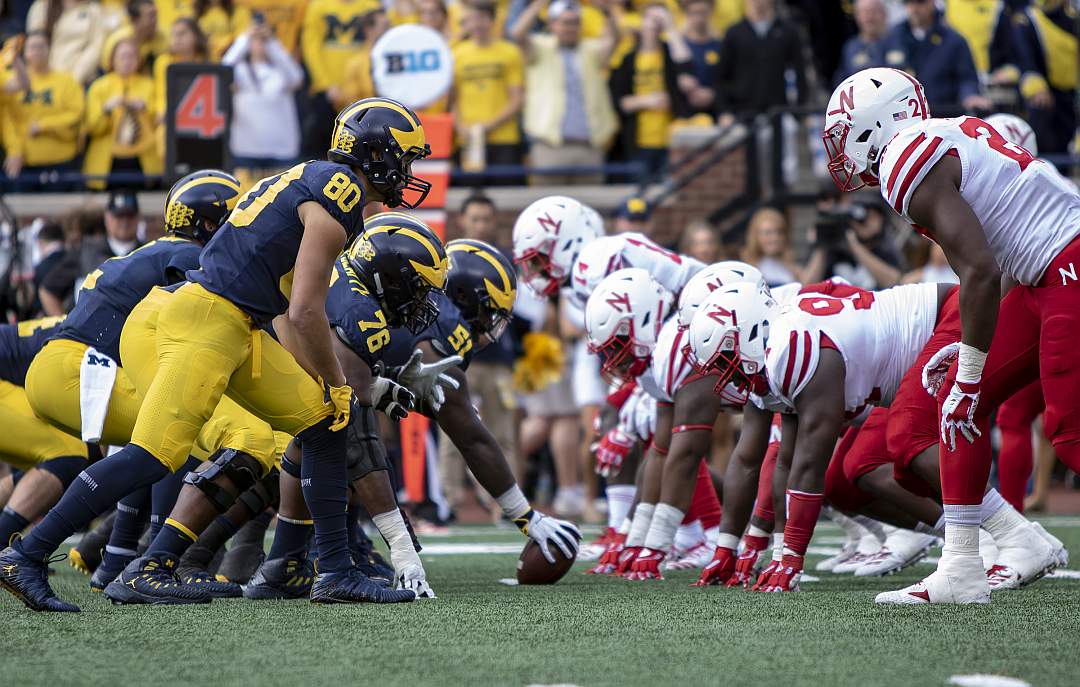 The Husker staff is making huge strides on the recruiting trail, but the key to it all is going to be Zach Duval, Dave Ellis, and the strength and conditioning program. Nebraska had been the gold standard for decades. They were the envy of college football from the 1970s through the 90's. Frost wants Nebraska to get back to the cutting-edge program that other schools strive to keep up with. He believes his 'Oregon Speed + Husker Power' fusion will accomplish that feat.
That goal falls on Zach Duval, who worked with Boyd Epley as a Husker Power assistant in the 1990s, and Dave Ellis, who originally worked for Nebraska throughout the 1980s before ultimately starting the school's original nutrition department. Before being brought back last summer by Frost, Ellis had spent the previous 17 years as the president of Sports Alliance Inc. During that time, he was one of the countries most sought-after consultants in the world of sports nutrition. He was involved in private nutrition work with LeBron James and Tom Brady, among others, and also consulted with multiple NFL, MLB, NBA and NHL organizations. Frost is a huge fan of Duval's. In the last year and a half, the Huskers have seen significant gains under his direction. Duval was named the 2017 strength and conditioning coach of the year by FootballScoop, a website devoted to covering football coaching changes. The award is voted on by previous winners.
The building blocks are in place. The foundation is solid. The program is probably a year away from really looking like the team Frost wants, but the growth has been obvious. Nebraska is on its way back.
Prior to contributing to HuskerMax, Jeremy Pernell co-founded the all-football website N2FL.com. From 2002-2014, he served as the editor in chief of the college football portion of the website which focused heavily on talent evaluation, which included NCAA recruiting and the NFL Draft. He has analyzed and covered the NCAA and NFL for 25-years. You can email him at jgpernell@comcast.net.
---
---
---