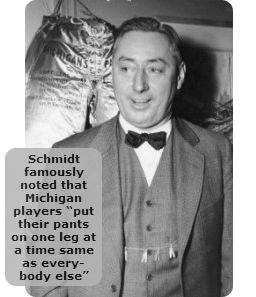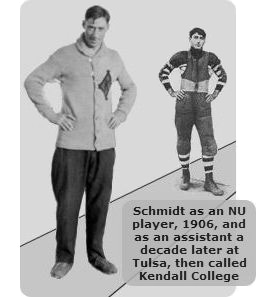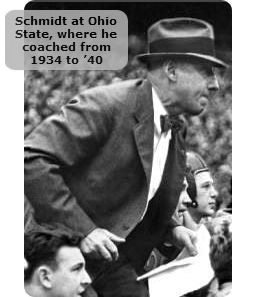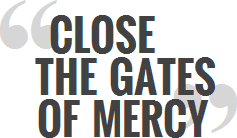 That was his nickname, and
Francis Schmidt
earned it by running up the score with a dazzling offense. Even though he coached his way into college football's
Hall of Fame
, it's not likely that many Nebraska fans today know of this innovative and eccentric
former Cornhusker
.
Soon after leaving Lincoln in 1907 with a degree in law and varsity letters in three sports, Francis Schmidt began a coaching career that would see him give football a stamp all his own. He stretched the field on offense with a dizzying onslaught of razzle-dazzle playbook concoctions, some of which came to him in the middle of the night.
FRANCIS
ALBERT
SCHMIDT

Born: 12/3/1885,
Downs, KS
High school:
Fairbury, NE
College: Nebraska
Coaching: 158-57-11
@Tulsa: 24-3-2
@Arkansas: 42-20-3
@TCU: 46-6-5
@Ohio St.: 39-16-1
@Idaho: 7-12
Died: 9/19/1944
"Schmidt's teams did everything with the football but turn it inside out," a Pittsburgh columnist once wrote. "Double and triple laterals sped in all directions. Forward passes filled the air. There were spreads that defied the imagination."

At NU, 1906

At Arkansas

At TCU
Schmidt's handiwork did far more than turn sportswriters agog. Sid Gillman, considered the father of the modern passing game, called Schmidt his greatest influence. And the I formation is said to be Schmidt's creation.
It started in 1919 when he became head coach at Tulsa. Schmidt had served as an assistant there after several years in the high school ranks in Kansas. Most of his eye-popping wins at the Presbyterian college – 152-0, 88-0 – came against lesser programs, but he collected the scalps of Southwest Conference schools, too. One of them, Arkansas, a 63-7 victim, hired Schmidt away in 1922. Seven seasons in Fayetteville were followed by five at Texas Christian, where his teams won two SWC titles.
That led to an even bigger stage: Ohio State. Four consecutive shutout wins over Michigan endeared him to OSU fans – and so did his dismissive stance toward the Wolverines. His teams won one Big Ten title and shared another, but the magic didn't last. When the losses became more frequent, his mad-scientist nature wore thin in Columbus. After going 4-4 in 1940, including a blowout loss to Michigan, he was out.
The best job he could find was at Idaho. Shortly before what would have been his third season there, the school dropped football because of World War II. His health soon declined, and Schmidt was dead a year later at age 58. He was not forgotten, however: In 1971, he was inducted into the College Football Hall of Fame.
"Somewhere between oddness and madness" was where Schmidt operated, or so states the opening chapter of his biography, Frantic Francis.* The author, Brett Perkins, summed up Schmidt in a 2009 interview: "He was just a bizarre guy – he probably could have used medication. Everything with him was just overboard."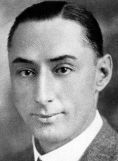 Another book also cites Schmidt's off-kilter ways: "underneath his bow tie and straight-laced manner lurked a madman, prone to fits of rage, four-letter words, spitting tobacco, and a wild imagination, especially on the offensive side of the football." (This book, by the way, credits him with creating the I formation, as does Woody Hayes and the 100-Yard War.)
Perkins suspects Schmidt had a condition called hypomania. A Columbus Dispatch article said Ohio State players "saw their coach in its grip many nights" when they walked past his house near campus. " 'The light was always on in his room; I don't know if he ever slept,' former player Nick Wasylik told The Dispatch in 1985. 'It seemed like he lived, dreamed and ate football. He had colored pencils – reds, greens, blues – and he chewed them right down to the stubs when he designed his plays.' "
Still, he could come across as folksy and likable. From the Dispatch article: "At 6 feet 2 and 200 pounds, Schmidt was a large man with a prominent nose and distinctive drawl. He was Foghorn Leghorn in a three-piece suit and bow tie. The fans and press delighted in Schmidt's charm and penchant for starting sentences with 'Lookee here.' "
Even during his time at Nebraska, "frantic" might have described his pace. The Fairbury High graduate left himself little time to relax, participating in football, baseball, basketball, track and the cadet band while earning his law degree in three years.

1905 football

NU basketball
On the gridiron, he played halfback and end. The 1907 yearbook observed: "Schmidt has the grit and the physical hardihood to endure a long and continuous attack without tiring or playing with any less fierceness than at the outset. He carries the ball well and is always a strong man in the interference."
There's irony, of course, in the fact that grind-it-out Nebraska was a football cradle for this razzle-dazzle wizard. But it's not a stretch to speculate that the seeds of Schmidt's thinking were planted in him in Lincoln. After all, his final season at NU, 1906, was unusual in at least two respects. It was the first year of the legal forward pass. And it was the Huskers' only season under coach Amos Foster, who had some gadget plays of his own, as this critique in the yearbook indicates: "Nebraska relied too firmly on befooling the enemy out of victory by a system of attack consisting solely of plays of the tricky variety."
In any case, football was changing. And a newly graduated Cornhusker named Francis Albert Schmidt would soon be an unfluential force in transforming the game.
---