Nebraska-Colorado Tailgate Sept. 7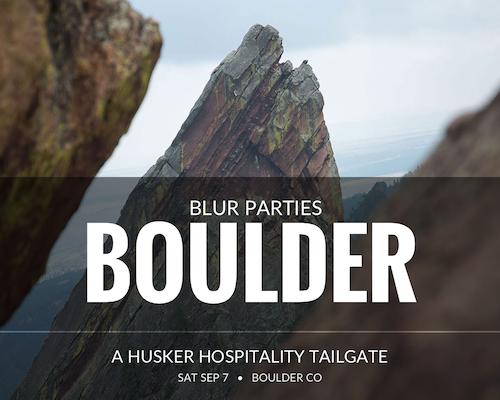 Blur Parties will be hosting a BIG tailgate before the Colorado game this year. Here are the details.
BLUR PARTIES BOULDER
Blur Parties is hosting a Husker hospitality tailgate in the heart of Buffalo country. We reserved two hotels and blocked off the street in-between. We are ready for 2,000 Husker fans to join our pre-game tailgate and watch site party for the Nebraska vs. Colorado football game.
TAILGATE FEATURES 
• Multiple 70-80″ HD TV's outside and two 12′ movie projection screens inside
• Tailgate games including washers, corn hole, beer pong and flip cup
• Live DJ pumping up the fans, and hyping up the competitions
• Photo booth inside Boulder's vintage 1975 Volkswagen bus
• Former Husker players will be serving fans at the bar for one hour
• Live onsite radio broadcasts interviewing former coaches and players
• Officially licensed Husker merchandise for sale by DCM Sports
• Memberships and shirts to support Co4NE Scholarships for Colorado high school graduates attending the University of Nebraska
---