Janurary 29, 2017
Huskers defeat No. 20 Purdue

McVeigh

Horne

Webster

----------------------------- 
               1   2   total 
Purdue   (20) 33  47    80 
NEBRASKA (NR) 39  44    83 
----------------------------- 
Lincoln, Neb. —
Behind a career-high 21-point effort from sophomore guard Jack McVeigh, the University of Nebraska men's basketball team defeated their second-consecutive ranked opponent No. 20 Purdue in front of 15,715 fans at Pinnacle Bank Arena on Sunday afternoon.
McVeigh shot a 5-of-7 clip on the night including 4-of-6 coming from beyond the arc, an additional seven points from the charity stripe tied the sophomore's career high with 21 points on the night. Freshman Jeremiah Horne had 16 points, shooting 7-of-12 on the night, while senior standout Tai Webster had 15 points and eight rebounds to lead the Huskers on the boards. Glynn Watson Jr. was the fourth Husker to score in double-digits with 12 points, including two three pointers and a 4-of-4 clip from the charity stripe.
Nebraska (10-11, 4-5 Big Ten) shot 28-for-65 on the night while the Boilermakers (17-5, 6-3 Big Ten) shot 27-of-62 from the field. The Cornhuskers sunk 9-of-17 from beyond the arc for 52.9 percent, their best in conference play and since hosting Sacramento State on Nov. 13, 2016. However, Purdue made 14-of-24 shots from deep for 58.3 percent, their best in conference play.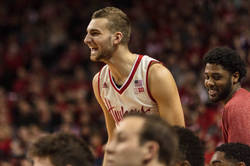 Photo Courtesy Scott Bruhn/Nebraska Communications
Jack McVeigh had a 21 point effort.
The last ranked-opponent victory for Nebraska came on Dec. 28, 2016 against then No. 16 Indiana when Glynn Watson Jr. and Tai Webster combined for 47 points to seal the 87-83 victory. Both of Nebraska's ranked-team victories come in conference play.
The victory marks the first time this season the Cornhuskers defeated a ranked opponent at home, with the last win over a ranked opponent in 2014 when NU took down then No. 9 Wisconsin.
The Huskers remain home to host Michigan State on Thursday, Feb. 2 at 6 p.m. at Pinnacle Bank Arena. Tickets are still available.