Dec. 28, 2016
Huskers stun Hoosiers
at Assembly Hall
Bloomington, Ind. – Glynn Watson Jr. and Tai Webster combined for 47 points as Nebraska opened Big Ten play with a stunning 87-83 victory over No. 16 Indiana at Assembly Hall Wednesday evening.
----------------------------- 
                1   2   total 
NEBRASKA       33  54    87 
INDIANA        36  47    83 
----------------------------- 
The Huskers (7-6, 1-0 Big Ten) shot 48 percent, including 9-of-18 from 3-point range, in snapping Indiana's 26-game home win streak and handing Indiana its first home loss since the 2014-15 season.
Watson scored 19 of his game-high 26 points in the second half, as Nebraska overcame a seven-point deficit with 56 percent shooting from the floor after halftime.
Trailing 42-35, 3-pointers from Webster and Watson got the Huskers back into the contest before the Huskers turned the momentum.
Watson keyed a 10-2 spurt to give NU the lead, scoring five points and adding an assists, as his 3-pointer with 14:33 left staked NU to a 51-47 lead. The Huskers eventually got the lead to eight points on two occasions, the last after a Webster basket with 9:46 left to make it 63-55, but the Hoosiers would rally.
Indiana used a 15-3 run to take a 70-68 lead and would eventually lead 73-70 after a Robert Johnson 3-pointer with 4:39 left before NU would come back behind its backcourt. A Webster basket after a Watson steal cut it to one before Watson's 3-point play with 3:10 remaining gave the lead for good at 75-73. The Huskers stretched the lead to four on an Ed Morrow Jr. tip-in, as Morrow finished with 12 points, 10 rebounds and five blocked shots.
The Hoosiers (10-3, 0-1 Big Ten) cut the lead twice, but the Huskers held on in the final two minutes as they picked up their second win in Bloomington since 2014.
Nebraska battled throughout the half, but a late Indiana surge sent the Hoosiers to the locker room with a 36-33 lead. Tai Webster and Jeriah Horne led NU with eight points each, as the Huskers built a 12-point lead, but Indiana closed the half on a 20-5 surge. Indiana shot 38 percent from the field in the opening 20 minutes, but went 6-of-12 from beyond the arc, including a trio of 3-pointers from Robert Johnson, who had 13 first-half points.
Early on, it was the Tai Webster show, as the senior scored seven quick points, as Nebraska used a 7-0 spurt to take an 11-7 lead after an Ed Morrow Jr. putback. The Huskers led 16-15 before Horne keyed a 12-1 surge, scoring all eight first-half points in the run, as his second straight 3-pointer put Nebraska up 28-16 with 10:33 left in the half.
Nebraska led 32-24 after a Michael Jacobson putback with 5:44 left in the half, but Indiana closed the half on a 12-1 run keyed by Johnson, who connected on pair of 3-pointers before 3-pointers from OG Anunoby and Devonte Green gave Indiana a four-point lead at 36-32 with 1:36 left in the half.
Johnson's 19 points led five Hoosiers in double figures.
The Huskers return to action on Jan. 1, when Nebraska travels to College Park for a matchup with Maryland. Tipoff is set for 11 a.m. (CT) and the game will be carried on BTN and the IMG Husker Sports Network.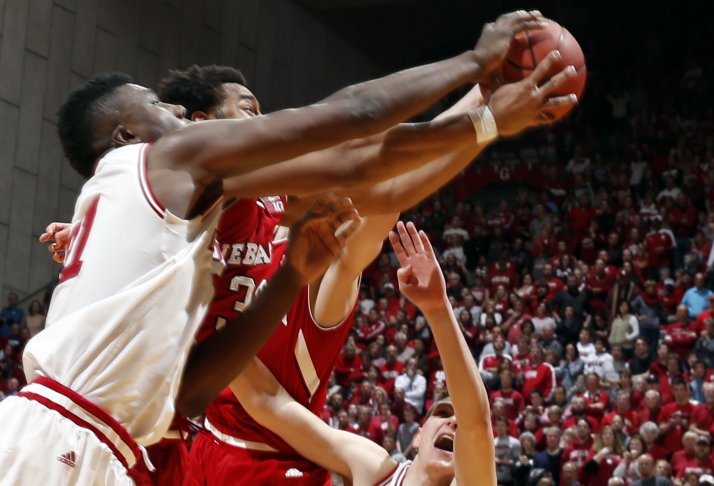 Brian Spurlock-USA TODAY Sports
Indiana's Thomas Bryant battles for a rebound against Nebraska center Jordy Tshimanga.
 
Nebraska Notes
• Nebraska snapped No. 16 Indiana's 26-game home winning streak. It was the fourth-longest streak in the country.
• Nebraska's 87 points was a season high and second straight game the Huskers have scored 80+ points.
• Tonight's win marked the first time in six tries that Nebraska beat a ranked Indiana team and also the second-time in four years that Nebraska won in Bloomington.
• Nebraska snapped an eight-game losing streak to ranked AP teams, and was 0-3 this season vs. ranked opponents before tonight's win.
• Tonight's win over Indiana was the Hoosiers' first loss to a unranked team since a loss to Michigan State on March 7, 2015.
• Nebraska held Indiana to 36 first-half points, the Hoosiers' lowest first-half total at home and the second-lowest first-half total of the season.
• Ed Morrow recorded a career-high five blocked shots, including three in the first half. It marked the third time this season he blocked three or more shots this season. It is the most blocked shots by a Husker since Jorge Brian Diaz vs. Florida Gulf Coast on Dec. 7, 2011.
• Morrow posted his third career double-double with 12 points and 10 rebounds
• Jeriah Horne continued his hot-shooting with 11 points on 4-of-6 shooting, including a team-high eight in the first half.
• Nebraska had a season-high 13 steals, including five from Glynn Watson Jr. and four from Tai Webster. It marked Watson's third game this season with five steals as he leads the conference in that category.
• Tonight marks the third time this season NU had a pair of 20-point scorers (also La Tech and Sacramento State), as Glynn Watson finished with 26 (one of his career high) while Tai Webster added 21 markers.