November 24, 2016
Huskers Remain Perfect
with Win Over Dayton

Watson Jr.

Morrow

Webster

----------------------------- 
            1   2   total 
Dayton     31  47    78 
NEBRASKA   40  49    80 
----------------------------- 
Fullerton, Calif. —
Glynn Watson Jr. sank two free throws with 8.8 seconds to give Nebraska the lead for good, as the Huskers knocked off Dayton, 80-78, at the Wooden Legacy in Fullerton, Calif.
Watson, who scored 13 of his game-high 20 points in the second half, provided the heroics for Nebraska, which saw a 13-point lead disappear in the final 10 minutes before Watson's free throws put the Huskers (4-0) ahead.
Trailing 79-78, Dayton had one final shot, but Scoochie Smith was forced into an off-balanced jumper and Ed Morrow Jr. grabbed the rebound with 1.8 seconds left. Morrow split the pair from the line and then deflected Dayton's inbounds attempt, as the Flyers were unable to get a shot up before the horn.
The Huskers will play UCLA, which topped Portland 99-77, Friday night at 11 p.m. (CT) on ESPN2.
Watson's 20 points, a career-high five steals and three assists led four Huskers (4-0) in double figures, as Morrow tallied a career-high 19 points on 9-of-11 shooting and a career-high 10 rebounds while Tai Webster (16) and Anton Gill (10) also finished in double figures as Nebraska shot 57 percent and held Dayton to 38 percent.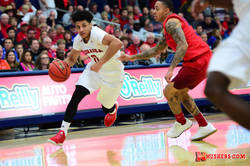 Photo Courtesy Huskers.com
Tai Webster had 16 points and three assists vs. Dayton
The Huskers who led the entire game until the final seconds before Watson's free throws, led 77-71 after a pair of Jack McVeigh free throws with 43 seconds left before the Flyers (2-2) made one last rally. Smith's layup made it a four-point game before the Huskers' turnover on the inbounds pass and Charles Cooke's 3-point play made it a one-point game with 32 seconds left.
After another turnover, Smith's driving basket put Dayton ahead 78-77 with 16 seconds left before Watson took the inbounds pass and drove at the Flyers' defense before drawing the foul and sinking the go-ahead free throws.
Cooke led Dayton with 17 points, while Xeyrius Williams added 15 points and nine rebounds in a losing effort.
In the first half, the Huskers got off to a blistering start, hitting their first seven shots from the field to jump out to a 14-4 lead in the first four minutes. In all, Nebraska shot 60.4 percent from the field in the opening 20 minutes, including 4-of-6 from 3-point range, while holding Dayton to 8-of-33 shooting.
The Huskers pushed the lead to 21-7 after Isaiah Roby's dunk at the 11:02 mark, but the Flyers stormed back, using an 11-1 spurt to get to within 22-18 after a Kyle Davis layup. The Flyers, who returned four starters from a team that won 25 games last year, knotted the score at 29 after a 3-pointer from Ryan Mikesell, but Nebraska closed the half on an 11-2 run to take a 40-31 lead into the locker room. Webster, who led NU with nine first-half points, ran off five straight points Gill's 3-pointer pushed the lead back to eight. Dayton got to within 37-31, but McVeigh's 3-3-pointer with 33 seconds left in the half pushed the margin back to nine.
The Huskers kept the pressure on in the opening minutes of the second half, using an early 5-0 spurt to take a 49-36 lead on a Morrow dunk with 15:45 left The Huskers kept the lead in double figures for most of the second half and led 63-53 after a Morrow tip-in before Dayton began to rally.
The Flyers used a 11-4 spurt to pull within 67-64 after a Ryan Mikesell putback with 4:33 left, but Webster gave the Huskers breathing room, running off five straight points as his layup with 3:27 left made it a 71-64 advantage
Notes:
•Nebraska improved to 4-0 for the first time since 2012-13.
•Nebraska reached 80 points for the second time season (also vs. Sacramento State)
•The Huskers won their opening game at an ESPN multi-team event for the first time in five tries.
•Ed Morrow Jr. posted his first career double-double with career highs in both points (19) and rebounds (10). This previous best in points was 15 vs. Sacramento State, while his high in rebounds was seven set against Rutgers last year.
•The five steals by Glynn Watson Jr. was a career-high, topping his previous best against Minnesota last season. It also matched the most by a Husker in Miles' four-plus seasons (Tai Webster had five vs. Michigan last season).
•Nebraska shot a season-best 56.9 percent, topping the previous best of 50.0 vs. Mary.
•Watson's 20-poinnt game was his second-highest scoring output of his career (23 vs. Sacramento State).
•Anton Gill set a season high with 10 points, including eight in the first half.
•The Huskers held Dayton to 38.1 percent, the third straight opponent held to under 40 percent from the field.
Nebraska Coach Tim Miles - "I was proud of my guys. I thought we controlled the game most of the night. We had a tough last four minutes obviously. Dayton's frontline pressure was really good and we got a guy who hit two huge free throws for us (Glynn Watson Jr.), and a guy who was a monster inside (Ed Morrow Jr.). You'll see us develop into a tough-minded team who knows how to win. That's really important in our league and it's really important for our guys. I'm just really proud of them tonight."
On setting the tone defensively? - "You have to have the other team go after us, and hope the other guys don't make enough shots to beat you. Their guys really stepped up and made some shots and got us in transition. But at the end of the day, we were really good offensively. I think that helped us a great deal. When I look at Dayton, we got them in the paint, where I thought we could. We had an excellent team effort that set the tone defensively early and ran an excellent offense early."
On the various runs throughout the game? - "I probably won't sleep tonight. You knew with Dayton's transitions that they are one of the fastest teams in the country. They inbound the ball from out of bounce and go down the floor very quickly. They're not as fast as UCLA but they're as fast as Creighton and the other teams that we will play as we go down the way. You just knew we were going to end up in runs, and their role guys ended up making a lot of shots. That's when we knew we had a problem in our hand."
Nebraska Guard Glynn Watson Jr. on the runs throughout the game? - "I think everybody knows we were going to both make runs. They made a run, we made a run, but our team showed we were mentally tough. We stuck together and never got mad at each other and that was the biggest thing."
On the final sequence of the game that led to his game-winning free throws over Dayton? - "I saw the Dayton defense backing up on me, and I was just thinking that I had to make a play. Coach believed in me to make a play, and I knew he wanted me to attack. So I attacked the basket and got the foul."
Nebraska Forward Ed Morrow on the runs throughout the game? - "I just think we pick each other up on the floor, and we just continued going at them. We never really let up."
On tomorrow's game? - "We need to come out and get a win tomorrow. That's the expectation and the goal and that's what we're going to do."