November 7, 2016
Huskers Fly Past Eagles

Roby

Horne

Taylor

----------------------------- 
                1   2   total 
Chadron State  21  24    45 
NEBRASKA       48  50    98 
----------------------------- 
Lincoln, Neb. —
Nebraska used a 21-1 game-opening run to take control, as the Huskers rolled to a 98-45 victory over Chadron State Monday evening at Pinnacle Bank Arena.
The Huskers put six players in double figures, as freshman Isaiah Roby paced the Huskers with 16 points and seven rebounds. Freshman Jeriah Horne and Evan Taylor added 12 each, while Ed Morrow Jr., Tai Webster and Anton Gill added 10 apiece for the winners, who shot 55 percent, including 63 percent in the second half.
In all, 10 players cracked the scoring column and all 12 players who dressed played, as Nebraska limited Chadron State to 29 percent shooting and enjoyed a 53-29 advantage on the boards.
The 98 points scored were NU's highest in an exhibition game since 2002, while the Huskers got 57 of its points by their newcomers.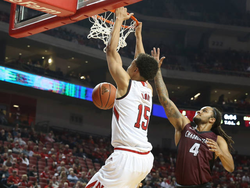 Photo Courtesy Scott Bruhn/Nebraska Communications
Isaiah Roby scored 16 points to lead Nebraska to an exhibition win over Chadron State.
Roby and Jack McVeigh keyed the early spurt with five points each, as Nebraska held Chadron State without a field goal for the first 8:43 of the contest in building as 20-point lead after Mrorow's layup with 11:36 left in the half. Nebraska led by as many as 32 in the first half and took a 48-21 lead into the locker room.
The Huskers continued the momentum in the opening minutes of the second half, using a 21-2 spurt to build a 68-23 lead with 14:10 remaining.
Jordan Perry led the Eagles with eight points in a losing effort.
The Huskers will open the 2016-17 season Sunday night, as they host Sacramento State. Tipoff is set for 7 p.m. and a limited number of 300 Level tickets are available by visiting Huskers.com or calling 800-8-BIGRED. The game will be carried on BTN and on the Husker Sports Radio Network.