Feb. 19, 2011
Huskers top No. 2 Texas
Lincoln, Neb. —
Texas guard Jordan Hamilton was limited to 18 points on 3-for-16 shooting, and Brandon Richardson hit a pair of free throws with 7.2 seconds left to seal Nebraska's 70-67 upset of the Longhorns (No. 2 ESPN/USA Today, No. 3 AP) on Saturday.
Nebraska hadn't beaten a team ranked in the top three since knocking off No. 3 Missouri 98-91 in the 1994 Big Eight Conference tournament.
The Cornhuskers' second win over a Top 25 opponent this season broke Texas' school record Big 12 winning streak at 11 games. Nebraska downed then-No. 13 Texas A&M 57-48 on Jan. 29.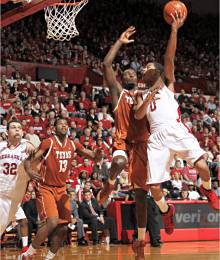 Photo courtesy of Huskers.com
Toney McCray drives for a shot
Richardson led Nebraska with 15 points, 10 in the second half. Toney McCray added 14.
Brown added 18 for Texas. Cory Joseph had 13.
Nebraska (18-8, 6-6 Big 12), which trailed by seven points at halftime, took a 64-53 lead on Lance Jeter's driving layup with 2:35 left. But the Cornhuskers made just six of 11 free throws in the last two minutes to help Texas get back in it.
Texas (23-4, 11-1) went on a 12-1 run, making seven of nine free throws and adding a pair of baskets. Alexis Wangmere's free throws tied it 65-65 with 1:07 remaining.
Richardson sank a pair of foul shots with 43.5 seconds remaining to put Nebraska back in front, and Drake Beranek made one of two with 24.7 seconds left.
Texas' J'Covan Brown made two of three free throws with 12.6 seconds remaining to cut the deficit to one, but his 3-point attempt at the buzzer fell short.
Nebraska hit seven of its first eight shots in the second half and took a 40-38 lead on Andre Almeida's tip-in with 16:29 remaining. It was the first time Texas had trailed in seven games.
The Huskers got back-to-back layups from Richardson, and Almeida's left-handed hook made it 50-42 with 11:39 left. Nebraska's biggest lead was 11, the last time after Jeter's layup.
Nebraska hit 56 percent of its shots in the second half against Texas, which had held Big 12 opponents to 36.4 percent shooting before Saturday.
The Longhorns, who entered having made 49 percent of their shots in conference play, sank only 36 percent against Nebraska, which packed the lane and kept Texas from running in transition.
Nebraska dominated the paint, outscoring Texas 38-14. The Cornhuskers also held a 39-34 edge in rebounds.

Game notes
• Nebraska's 70-67 win over No. 3 (AP) Texas marked the Huskers' highest win over a ranked foe since a 98-91 win over No. 3 Missouri in the 1994 Big Eight Tournament. The highest ranked team NU had defeated in the Big 12 era (1996-97 season to present) was No. 4 Oklahoma State on Feb. 22, 2005.
• It is eighth time in school history NU has beaten a team ranked third or higher in the AP poll at game time.
• Nebraska is now 2-3 against ranked teams this season, including a win over No. 13 Texas A&M on Jan. 29.
• It is the 20th time that Nebraska has defeated a top-10 team in program history and first since the Oklahoma State win in 2005.
• Nebraska shot 47 percent in the win over Texas, becoming only the third opponent to shoot over 45 percent against the Longhorns this season. Only USC, which shot 49 percent on Dec. 5, shot better than the Huskers did today.
• Nebraska snapped Texas' 11-game win streak, as the Longhorns had defeated 10 of their last 11 opponents in double figures.
• It is the fourth time in Nebraska's six series wins over Texas, that Nebraska has defeated a ranked Longhorn squad.
• Nebraska improves to 18-8 for the first time since the 1991-92 season and is the third time in Doc Sadler's five seasons that Nebraska has won at least 18 games.
• Nebraska out-rebounded Texas, 39-34, as the Longhorns led the Big 12 in rebounding entering Saturday's contest
• Nebraska's 67 points is the most Texas allowed in Big 12 play, topping their previous high of 63 in a win over Kansas.
• The Huskers are now 16-1 at home, one shy of the most wins at the Devaney Center in a single season
• Andre Almeida reached double figures for the fifth time this year with 10 points on 5-of-5 shooting and five rebounds. It was his first game in double figures since having 10 at No. 3 Kansas on Jan. 1
Nebraska head coach Doc Sadler
Opening Statement
"What a great game. We've had some games that we've played really well and come up on the short end. Tonight, as we talked before the game, we wanted to play in eight five-minute segments. The thing that Texas has done all year, especially the first half, is gotten themselves in a position where they just jump on people. We got down nine in the first half at one time, we used a couple of timeouts, and then our guys came back and made some plays. The first half, we turned the ball over too much; we turned it over eight times, and I'm not sure they were all that forced. We talked at halftime that if we could make three or less turnovers in the second half, we could have a chance. Then we talked about transition baskets. I don't know how many transition baskets they got. I think they had seven points in transition in the first half. I know Hamilton hit the big three in transition late in the game, but other than that, I don't know. And then the rebounding; when you see that this basketball team outrebounded Texas, then you have to be proud of them."

"Starting the second half, we decided to switch offenses and go with Andre (Almeida) and Brian (Diaz) on the block. We thought going into the game that Texas gives you so many problems defensively, but I thought with a smaller lineup on the perimeter we could get side-to-side movement and then we might get some easy baskets because I think our smaller guys are a little quicker. And then Andre and Brian got down on the block and both of them got going. I probably should have made a change about ten or twelve minutes to go and went back to our base offense. I stayed with that too long, but our guys overcame that."

"For the most part, how can you not be excited? It's a great game and a great day for us."

On if he thinks this kind of win has been a long time coming
"This and Wednesday night was huge, too. We're up six points and almost let that one get away. What'd we get up, 11 today? We made it much tougher than we could have, but that's a credit-Texas made some plays. You're not going to just go beat teams like that, I don't think. I do think the home crowd was a lot like the Kansas State/Kansas situation on Monday night. There's no substitute for that sixth person, because you have to play with so much emotion. You have to have it for 40 minutes to beat a team like this."

On if he likes where the Huskers sit with regard to the NCAA Tournament
"The thing we started talking about two weeks ago was that we have to start giving two percent more-everybody has to. That's it. We can't get caught up in all that. I told the team after the game, enjoy it. Enjoy it tomorrow; however long you want to enjoy it. But Monday, you have to come back and get ready to play, because this team you're going to play Wednesday night-as good as we feel right now, we're going to have to play as good if not a little bit better to win Wednesday night. You're talking about a team that completely destroyed us over there and made us turn it over 22 times."

On how he felt when Nebraska lost the 11-point lead
"We just needed to make some free throws. You don't get caught up in all that, there's too much going on. I think the biggest play of the game was when (Brandon) Ubel fouled (Alexis) Wangmene and didn't give him a three-pointer. If he makes that dunk and we foul, then they're up one and then the game completely changes. That was a big play. It's just trying to get the right people on the floor who are going to make free throws."

On who gets credit for holding Jordan Hamilton to 3-of-16
"The guys on the floor. You can watch Texas on tape and figure out how to defend them, that's the easy part. Getting your guys to do it for 40 minutes is the hard part, and they did it. The players deserve all that credit. Hamilton's a pro."

On what this means for the program
"I think more than anything, we're excited right now. You want to be in the situation to make the next day and the next game bigger than the last one. I can sit here and say that a couple of years ago, we were in this same situation. We're in that situation now. The fans are excited. The players are excited. Everybody's excited."
Nebraska players
Junior center Andre Almeida
On how the win feels
"Pretty good. We worked so hard and watched scouting team on them and it feels good."

On how effective it was to get playing time with Jorge Brian Diaz
"Well, I think they weren't ready for me and Brian on the post. I don't know the last time we ran that offense. It worked the first time and then it worked the second time so we kept going with it."

On what it means to Nebraska fans to beat a Texas team
"Yes, I know. I was at the football stadium."

On what it was like in the locker room after the game
"It was great. It feels like the hard work paid off and we can enjoy it. It is hard to tell. We were so happy and it was amazing. I don't know how to describe it."

On if Almeida may have surprised Texas with his play
"I don't know. They scouted us."

On how the people of Brazil feel about the win
"Well, I think my parents listened on the radio. I know my mom is happy. I talked to her yesterday and she knew how good Texas was and how they were number two. She is probably really happy right now and my dad too. I'm going to talk to them after this."

On NCAA Tournament discussion
"That is our goal at the beginning of the season. We didn't know how much talent we had. Coach Sadler said it is on us. He just talks about getting better and how good we can be. We can be really good."
Junior guard Toney McCray
On how the win feels
"It feels real good. I couldn't be happier for us and the coaching staff and the fans. It feels like it did two years ago when we beat Texas."

On what it was like when the fans stormed the court after the win
"It was great. The fans were great all night. They were into it the whole game. When he missed that shot, they were coming. I liked that. It was fun."

On the mood in the locker room at half time
"It was as positive as we have ever been. Nobody was rattled or discouraged. It was like we were winning. I didn't even know the score. We had it in our head that it was a 40-minute game. Coach put up on the board about five-minute segments. We knew it would come down to the last second."

On if the win means anything special, since McCray is from Texas
"Yeah, it does. It is special. You play against people you played with in high school and saw around. You always want to play your best. We want to win. Anybody will say that."

On how confident NU is in their talent level
"Yeah, of course. We practice every day and know how good we are and can be. We knew we would be confident and there was never a doubt in our minds about going 40 minutes. It's a good league and that is how it works every game."

On the NCAA conversation
"It is our ultimate goal. But this league is so good; it is hard to just look past them. This was a big win, but the next one is bigger. The game after that, even bigger. We enjoy this. This league is too good to overlook anybody."

On what was working in the second-half to create a big lead
"Coach made an adjustment and it was a good call. It shocked them a bit and they weren't that prepared for it. Brandon and everybody made plays. We let loose and just played."

On the wetspot on the floor
"Man, I was mad because I knew that spot was wet. Somebody just fell and I told myself 'Toney, don't fall on that spot because it's wet.' I went right back to that same spot thinking I have these red shoes on, they're going to hold up. Man, I slipped right on my face and felt so dumb. Naturally like a dummy, I went right back. I looked at the ref trying to act like somebody fouled me. I hoped someone touched me or something."

On how good Texas is
"Man, they're good. They're physical and they rebound. Hamilton, Joseph, if you make a mistake, they're going to make you pay for it. That is anytime, offense or defense. We slipped up at the line and they made us pay. It was tough."

On the stretch where the lead was cut and tied
"I was just thinking we had to make a play. Be confident. We are just as good as any other team as far as our talent level. Brandon went out there and made his shots."

On if he had ever been raised and body-surfed before
"I was a little nervous, I won't lie. That has never happened before."
Junior guard Brandon Richardson
On if he took the team under his wing when Lance Jeter checked out with four fouls
"Yeah, a little bit. I had to lead our guys offensively and defensively and to be careful with everything. We wanted to do what coach wanted us to do."

On why he told coach Sadler that he shouldn't start today
"The ball hasn't been going in for me lately. I felt like Toney was a better option. I'm glad coach went with us."

What goes through his mind during the stretch of a few missed free throws
"I was just hoping that we wouldn't lose because of offensive rebounds and free-throws. We work on that every time after practice. We work on boxing out as well. I was just thinking we came to far to let it slip away. Things got close at the end but we pulled through and credit goes to our guys."

On the feeling of getting a big win like this one
"I don't know what to say right now. It is a lot of emotions going through our heads. It was a great win for this program. We deserved it. We worked hard. This is the second time that we beat Texas while I have been here. Last time was with Ade and Steve. It was great, just as great if not greater."

"On the inside offense in the second half and why it worked
"We were just patient. We made the defense work and when Big Andre and Brian Diaz are working hard down there, we have to reward them with the ball. That's what we did. If we can play like that every game, it'll be a great night. Just getting the ball inside is what we did, and we need to continue to do that."

On how when he signed his letter of intent, he wanted to play big time basketball. Is this what he meant?
"Yes. It is a dream come true, knowing that the time I put in to get to this point, I've been rewarded thanks to the win we got today. We want to get better each and every day. This is great."

On what is going through his mind as Texas ices him at the free-throw line
"I went back to the time at Kansas because I got fouled and they called a time-out. I went to the line and had a one-and-one and missed it. I was just hoping it wouldn't happen again because of the situation. I went out there and it felt good when I released it."
Texas head coach Rick Barnes
Opening Statement
"There is no question Nebraska deserved to win the game. They totally dominated the second half of the game; they got whatever they wanted inside, whether it was a post-feed or dribble penetration. When you get beat 38-14 in the lane, you will probably lose some games there. We didn't have a great day shooting the ball, where we knew we would get some looks at it, but even with that said, your defense has to do it in the second half. We just weren't very good, and they spread the court out and took advantage of that.

"There's no question Nebraska deserves all the credit because they were a terrific team today. I will tell you, Doc Sadler is one the great guys in this business and it couldn't have happened to a better guy. If this helps them to the NCAA Tournament, then it would be great for him. He has worked his butt off here trying to build this program. The fans were great today and they definitely deserved to win the game."

On the key to the game
"We didn't execute right. We didn't execute the first play of the game and we didn't execute the last play of the game. I'm not taking anything away from Nebraska because I'm not. We didn't screen the way we had talked about. They won't give you much around the basket but transition-wise we wanted to push it at them. Still, they came out and at one point I think they were shooting 70 percent. I think a big sequence too was when they got three straight offense rebounds at one time. Again, they deserved to win."

On if he expected to see Andre Almeida and Jorge Brian Diaz on the floor together
"Yeah, we did. We were willing to go big too, which we've done before. We had talked about it before the game."
Texas players
Sophomore guard Jordan Hamilton
On what was supposed to happen on the last play
"They played good defense at the end. It was a tough loss, I shot 3-16. I shot a terrible percentage, missed a crucial free throw. I take the blame on this one."

On what they were thinking in the minute when they went from down 11 to tie
"There was never a doubt in my mind. I think (Nebraska) shot a great percentage in the second half. They played really hard. The crowd got into it; they got loud. We missed some shots, I missed some easy shots, and some wide open looks, even in the first half. That was the outcome."

On if they got complacent at all at the beginning of the second half
"I think we could have played harder. I don't think we ever got relaxed, but I definitely thing we could have played a lot harder. We missed a lot of rim shots and missed some jump shots. I think we should have gotten the ball inside a little bit more. For five minutes I think they shot 70 percent, goo game for those games."
Freshman forward Tristan Thompson
On the difficulty they faced inside
"First off they just pounded us inside, especially in the second half. Their two bigs did a phenomenal job, especially on the glass outrebounding us. That is because us bigs, we have to go get it. They wanted it more than us, they got the 50-50 balls, that's why they kicked out butts inside."

On if they talked about going 16-0 in the league
"No, you take it one game at a time and never look ahead. If you do stuff like this happens. We took it one game at a time; you have to give them credit. Nebraska is a good team, they played well today and got the edge."
Sophomore guard J'Covan Brown
On what he saw on the last possession
"I just messed up on a crucial play towards the end. I had messed up on my steps and fumbled it a bit. I just kept it even though it was a bad decision by me. I should have just handed it off. I was about to travel and I didn't want them calling it on me. I kept dribbling and got away with a carry. They played great defense on me, I do give credit to them."
Source: University of Nebraska Athletic Dept.