Lyell Bremser transcript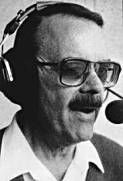 1979 vs. Penn State. It's the 2nd qtr. The Cornhuskers trail 14-7. It's 2nd down & 8 to go.
"...tight flanker to the left side. Tight slot to the left is Steeles.
"The quarterback, Timmy Hager, fakes his hand-off. He keeps. He rolls. He wants to throw!(The crowd begins to roar. Junior Miller is WIDE open.)
"HE'S GOING LONG TO JUNIOR MILLER! TO THE 30! TO THE 25! TO THE 20!...HE'S ALL THE WAY IN!!! TOOUUCCHDOWWN!!!
(CROWD ROARS FOR SEVERAL SECONDS)
"OH MOMMA, MOMMA, MOMMA!!! AIN'T HE PRETTY!!! OH WOW! He got in behind his man, Urquart! He had him beat! And he just TOOK THE CHANGE RIGHT OUTTA HIS POCKET! He stripped him clean! Junior Miller, 70 yards!!!
"He took a perfect throw from Timmy Hager! Hager really put it on the money! And then Junior put it in the end zone!...there's the kick of the extra point, and it's a tie ball game....MAN, WOMAN & CHILD! WHATTA THROW AND WHATTA RUN!!"