Lyell Bremser transcript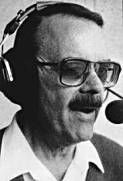 1977, Nebraska and Missouri are locked on one of their typical "rock-ribbed donnybrooks."
"....let's call it the 30 yard line, and make 3rd down and a big 9. 10 to 9, Missouri leads. 7 minutes left to play, 3rd quarter.
"The Huskers put two wide people to the right side this time. As the quarterback, Garcia, has them up there in the 'I' formation. He looks at a five man front, comes out from under. He wants to throw. He does throw! Down the middle....
"AND THE PASS CAUGHT!!! GREAT CATCH!!! HOLY TOLEDO, MOTHER!!! AT THE 7 YARD LINE!!!
(not much crowd noise, the game's in Columbia)
"TIM SMITH MADE A DIVING GREAT, GREAT CATCH!!! OOOHHH WOW!! IT JUST BOGGLES YOUR COTTON-PICKIN' MIND!!!
"What a great diving grab by Tim Smith!! You'll never see anything nicer in your life!! And Russ Calabreese was ALL OVER him! He just made a SUPER, DIVING catch at the 7 of Missouri! 1st down, goal to go...."
(A penalty would stall the drive. Billy Todd would kick a field goal to give Nebraska a 12-10 lead. The Cornhuskers would eventually win 21-10.)