Lyell Bremser transcript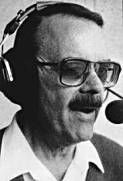 Kansas State, 1977. Can lightning strike twice?
"....the ball is just about in the center of the field, between the sideline stripes at the Nebraska 18. 3rd and 4.
"Quarterback Sorely, turns. Pitches to Hipp. Hipp running the right side.
(the crowd begins to get louder)
"HE GOT A BLOCK! HE'S TO THE 25! THE 30! 35! 40! 45! 50! 40! 30! HE'S TO THE 25! HE'S ALLLL THE WAY IN!!!!.....TOOUUCHHDOWWN!!!!
(CROWD ROARS)
"AND AGAIN, IT WAS NEBRASKA TIGHT END KEN SPAETH! Up ahead, taking out Robert Evans! MAN, WOMAN & CHILD! WE GOT ANOTHER ONE ON OUR HANDS!!! HOLY MACKERAL! 82 YARDS! He went from the 18!
"Oh! Whatta burst as I.M. Hipp went down the right side of the field....and there's the kick and the extra point...HOLY TOLEDO! MOTHER, AIN'T HE SOMETHIN'!!
"He went outside to the right. And he followed that blocking so beautifully! Then, he turns on that after-burner, and SHOOTS down the right sideline! And BIG KEN SPAETH, 6'5" can really fly! He is WAY down the field, ladies and gentlemen, at the 20 yard line!! Ken Spaeth was 60 yards downfield, taking out Evans! Isn't that somethin' to see?!!!"