Lyell Bremser transcript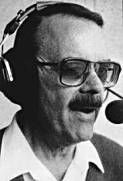 1980 Kansas State. OK, I'm not sure this one will translate into text as funny as Lyell sounds.
The game is a rout. 55-0, Nebraska.Nebraska has been playing EVERYBODY, including freshmen Turner Gill, Irving Fryer, Jeff Smith, etc It's a play-by-play man's nightmare, keeping track of all the subs, numbers don't match names, sometines there's no number listed at all.
We join Lyell after a commercial break. K-State is threatening to score.
"...Somebody bring me a soft drink. Alright after a little sip of that, we're ready to play football.
"And here's K-State over the ball. And Vogue rolling out to his left, he fires it to the end zone. (CROWD ROARS)
"INTERCEPTED AT THE ONE YARD LINE! HE'S TO 20! 25! 30!....WE DON'T KNOW WHO HE IS!....TO THE 40! TO THE 50! AND DOWN HE GOOEES AT THE 34 YARD-LINE!!!
(crowd roars)
"And who was it? TIM HOLBROOK!
"Tim Holbrook intercepted that pass at the ONE YARD LINE intended for Daryl Black. And so, the subsitutes....(chuckling)OH MY GOODNESS!...there are so many of them in there...and they run that ball all the way back to the 34 of Kansas State!"