Lyell Bremser transcript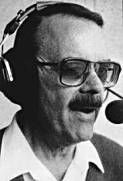 1980 Kansas State game. Lyell's call of a powerful tackle-busting run by sophomore, Roger Craig. The 4th quarter begins with NU leading 48-0.
"All right, 1st and ten Cornhuskers, their own 20 yard-line. And, Moravec goes to fullback. Roger Craig goes to I-back.
"Nate Mason the quarterback, turns, tosses to Craig. Running the right side. He broke a tackle!
(crowd begins to roar)
"HE'S TO THE 30! THE 35! THE 40! THE 45! THE 50! HE'S TO THE 45! THE 40! THE 35! THE 30! THE 20! THE 15! HE'S TO THE ELEVEN AND DOWN HE GOOEESS!!!! MAN, WOMAN & CHILD!!! WHAT A RUNNER THAT KID IS!!!
(crowd roars for several seconds)
"Roger Craig just put this crowd, and yours truly on their ears! WHAT A RUNNER! All the way from the 20 yard-line! HE WENT 69 YARDS!
"He burst over the right side, and he just BROKE TACKLES as he went! Mike Corgan is developing this kid into some great kind of a runner, I'll tell ya! What an I-Back he is! He went 69 yards! And, he was breaking a lot of tackles to do it!"
(Three plays later, Mark Moravec scored from the one. Eddie Neal kicked the PAT, Nebraska leads 55-0.)