Lyell Bremser transcript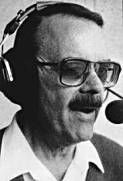 1983 vs. UCLA. This is Lyell's call of Mike Rozier's famous reverse field run...
"...the ball on the left hash mark. Open field to the right side. 3rd and two.
"Nebraska's over the ball in the "I", with Rozier at the top of the "I". And, Gill calling the count. He turns. Flips it off to Rozier!
"Roziers turns! (crowd begins to roar) He running back around the field! He's trying to get away! He's looking for blockers! HE TURNS UPFIELD! HE'S GONNA RUN IT-TOUCHDOWN!...TOUCHDOWN!!!....HOLY COW!...MAN, WOMAN & CHILD!!!!
(CROWD ROARS FOR SEVERAL SECONDS!)
"I gotta tell ya, folks! You never saw anything like it! Shades of Bobby Reynolds in 1950!
"This man, Mike Rozier...started running the left side! He was SHUT OFF on the left side, far to the left sideline! He turned, reversed his field, came ALL THE WAY ACROSS to the right side...picking up blockers as he came! Came laterlly across the field, back at about the 10-yard line, he turned upfield when he got a block, or two from Turner Gill, his quarterback and Harry Grimminger, his left guard, among others! And, went into the end zone...believe it, or not for the TOUCHDOWN!
"The field was just STREWN with white-shirted Bruin defenders! It was a MAGNIFICENT, UNBELIEVABLE run! And, it oughtta be shown all across America! And if that doesn't get him the Hiesman, NOTHIN' WOULD!
The ball is up, and the kick is through. And, the score is 21-10!...."