Lyell Bremser transcript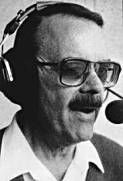 1980 Florida State. Another one dedicated to the Black Shirts.
Nebraska leads 7-0, 2nd qtr. Florida State intercepts a Jeff Quinn pass and has the ball 1st and 10 on the Nebraska 18.
1st play: Reverse to Dennis McKinnon, loss of 10. 2nd play: Rick Stockstill sacked, loss of 10:
"...Oh that defense! They're comin'! They're comin'! They're comin'! And they're just eatin' em up and gobbling up the Florida State middle!... WHAWBOOM! Momma, they really crunched him!"
3rd play:
"...and they come up now 3rd down, and let's call in 30 to go! Florida State on 3rd and 30. They line it up, and the quarterback Stockstill is back to throw! He's under a rush! (crowd begins to roar) AND THEY GOT HIM AGAIN AT THE 45 YARD LINE!!! DERRIE NELSON GOT HIM!!!
(CROWD ROARS)
"At the 46 yard line!... And I gotta tell ya, MAN, WOMAN & CHILD! I have NEVER seen more FEROCIOUS defense in all my days!! And, I been around a few. But this is, really RUGGED!! The Blackshirts are just like they have been UNLEASHED and UNCHAINED!! ...and Ron Stark in in to punt the ball away...."