Lyell Bremser transcript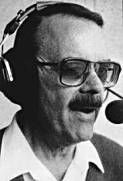 "...1st down, 10 to go. The ball at the 31 of Nebraska, 20 yards in from this, the west side of the field.
(all of a sudden, Lyell begins to shout)
"JARVIS REDWINE BREAKS IN THERE TO THE 40! 45! HE'S TO THE 50! THE 40! (the crowd roars loudly!) HE'S ALL THE WAY HOME!.... HOLY TOLEDO!.... MAN, WOMAN AND CHILD!
(crowd roars for several seconds)
"HOLY MACKERAL! HOW ABOUT THAT. SPORTS FANS! 69 YARDS! THIS STADIUM IS WILD! RED BALLOONS FILL THE AIR!!
"Jarvis... 'Marvelous' Jarvis broke right over right guard and right tackle! They had a hole you could drive a truck through! And, Jeff Finn threw a great block, the tight end on the right side! ...Eddie Neal is in to try the extra point...Jarvis Redwine just went 69 yards! Oh how he can fly!...the ball is down. Neal's kick is up. And Neal's kick is good! And, the score is 7 to nothing!
"So, just that quickly it's money on the board! 7 points go up with 13:43 left to play in the 1st qtr. Jarvis just popped in there! And, broke into the secondary! And, once Marvelous Jarvis hit's that spot it's BYE-BYE MOMMA! HE'S GONE! He FLEW 69 yards for a TD!"