Lyell Bremser transcript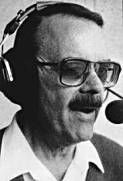 Minnesota game, 1973. Less than 2 minutes remain. The game is well in hand. Nebraska leads 41-7.
It's 4th down and 35 for Minnesota....that's right, 4th and THIRTY-FIVE.
"...4th down and 35 yards for Minnesota, and they'll have to kick it away. This is KFAB in Omaha with a minute and 15 seconds left play.
"And, Nebraska sends John O'Leary in a safety man now to receive this punt. John O'Leary back deep to recieve Moskel's kick. And the kick is away and it's a BOOMER.
"O'Leary's gonna field the ball at the 35. He runs up FIELD TO THE 45! TO THE 50! HE'S TO THE 45! TO THE 40! TO THE 30! HE'S TO THE 25! HE'S ALLLL THE WAY! (CROWD ROARS)
"AND, HO,HO,HO,HO,HO! OH MOTHER! DID HE FAKE THAT GUY OUT! AHHH, LET ME TELL YA, HE SHOWED HIM MORE MOVES THAN A GO-GO DANCER WITH A SHERIFF AT THE DOOR!!
"Moskel, the guy who kicked, was the only man left to stop John O'Leary! At the 25 yard-line, O'Leary ran right straight at him! And Moskel must have been just drooling with his arms out! And, O'Leary just threw him a left hip, and then a right hip...then he went the OTHER direction! And the guy just fell on his FACE at the 25 yard-line!
"O'Leary just ran it back 66 yards! OH, WHATTA MOVE! THAT WAS A SCREAM I TELL YA!"