Lyell Bremser transcript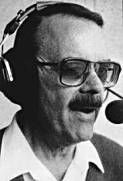 Here's a Lyell Bremser call from the 1973 UCLA game. Tom Osborne's very first game. Keep in mind that UCLA had upset the Cornhuskers in 1972, snapping a 32 game unbeaten streak.
A 77-yard Punt return by Randy Borg. Randy was from Alliance, I believe.
"...and now it's 4th and a yard and a half. And, the Bruins will have to give up the ball again. John Sullivan in to punt. Back deep for Nebraska #19, Randy Borg, just up ahead of him, Bob Thorton #17.
:Sullivan gets a good snap at the seventeen, his kick is away. A little bit of a driver this time. Borg takes the ball at the 24, he runs to his left. To the 25! (crowd begins to roar, Lyell raises his voice) HE'S TO THE 30! THE 35! HE'S TO THE 40! 45! 50! HE'S TO THE 40! THE 35! THE 30! ....AND ALL THE WAY IN FOR A TOUCHDOOWWNN!!!!.... (the crowd roars!)
"There was just some SUPER blocks by John Dutton and Zaven Yarailian (sp?)! Yarailian cut out the last man, down at about the 20 yard line! I think that was Steve Monohan he cut down! He was the man coming from behind, and Yarailian #15 had a perfect angle and JUST CUT HIM IN TWO at about the 20! And Randy Borg set sail, on a beautiful punt run back of 77 yards! Jack (Payne), we can say it again.....MAN, WOMAN & CHILD! HOW 'BOUT THAT ONE!