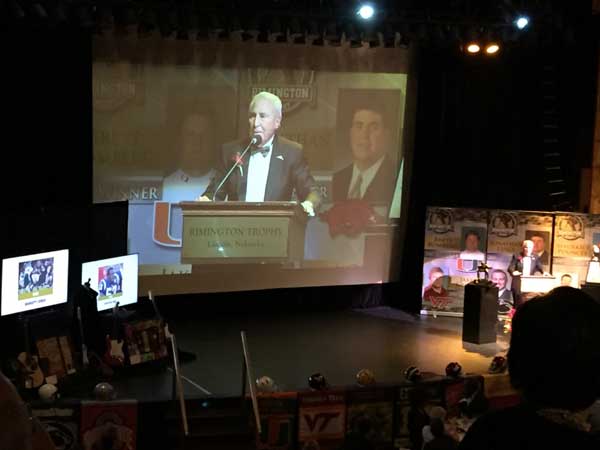 Lee Corso
Keynote Speaker
2016 Rimington Award
On Saturday, January 16th, my wife Donna and I attended the Rimington Award ceremony at the Rococco Theatre in Lincoln. The winner was Ryan Kelly, the three year starting center on the National Championship Alabama team. Our main reason for attending was to see the keynote speaker, Lee Corso.
When Coach Corso was the head coach at Indiana from 1973 to 1982 I was a graduate student athletic trainer and had the opportunity to work with Coach Corso and the football team in the 1973 and 1974 seasons. I had just graduated from Kearney State College and decided to pursue a career in athletic training rather than physical therapy mostly because of the influence of the head trainer at Kearney, Mike Kostich, who was an Indiana graduate and who I worked with all the athletic teams at Kearney for two years. I applied with Mike's encouragement and was accepted and my first year at Indiana was also Coach Corso's first year.
I remember watching his coaching show on TV before meeting him in person and Coach was the same showman he still is today on ESPN. Before his first game ever at Indiana against Illinois he told everyone listening to the TV show to get to the first game early because the warm ups were going to be amazing. His real plan was to do warm ups on the practice field away from the stadium and then come down with the team on a London style double decker bus right before kickoff. The stands were full waiting in anticipation. What he didn't take into account was that it was also band day. You remember the traditional band days where multiple bands from across the state would come and perform as a group? Well this was Indiana's band day and the entrance to the football field was a road that started at the top and wound down to the field. When the team arrived with the double decker bus the bands were still on the road and the bus couldn't get through. They finally got down to the field right before kickoff and barely avoided a delay of game penalty (or it might have been forgiven, I'm not sure.)
In any event the crowd was pumped up and they really got going when Indiana took the opening kickoff and marched down the field and scored easily. To top it off Coach faked the point after and went for two and made it to lead 8-0 driving the crowd crazy. The euphoria went to another level when Coach called an onside kick and Indiana recovered. They marched down the field again and scored to make it 14-0. Coach went to the well one too many times and the two point coversion failed. Unfortunately the final score was Illinois 28 and Indiana 14 spoiling Coach Corso's Indiana debut.
In spite of the loss Coach Corso endeared himself to the Indiana fan base and coached there for ten years. He takes pride in doing things the right way and never being the subject of an NCAA investigation. As a trainer you interact a lot with the players and they had a great deal of respect for Coach and his tenacity. There were plenty of disappointing losses but there were also seasons where he took Indiana places it had not been to in a long time. The most notable was the 1979 season where Indiana finished ranked 16th in the country after beating previously unbeaten BYU in the Holiday Bowl 38-37 in a game that saw eight lead changes. I was out of school at the time and the head trainer at Cal State, Dominguez Hills and went to the game with a friend. After the game I managed to get past security and get into the locker room. It was crazy. After being at some of the disappointing losses it was great to share that memory with Coach and the team. That was the last time I saw him in person until Saturday.
We didn't have a lot of time to reminisce as there were others waiting to get a picture with him but he did recall wearing Branch McCracken's shoes at the Purdue game in 1974 for good luck and also some of the other trainers. One in particular was Dave Grossman who was at Indiana at the same time and is now back at Bloomington South High School. Dave and I are still good friends and get together when Donna and I visit her family in Bloomington. Dave and I would travel to the close road games with the team and back then student trainers had to cover their own expenses for road games. Dave recently told me about Coach Corso pulling him aside after one of those road games and gave him some cash out of his pocket because he wanted to help out with his travel expenses. Coach took care of his assistant coaches, his players and his support staff. Those two seasons that I spent with him are some of my fondest memories outside of Husker football.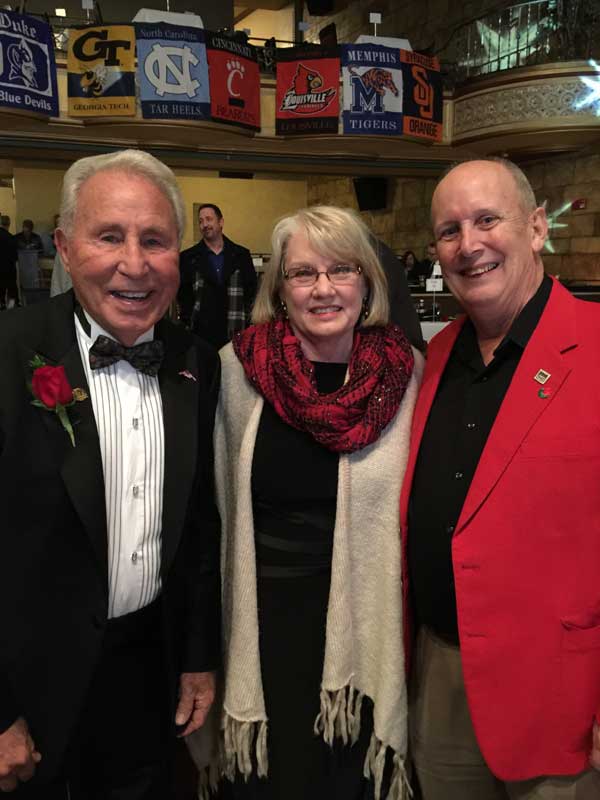 During his remarks at the Rimington Award he recounted coaching at an all star game with Bob Devaney and Tom Osborne and said it was instrumental in him getting the job at Indiana. The Athletic Director at Indiana that hired him was Bill Orwig who previously was the AD at Nebraska and hired Lee partly based on the recommendation from the Nebraska coaches. When I was dating my wife Donna, a home town Bloomington girl, I would impress her by taking her into Bill Orwig's and Lee Corso's office and introducing her to them. It worked as we will be celebrating our 40th wedding anniversary this April. Lee tolerated my "outgoing personality" and always dropped what he was doing to be cordial to friends and family members that I occasionally brought by. I will never forget that small token of genorisity on his part.
Coach Corso also spoke about the importance of family in his speech and how important they were to him when he was fired at Indiana. He took the firing pretty hard and recalled the importance of the support he got from his immediate family at that time. I liked him the first time I saw him on his coaches TV show at Indiana before I ever met him and enjoyed every minute of working around him and observing his interactions in those 1973 and 1974 seasons. Like Dave Grossman I traveled to every road game in 1974 at my own expense and did whatever I could to help in a season that endeded with a 1-10 record. I have a collection of sideline passes from each of those eleven games which I am positive is a one of a kind collection. Lee Corso will be remembered as a college football icon from his days at ESPN but I remember him as a great individual, family man and a person that cared deeply about his players. He truly is an icon in more ways than one and I thank him for taking the time to come to Lincoln and support Cystis Fibrosis and the Dave Rimingon Award. Next year's speaker will have a tough act to follow.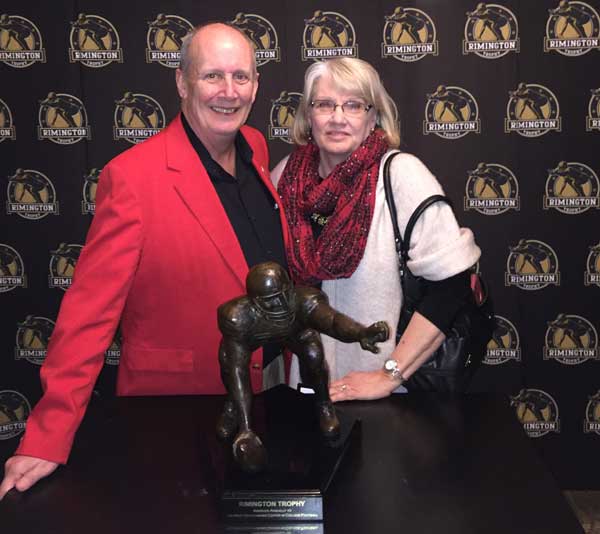 Views: