Ralph Brown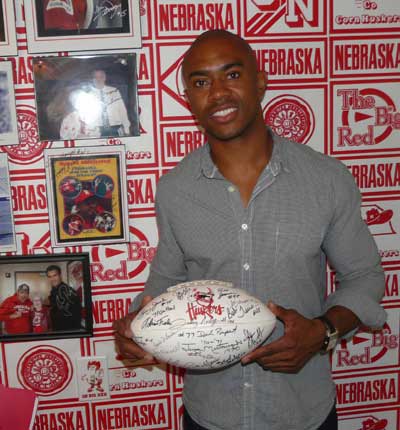 Ralph Brown played at the University of Nebraska from 1996 through 1999 and was a member of the 1997 National Championship team. He finished career with 143 tackles, including 88 solo and is third on the Cornhuskers career list with 11 interceptions and first with 253 interception return yards. Brown also set a school record with 50 pass deflections. He was recognized as a consensus first-team All-America, having been named to the first teams of Walter Camp, College Football News and the Sporting News as a senior in 1999. He was also a semifinalist for the Jim Thorpe Award, given to the top defensive back in the country. In 1997 and 1998, he was an All-Big Twelve Conference first team selection. Brown was then an All-American third-team pick by the Associated Press and College Football News in 1998. He became a member of the Big Twelve Commissioner's Academic Honor Roll in 1997. One of six true freshmen who saw action for the Huskers in 1996, but the only one who earned a starting role. Brown became the first position player at Nebraska to start his first game as a true freshman since World War II. After his Nebraska career he played cornerback in the NFL for ten years for the for the New York Giants, Minnesota Vikings, Cleveland Browns and Arizona Cardinals. This interview was done by David Max on May 7, 2013.
DM: Where are you from originally and what high school did you attend?
RB: I'm actually from Baldwin Park and I attended Bishop Amat High School. (La Puente, CA)
DM: Who recruited you to Nebraska?
RB: George Darlington, the defensive backs coach, recruited me to Nebraska. He came to my house and talked to my parents and I. We really enjoyed his company. He spoke about the history of Nebraska.
DM: George was at Nebraska for decades. I remember George telling me the story about how Tom Osborne recruited him to be an assistant coach at Nebraska. It was at a coaching convention and George became one of the original Tom Osborne hires.
DM: What other schools did you consider in the recruiting process?
RB: The other schools I considered were UCLA, USC, Colorado and Michigan and I ended up choosing to go to Nebraska.
DM: .Did you take recruiting trips to any of those?
RB: Yes I did. All four.
DM: .Was your recriting trip to Nebraska in a snow storm or was it nice weather.
RB: It was actually in a snow storm. There was a blizzard the weekend I took the trip to Nebraska and I think Coach Osborne and his staff were kind of lamenting the fact that there was going to be a snow storm that weekend I showed up. I didn't get a chance to see the campus and they were a little nervous but the one thing that resonated with me was the treatment and how the players were during that weekend.
DM: What made you choose Nebraska over the other offers?
RB: There were a lot of different factors. One was the fan support. The players and how close they were. Tight knitted. The academics. They were the only school that really pushed academics out of the other four schools that I was really interested in possibly signing with and just the tradition and the history and back to back national titles helped as well.
DM: Michigan didn't push academics?
RB: Well, they did but not as strongly as Nebraska and at the time as well Nebraska was number one in academic all-americans.
DM: So on that recruiting trip did you meet people like Keith Zimmer?
RB: Yes I did.
DM: Was Keith a factor in that academic push?
RB: Yes, Keith was. Mr. LaBlanc, I don't remember his first name (Dennis) and just the rest of the staff. They were very organized, very professional, very caring and I could tell they all loved what they did. It was a great support system and I felt if I went to Nebraska I would be treated very well.
DM: Do you have brothers and sisters that went to school elsewhere? Were you the first one to go to school out of state?
RB: I am the first one to go out of state. My sister went to junior college in California and then went to Cal State, Northridge.
DM: You played offense in high school. Did you want to be a running back when you came to Nebraska or were you recruited as a defensive back?
RB: I was recruited as a defensive back. Actually I wanted to try a taste at running back but at the time Nebraska was stacked with guys like Ahman Green, Jay Sims, Damon Benning, DeAngelo Evans. Because I had a great senior year running the football but I knew my shot at Nebraska was much better at cornerback.
DM: Is there a particular regular season game during your Nebraska career that you remember most?
RB: Against Colorado (1996) when we were both ranked in the top 5. It was at home and it was transferring from sleet to snow and rain throughout the whole game and I ended up breaking a single game pass break up record as a freshman and I will remember that for the rest of my life.
DM: Mike Brown (no relation) was your teammate in the defensive backfield? How was he to play with.
RB: He was awesome to play with. He was very passionate. Always did his job. Loved the game of football. Great teammate. Funny. We knew we could depend on him. We would poke fun at each other during the game and be real competitive out there. How many tackles could each other make. Who could make the most plays out there. We became really close all the time we were playing together.
DM: Who are some other teammates that you hung out with?
RB: I hung out with almost everyone. Michael Booker, Mike Minter, Jason Peter, Terel Farley, Stokes, Eric Crouch, Scott Frost. A lot of guys on the team. We were all very close and I think that's what separated us from all the other colleges.
DM: Was George Darlington your position coach at Nebraska and what was he like as a coach?
RB: Coach Darlington was very detailed and he would always stay involved with the new techniques that the NFL was implementing all the time and he made sure that we were up to date on our footwork and very detailed about playing the defensive back position. Once I got into the NFL it was an easy transition because of how Coach Darlingtion prepped us for the next level.
DM: Do you have any Tom Osborne stories that you would like to share?
RB: Well definitely. I think when were getting ready to play Tennessee in the Orange bowl in '97 Coach Osborne was great at prepping us for the game but it was amazing how Coach Osborne would depict how the game would play out. He actually did that when we played Tennessee. He said that they would come out kind of rowdy and in our face. He said in the second quarter we would start moving the ball a little more. Then in the third quarter he said that's when we will score most of our points and in the fourth quarter they would probably start shaking our hands and acquiescing that we were the better team and that's exactly how the script played out that year against the Volunteers.
DM: It was kind of like a replay of the Miami game of '95 when he made those predicitions.
RB: Exactly.
DM: What do you remember most about the 1997 National Championship Game in Miami against Tennessee?
RB: I remember Peyton Manning getting a little nervous because we had a ton of talent on the defensive side of the ball. I remember making that key tackle against Jamal Lewis on the perimeter when he fumbled the ball and Mike Rucker recovered it. That was a game changer and I just remember the build up to it because of all the talent that Peyton Manning had, the young running back in Jamal Lewis and how they were going to possibly beat us in that game. We showed up and showed them how physical we were that day.
DM: Did you get the opportunity to meet any of the Tennessee players?
RB: Raynoch Thompson. I hit it off with him. Jamal Lewis, I'm still friends with him to this day. Peyton Manning, I met him a few times and Leonard Little as well. They had a ton of talent on that Tennessee team.
DM: You had a ten year career in the NFL after Nebraska? What was the transition like going from Nebraska to the pros?
RB: It was pretty tough but I had the fundamentals that would carry me over and a good foundation that was set with Coach Darlington but you have to make an adjustment with the speed, the size, the craftiness of the type of players that you play against. The information that is feed to you at an alarming rate. It's not like college where they baby you through it. In the NFL it's through at you in a one or two day or fast type of increment pace.
DM: What was your best season in the NFL?
RB: I would say the latter part of my career when I was with the Arizona Cardinals which is pretty interesting because usually it's when you're younger. 2008 was my best season when we went to the Super Bowl. I was really instrumental on defense playing nickel back and had some key interceptions during that year and helped them get to the Super Bowl.
DM: Tell us about your experiences playing in the 2009 Super Bowl with the Arizona Cardinals?
RB: It was something that I had dreampt about since I was a little kid and I finally had the opportunity to play in a Super Bowl and just be a contributor. I remember the ebb and flow of the game where we came out a little dry and slow in the first half and in the second half we mounted that comeback but we ended up not winning the game. I remember Roethlisberger marching down the football field and beating us in the last few seconds which is considered one of the greatest drives of all time.
DM: What do you do now that you have finished your playing career?
RB: I currently own a sports training company where I develop athletes that are prepping for the NFL on their speed, quickness and agility. I do public speaking events as well. I talk to different high schools and small groups about success and how to achieve your goals similar to what I did on the NFL level. I also am going into broadcasting. I started broadcasting last year and will be going into my second year of that.
DM: Is all of that in southern California?
RB: Yes, it is. It's all in southern California.
DM: On the broadcasting side where would you like to be if you could pick five years from now? Would you like to be doing sports on TV or more on the acting side?
RB: I would love to be a color commentator for Fox Sports, CBS, NBC or one of those big networks, possibly calling the Super Bowl or a big bowl game with one of those big play by play announcers.
DM: Hey, you never know. Ten years from now you might be the second coming of Pat Summerall.
RB: That would be awesome.
DM: What do you remember most about Husker fans? You came there in a snow storm and you stayed so that has to say something. Were the fans part of the reason why you selected Nebraska besides the academics?
RB: The Husker fans are a cut above with their loyalty, their passion, their commitment to learning all about you as a person, your position, the history of the sport and it's fascinating because families know so much about the Huskers. Not only the men who are sports fanatics but the women know so much about the sports as well. You history, what you did in high school and they keep up with the players throughout their career as they go on to the NFL as well. I feel like it's just a great, great atmosphere as a group of fans that support their current and former players all throughout their careers.
DM: Do you still attend Husker charity events?
RB: Oh definitely. Last year I attended Jason Peter's golf outing. I really enjoyed it. There's a lot of ex-players that come back. It's kind of like a reunion to come back and golf and partner up in a small group with people who are part of the Nebraska community and live out in Nebraska. It's a great time to give and donate to a great cause that Jason Peter is a part of.
DM: Which is Larry the Cable Guy's Git-R-Done Foundation. So you've met Larry I assume.
RB: Yes, I have. (Laughs)
DM: We'll ask you for a Larry the Cable Guy story another time. Ralph, thank you very much for sharing your Husker memories with the Husker fans. We really appreciate it.
RB: No problem. Thank you very much.
Comments about this interview can be left at this email.
Ralph Brown Statistics:

Selected in the fifth round of the 2000 NFL Draft by the New York Giants
December, 1999 Graduate in Communication Studies
1999 Co-Captain
1999 First-Team All-American (Walter Camp, Football News, Sporting News, ABC/BCS.com, Football Foundation)
1999 Jim Thorpe Award Semifinalist
Three-Time Jim Thorpe Award Candidate (1997, 1998, 1999)
1998 Third-Team All-American (AP, Football News)
Three-Time First-Team All-Big 12 (1997, 1998, 1999)
1997 Big 12 Commissioner's Fall Academic Honor Roll
1996 First-Team Freshman All-American (Sporting News)
1996 Big 12 Defensive Newcomer of the Year (AP)
1996 Honorable-Mention All-Big 12 (AP, Coaches)
Ralph Brown's School Records
Game - Seven Pass Breakups (vs. Colorado, 1996)
Season - 15 Pass Breakups (1999)
Career - 50 Pass Breakups (1996-99)
Tied Record for PBUs in a Bowl Game - 3 in 1998 Holiday Bowl
52 Consecutive Career Starts. Second in the entire NCAA.
Source: Huskers.com Ralph Brown Bio