Larry Tomlinson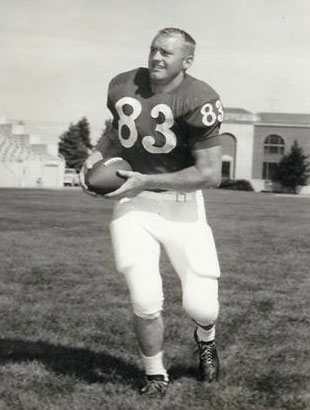 Larry Tomlinson was a member of the 1962 team that started the consecutive sellout streak that will reach 300 games with the LA-Lafayette game on September 26, 2009. Larry currently resides in Canada where he is a retired school teacher. This interview was done via email corespondence by David Max and published on September 14, 2009. Larry was a star athlete at O'Neill St. Mary's when I was in grade school at Page.
DM: Where are you from originally?
LT: I was born in O'Neill NE but the next 8 years my family lived on a farm 21 miles north east of O'Neill in the Scottville community and 17 miles south of Lynch. After our family experienced the blizzard of 49 (which started November 1948) my father (who suffered from asthma) felt that he had enough of country living and we moved to Lynch. The day the blizzard started I went to school which was two miles from home there was not a snow flake on the ground. By two o'clock my dad and uncle had to have the car towed about a half mile to the school by a neighbor and his tractor. School was closed for three months and dad did not get his car back until the end of April.
DM: Where did you play high school football?
LT: I played my football at St. Mary's Academy. Initially I was not a Catholic. But I had two cousins that were. When we visit the families I became friends with their playmates who were Catholic. After my father died in 1952 mom and I moved back to O'Neill. When it came time to enrol in school mom give me the choice of which school I wanted to attend. Since I did not know anyone at the public school I choose St. Mary's. A decision that I never regretted of course.
DM: Who recruited you to Nebraska?
LT: Don Scarbrough recruited me.
DM: How were you contacted initially?
LT: Coach Don showed up at St. Mary's and I was called out of class. He introduced himself and said that he would like to take my mom and I to a café and discuss football. I signed a letter of intent and the rest they say is history.
DM: Was Nebraska your only choice or did you look at other schools?
LT: Nebraska was my only choice. I had "come and look offers" from Wayne , Kearney and Fremont, where the North shrine bowl team practiced. Only Nebraska offered a full scholarship. Of course I did not look at any other schools as I did not have the means to pay for any college or university. I had not considered education after high school. I had not even listened to a Nebraska game on the radio and I saw only one game when the O'Neill band attended band day at the university my junior year and don't remember much about the game. If it had not been for Jennings and his staff I would not have gone to college or Nebraska. I have him to thank for that. I graduated with a Bachelor of Science degree in Education with a major in Industrial Arts and a minor in Physical Education.
DM: What was Bill Jennings like as a coach?
LT: Coach Jennings was a little like a Jekyll and Hyde. He was a very genial when you talked to him off the field and was not much of a yeller on the field as I remember. But he did show his frustration when things did not go as he though they should. His coaches were more of the yelling type. They all knew that their jobs were on the line if the team did not do well. Practices would continue beyond the hour and half and many beyond two hours. We would be practicing under the flood lights on the coliseum. We would be scrimmaging the Thursday before a game and a lot of players were getting hurt or were banged up for the Saturday game. I was redshirted my sophomore year but I came close a couple of games where I would be needed to back up the first string position.
DM: Who was your position coach under Devaney?
LT: Jim Ross was my end coach and Tom Osborne was the graduate assistant as well. Jim would make sure that we ran the right pattern and Tom would demonstrate and discuss how the patterns should be run. It's kind of ironic but I taught with a Jim Ross at the school I retired from
DM: What was your reaction when Coach Jennings was fired?
LT: The firing of coach Jennings was not a complete surprise. There had been a petition circulating amongst the players stating we were dissatisfied with the staff. It was supposed to have been given to the athletic director, which had been hired at the beginning of the 61 season. Jennings was hired by Kansas and that gave us a big incentive when we played them the next season. Devaney gave credit to Jennings for recruiting the players that he had to work with.
DM: What do you recall about the transition from Jennings to Devaney?
LT: The main thing I remember about the transition was the relaxed atmosphere that Devaney and his staff presented. His first comment was that practices were going to be one and half hours max. But everyone had to work hard. During the spring practices he said that they would slowly put in plays and would give players time to remember the plays but if he though that you were making too many mistakes they would just bring up the player playing behind and see if he could do it better. That put everyone in a better frame of mind and worked harder. We also did not scrimmage past Wednesday, had light workouts Thursday and Fridays. One thing that did surprise most of us was the Sunday morning work outs. That sure cut down the late Saturday night parties. But we were in better shape in the fourth quarter then most teams. We still did not have the platoon system and under Jennings the starting team played the first quarter and half, then they played the last of the third quarter and all of the fourth. With Devaney the first and second teams shared all quarters equally.
DM: You played with Coach Solich in 1963. What do you remember about him as a player?
LT: I was very impressed with Frank's ability to play full back considering his size (5' 10 or 11" and 145#). But then he had a good line blocking for him and he was very strong and shifty.
DM: Do you have a particular regular season game that sticks out in your memory?
LT: The first game of the '62 season stands out because I scored my first touchdown at Nebraska. At the time I did not consider the fact that it was the first touchdown of Devaney's era. It was a pass from John Fiaman. It was in the second half of the first quarter because we were on the second team. I am not sure if the play came from the side line or John called the play. It was not the first pass thrown in the game but I think the fans realized that the team was going to be more then three plunges into the line and punt. Devaney said that it was the first time that he saw a standing ovation because he called a pass play. The pass play was a post pattern. I caught the ball between two South Dakota defenders and I ran about 20 yards for the TD. I had one other touchdown against Kansas St. This was an interception; I received some good blocking and ran about 30 yards. I had some good games my senior year. One was against Iowa St. and the other against Air Force which I received the player of the game award in the paper.
DM: Do you have a particular teammate that you remember?
LT: In my freshman year I became good friends with Al Wellmen. When I made a visit my senior year in high school, Al was given the task of showing me around campus. Al was on the track team and threw the shot putt and discus. I was on the freshmen team and threw the shot putt. He was also good friends with Pat Salerno, a senior that played end. We all roomed on the same floor. Another teammate was John Kirby. The last two years John and I played next to each other. We spent a lot of time in huddles and traveling to banquets together. John has the best imitation of a siren I have every heard. That sound keep us from being late for a couple of curfews.
DM: Do you have a favourite Bob Devaney story?
LT: I don't have any Devaney stories. I never associated with Bob outside of the football field. I did travel with him to two athletic banquets. One was in Spencer NE and we flew from Lincoln to Lynch. We landed at the Fox brothers, a mile or two east of Lynch. They were the only one to have a plane in the area so they had a landing strip. When we prepared to return the area was fogged in so bad that we could not see more then 50 yards. I could not believe that the pilot made no hesitation about taking off. It was foggy all the way to Lincoln but we flew above the fog and it was a brightly lit moon sky. I was still concerned that we could not see to land. But of course the pilot knew what he was doing and was able to see the runway.
DM: What do you remember about the Gotham Bowl game?
LT: I remember that we almost did not go. First the coaches called a meeting of the players and announced that we had been invited to play in the bowl. Of course we had not heard of the bowl, it had only started the year before and was not a great success. After Devaney mentioned all the negative aspects about going, (practicing another two weeks in cold weather, not to mention that the game would be played in the same kind of weather, it was not a prestigious bowl, but we were playing Miami) we all unanimously voted to go. We still had a foul taste after getting beat by Oklahoma in our final game. Then we made the famous wait at the airport until the bowl committee put a deposit in the bank.
During our workout the day before the game we discovered that the ground at Yankee stadium was frozen and our football cleats were more like ice skates and could not get any traction. The equipment team headed for a sports store and bought everybody converse basketball shoes. Of course Miami did the same thing.
Ironically I don't remember much about the cold temperature as the excitement of the game keep us warm. I do remember going to a Giants game at Yankee stadium the next day and I really felt the cold. That has been the only NFL game that I have seen live.
A group of us toured the night clubs and of course the Playboy club after the game. The next day I remember wanting to see the Statue of Liberty. I asked the hotel desk for direction and decided to walk to the statue. I did not realize how big the city was. But after walking six or seven blocks I decided that I was not going to get there. I found out later it was a couple miles to the dock and I still had to take a boat to the island. So much for being a country boy in a large city.
The Orange Bowl was another great experience. This was the first time that I had seen the ocean. When I stepped out on the beach I could feel the power of the waves that came on to shore. I suppose if you take someone from a big city and put them on the prairies they would get the same feeling.
Spending two weeks in Miami in the middle of December was a great experience. I did make a poufal during a TV interview on the beach. We had been there about a week and the interviewer asked why I did not have more of a tan. I said that temperature had not been that great, as a matter of fact I said that it had been warmer in Nebraska then here. I did clarify my statement and said that the temperature had been great the last couple days. I was later informed that when people heard my comment they gave a cheer.
Sport interviewers are still asking silly questions.
DM: What were the Miami players like?
LT: We had a chance for the two teams to socialize at a dinner but we or at least I did not talk to any of the Miami players. I did have a chance to talk to one of the linemen when we were both rookies with the Montréal Alouettes. We talked about the game and they were surprised how big and fast we were. He was cut during camp.
DM: Do you still stay in touch with Nebraska teammates that you played with?
LT: I had not keep in touch with any teammates outside of getting together with reunions. Now that we have this e-mail mode of communications it makes it easier to make contact. I now keep in contact with John Kirby. I had dinner with Gary Toogood and his wife when Pam and I passed through Las Vegas three years ago. Gene Young and I exchange Christmas cards each year. He keeps me informed about his and Bob Brown's activities. I don't know if you heard that Gene was given a retirement honor for his coaching in his home town.
DM: What's it like to be a part of the team that started the consecutive sellout streak?
LT: I feel very fortunate to be part of such a great tradition. There were many coincidences and events in my life that enabled me to be part of this tradition. I just wish that I was closer to be more involved with many of the activities that the athletic department, the alumni and letterman club have organized. Pam and I are planning on being part of the celebration for the 300th consecutive sellout streak. The festivities start on Friday afternoon and into the evening. Saturday I will take Pam for a walk around the campus and take in the pregame activities such as the tailgate parties, etc. The players from the '62 team will be introduced during the game. On Sunday, I will have the honor to be inducted into the Nebraska High School Hall of Fame. Once again, I will have the privilege of representing St. Mary's Academy and O'Neill.
DM: Do you come back to Lincoln for any games?
LT: Since I have retired from teaching I have seen four or five games and one Red and White game.
I am planning a trip for the 2010 season with three guys that are football fans. They have never seen a major university game. They were part of a group that took a bus trip to California a few years ago and we took a tour of the stadium on our way though Lincoln. They were very impressed. I am arranging to see a game in Lincoln and have acquired tickets for that game. We would like to see a game the next week in Manhattan Kansas October 2, for which I am still looking for tickets.
DM: Is there anything else about your playing days about Nebraska that you would like to comment about?
LT: As I mentioned before, there were events that enabled me to move from a small farming community north of O'Neill; then to Lynch and on to O'Neill St. Mary's, which enabled me to be recognized by the university and in turn to be offered a contract to play in the CFL in a large metropolitan city (Montreal) in Canada. I feel very fortunate and lucky to have played a small part in starting a great tradition for Nebraska sports. I am still amazed how enthusiastic the whole state is about the Huskers. One sees this as you drive through the small towns and cities with all the paraphernalia that is displayed in the yards.
DM: What are you doing now?
LT: I have been retired 12 years after teaching physical education and Tech Voc for 30 years. I also coached basketball and various other sports during that time. I worked at a cabinet shop for my first four years making kitchen cabinets and custom furniture. I then did odd jobs, minor renovations and various jobs. This spring I teamed up with a teaching colleague and we have gone into doing major renovation. I also became a basketball official the year I retired. I figured that since I had been helping the officials call my games when I was coaching I should start making money with the game. I have been playing, coaching and now refereeing basketball for 60 consecutive years; that and $2.00 will get me a cup of coffee at McDonalds ha. I have been helping coach the receivers with our local city football team for the last five or six years. These are guys ages 18 to 21 that are not playing or attending college. My wife and I have taken a few cruises to visit various countries and cities. I was married to a French Canadian for three years before getting a divorce. I am now married to Pam and adopted two boys. One is now married and we have four grand kids. My world of sport has taken me to many places, I have met many people, made a great deal of friends and have a great family but there is still no place like Nebraska.
DM: Thank you for sharing your Husker memories with us. We really appreciate it.
Comments about this interview can be left at this email. Scroll down for more pictures.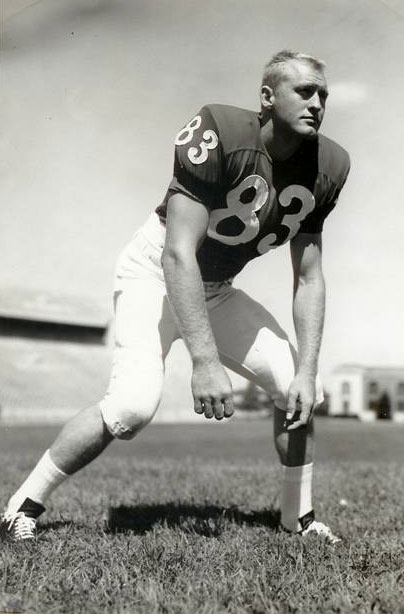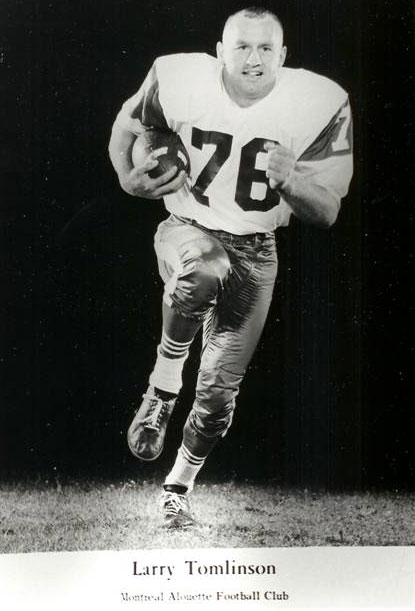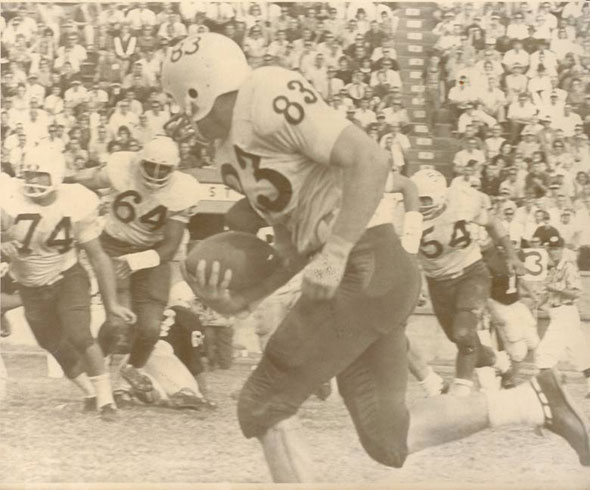 Interception for a TD against Kansas State