Betty & Forrest Behm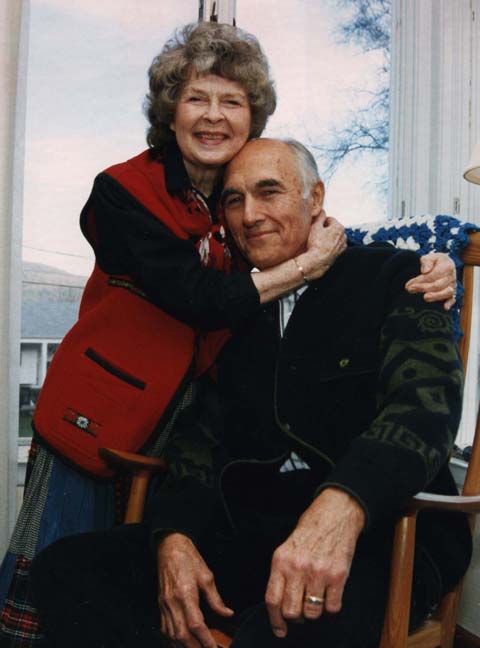 Below is the obituary for Betty Behm who died two days before Forrest was honored as the player on the ticket at the Southern Mississippi game on September 11, 2004:
Ethel E. "Betty" Behm, 85, of 3 Briarcliff Drive in Corning, died Thursday, September 9, 2004 at Arnot Ogden Medical Center with her husband of 61 years by her side. Betty was born on April 29, 1919, in Lincoln, Nebraska, to the late Frederick and Ethel Anderson Groth. She was a bright and talented young woman, active in music and dance, and was a high scholastic achiever. She graduated Phi Beta Kappa from the University of Nebraska with a major in Psychology, and was a member of the University Cathedral Choir, in addition to her many other activities.
She married Forrest Edwin Behm, also from Lincoln, in 1943, and moved with him to West Point in 1944. Following the end of the war, she and her husband moved to Corning when he joined Corning Incorporated (then Corning Glass Works). She attended First Presbyterian Church in Corning, where she sang in the Senior Choir, was founder and director of the Junior Choir, and also served for many years as the Director of the Senior Choir. She supported the growth of the arts in Corning as a co-founder (with Barbara Wilson) and first treasurer of 171 Cedar and as a member of the Board of Trustees of the Rockwell Museum. She was also a member of the County Mental Health Board. She was recognized by all who knew her as a vital member of the community, a caring friend, a devoted wife and a loving mother.
Betty Behm is survived by her husband, Forrest, of Corning; her four children: Courtney Behm of Mountain View, CA, Douglas Behm of Scottsdale, AZ, Brian Behm of Lakeview, MN, and Gregory Behm of Glendive, MT; and her nine grandchildren: Michael, Jessica, Evan, David, John, Peter, Christopher, Nicholas and Joshua.