Doug Dumler
Doug Dumler was the starting center on the 1970 and '71 National Championship teams as well as the 1972 team that defeated Notre Dame in the Orange Bowl.
This interview was done on June 3, 2004, by David Max.
DM Where are you from originally?
DD I was born in Kansas but I grew up in the Chicago area. That's where I went to high school and played high school football.
DM Who recruited you to Nebraska?

DD Actually, nobody initially. I was all ready to go to a small college in northern Illinois or perhaps in Wisconsin but my dad taught at a small college in Illinois and one of his colleagues there had gone to the University of Nebraska. He went to the Monday morning quarterback clubs and he went up to one of the coaches and said "Hey, there's this kid in the Chicago area that your ought to take a look at." These coaches probably hear that all the time and he said "Send us some film and we'll take a look at him." We put together some film of my senior year and sent it off I got a scholarship offer in the mail. After that George Kelly and Bob Devaney came to the house so George Kelly was probably the recruiter. I didn't need to be recruited. They gave me the scholarship offer and I said "Hey, I'm on my way."
DM So you got the offer before the personal visit.
DD Yes, I did. They must have liked what they saw on the film. My dad must have doctored it pretty good.
DM Were you a center in high school as well?
DD No, I played defensive end. That was before I hurt my knee which slowed me down a little bit obviously. I then became an offensive lineman at Nebraska.
DM Were there other schools that were recruiting you?
DD I got some letters from other places like West Point and Dartmouth. I sent a letter to Alabama because Alabama beat Nebraska twice in a row in bowl games in the 60's so I thought they were the cat's meow. They sent the form letter back saying I was welcome to walk on, etc.
DM How were the practices at Nebraska?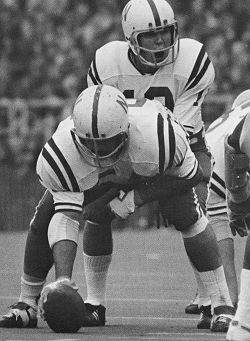 DD In spring I hated them. They were 2 to 2 1/2 hours long and even though it wasn't very hot is was tough psychologically because winter is over and it's spring. All of the co-eds are walking around in shorts and I'm playing football. In terms of difficulty physically, yeah, they were demanding but it wasn't something that you didn't think you were going to make it through. They worked it on what is the pro style of practice with stations and a certain amount of time at each station. The whistle would blow and your group would go to the next station and practice a different aspect of your game. You kept moving all of the time. It's not like you were bored and sitting around watching other people doing repetitions.
DM Is there a particular regular season game that sticks out in your memory?
DD Well, certainly my very first one. I was a sophomore and it was against Wake Forest. It was my first baptism under fire in major college football. It was a cloudy day and fairly cool for a September day in Nebraska and we won handily. I think the score was 36-12. That was my first memory of strapping my helmet on in the real deal. The next game was a night game against Southern Cal in the Coliseum in Los Angeles. We tied that game. That was just a terrific experience being on the road in California and playing against them and it was an eye opener for me as a young kid.
DM What was Jerry Tagge like as a quarterback?
DD He was always in charge. He set the tone for our offense. If you watch films of our era when we scored a touchdown there was no jumping all over each other and high fiving and everything. We just got up and went back to the huddle for the extra point and I think Jerry Tagge set the tone for us because in the huddle he knew what he was doing. He was in control of everything. If it was third and one and we were going to do a quarterback sneak not only would he make the quarterback sneak call but he would tell me right there to make sure I got a good snap of the ball before I started making my block. He was always reminding me and everybody else of those kind of details. I can remember many times he would be working on a sequence of plays and then Coach Devaney would send in a player with another play. It would upset Jerry and he would have a few choice words to say because he had a sequence planned and when this new play would come in from the bench it would upset his plan and he would get a little upset about that. That shows just how in charge he was. He knew exactly what he was doing.
DM What about Van Brownson?
DD Well, you know, Van didn't play a whole lot during those three years that I played. He played somewhat but Jerry was the prime quarterback. When I did play with Van he was also very much in charge. He was probably a little better athlete than Jerry was. Jerry was just a big kid. He didn't have great foot speed but he knew what he was doing and got the most out of what he could do. Van was quicker and they both had a good throwing arm.
DM Did you play with Dave Humm?
DD My senior year Dave was our quarterback. He was a sophomore then but even as a sophomore he was in control. He would make some mistakes and say "Aw, jeez, that's not going to work." But even as a sophomore you could see that he was a student of the game. He knew what he wanted to do and he had that good rifle arm with that left hand and he was fun to play with.
DM Do you have a favorite Bob Devaney story?
DD Well, I can remember a joke that he told us but I don't think I can repeat it. He said it in the context of a motivational thing. Midway through my sophomore year which was the 1970 season we had tied Southern Cal but otherwise we were undefeated and ranked up there in the polls. The moral of the story was don't believe the "stuff", and he used a different word, that you read in the papers. He was trying to make sure that we kept our feet on the ground and leave the press clippings and things like that. He told a great joke but I can't repeat it. He had the whole team rolling at the end of practice.
Another thing I can remember is my first trip to Nebraska as a recruit. I go in and I remember reading in Bill Janssen's interview that he had the same kind of an experience. You go in an sit in front of this throne where his desk is and he proceeded to say "Doug, I think you can start as a sophomore as a tight end." I thought "Great!" What he didn't tell me was that Jim McFarland was the tight end who was bigger and stronger and much faster than I was. There was no way that was going to happen but I had stars in my eyes and would do anything for the guy.
DM When did they convert you to center?
DD They had moved me to tackle because it was obvious that I wasn't fast enough to play tight end and I was playing behind Bob Newton who was a Junior College transfer at that time. It was my first experience at interior line but I was just happy to be playing. I was behind Bob Newton who was going to be an All-American but I was just happy to see some action. The previous year's starting center graduated and they didn't have anybody groomed so they moved me to center and I opened some eyes in the Spring Game, not because I played so well but because I snapped a punt over Jeff Hughes head. I recall Clete Fischer said that is was the high point of the Spring Game. That was my redshirt year and then I played my three varsity years at center.
DM Do you have a particular Tom Osborne story?
DD He was our offensive coordinator and like Bill Janssen said in his interview Tom was a man of total integrity. You knew that what you saw from Coach Osborne was what you were going to get. He was his own man. He did exactly what he felt was right even though it may not have been the thing that you thought was right and sometimes you wondered about that but you knew that he was making the decision based on his moral beliefs what he thought was best for you and for the team. You always could count on that steady, steady hand that he had. We was also a brilliant offensive tactician. He developed the offense that we ran in the 70's. Before we ran nothing but the option we had a very balanced passing and running attack. If you look up the statistics we would have 228 yards passing and 218 yards rushing. It was a very balanced attack and, of course, we had Guy Ingles and Johnny Rodgers as receivers along with Jerry List at tight end who still holds the tight end receiving record. We had great running backs and the total package that Tom Osborne molded into a balanced but wide open offense. There's no specific story that I can tell you about Tom except that he was a very well respected coach. Nobody ever said something bad behind Tom Osborne's back.
DM What were your best Bowl Game memories?
DD It's a tossup. The first one was against LSU for the first National Championship and it was a great thrill. The next two were even better thrills. Alabama in the Orange Bowl my junior year when we were the undefeated team of the century against Bear Bryant, the legend. We beat them badly. They said that Alabama was going to do the same thing to Nebraska that they did in the 60's. Bear Bryant thought he was two steps ahead of Bob Devaney in coaching decisions and we just spanked them in every aspect of the game and that was a big thrill.
Growing up in Chicago I had my fill of Notre Dame so my senior year it was a great thrill to beat Notre Dame even though it was not their best team. To have the Chicago paper reporters come to the Orange Bowl and interview us and I remember them thinking these Nebraska kids were nothing and we showed them how much Nebraska had developed and we beat them worse than we beat Alabama. I think we set an Orange Bowl record for total yardage that I think may still stand. Both of those Orange Bowls were terrific memories. I still very proud of saying that we won three Orange Bowls and beat Alabama and Notre Dame.
DM Do you still stay in touch with teammates that you played with?
DD Oh sure. Jerry List was one of my best friends and he and his wife died tragically in that plane crash eight or nine years ago. Bill Janssen I still talk to and see frequently. Alan Austin from time to time. Jim Carstens was my roommate for three years and I got to see him in Chicago last fall and I saw many of them last year back at the Husker reunion at the opening game against Oklahoma State. What a treat that was!
DM I think they had 800 former players attend that game.
DD I think they said that there are 1200 living lettermen and 800 of them showed up. What other school or what other organization in this country could get that kind of a turnout at that type of an event? That is just phenomenal! It was just a joy to see some of these guys. Dick Davis was a senior when I was a freshman. He probably doesn't remember me from Adam but I remember when I was a freshman here was a guy who would go out of his way just to say hi and smile and nod to you as he passed you in the hall at class or something like that. That meant so much to this freshman at a big university and I was just glad to go up and introduce myself to him and tell that his friendly face meant a lot to me at that point. There were so many others like that plus, of course, my teammates that I played with and it was great to renew some old acquaintances. You could see how some of us had aged and how some of us had aged gracefully.
DM How was the transition from Nebraska to the pros?
DD I was drafted by the Patriots. Chuck Fairbanks left Oklahoma that same year and it was his first year and he brought all that college rah rah to the pros and it didn't quite fit. The Patriots were not a very good team at that time I can remember distinctly a number of those veterans looking at Fairbanks and rolling their eyes and thinking "What is this guy doing?" Practices were brutal and I can say honestly when I walked off the practice field when training camp ended my rookie year with the Patriots I said something to a teammate to the effect of "This is the last time I will ever go to a training camp." I hated it that much. It was a different atmosphere altogether than Nebraska. It's a business now. You get paid and it's your job and your livelihood. It was cutthroat. It was a totally different scenario. I was not a happy camper but I stuck it out and it got better. You learn the ropes and you understand where everybody is coming from. When they traded me to Minnesota it was like dying and going to heaven. Minnesota was a veteran team and Bud Grant had been there for many years. The practices were so much easier because there were so many veterans that you didn't have to beat them up. They knew what to do and knew how to do it. It was just a great joy to play with guys like Alan Page and Mick Tinglehoff and Fran Tarkenton.
DM How many years did you play in the pros?
DD Five all together. Three with the Patriots and two with the Vikings.
DM Is there anything that you would like to add that hasn't been asked?
DD Let me say this. I've got a Super Bowl ring and I wear it from time to time and get comments on it because it's obviously a head turner. People say "Oh, you played with the Vikings!" I tell them that my biggest thrill was when I played at Nebraska. I played in the pros and I got to play in the Super Bowl and I played all over the country but the thing that I am most proud of is that I'm a Husker through and through and always will be. When they say there is no place like Nebraska it is absolutely true. I am just real proud that I am able to call myself a Husker and that I had that experience.
If I could go back to that locker room before opening day and address that team there is one thing that I would say it would be "Guys, you haven't figured it out yet but you're going to get an idea what this team means to the people of Nebraska and what the people of Nebraska think of you guys. When you go out on that field there's going to be 76,000 people in that stadium and more than that glued to televisions and radios hanging on every play, every step that you guys take. You are that important to the state of Nebraska." I don't think I figured that out until I was a senior. If I could impart one thing it is that it is a great privilege to be in their shoes playing for the University of Nebraska.
DM What are you doing now?
DD I've been practicing law since 1979 and my practice is in Ft. Collins, CO. I do a lot of estate planning and I also do a lot of worker's compensation for former professional athletes. I do a lot of work for the Denver Broncos, Colorado Crush, the Avalanche, and the professional soccer and lacrosse teams in Colorado. It's a way to keep in touch with the athletic side and it's fun. I've been married for 31 years and my wife Cathy is from Beatrice. She is the third generation of her family that went to the University of Nebraska. My sisters followed me to the University and our oldest daughter went to Nebraska Wesleyan. I check out HuskerPedia every day at lunch time and eat up all the articles that are on there. I'm going back to Lincoln the end of June for the Bobby Hohn Memorial Golf Tournament. Bobby Hohn was from Beatrice and my wife's family knew him and Cathy knew him and I have a great picture of Cathy and Bobby at the Husker reunion last year just a couple of months before he passed away. He was being wheeled around by Dennis Claridge and I didn't know who he was and I went over to introduce myself and he told me who he was. I brought Cathy over and said "Do you know this guy?" She said "Oh, Bobby!!" It was a good moment.
DM Doug, thanks for sharing your memories with us.
This series of interviews is being done in conjunction with the Bob Terrio Classic on July 15th. Doug and Bob were teammates on the the 1970 and '71 National Championship teams.