Charlie McBride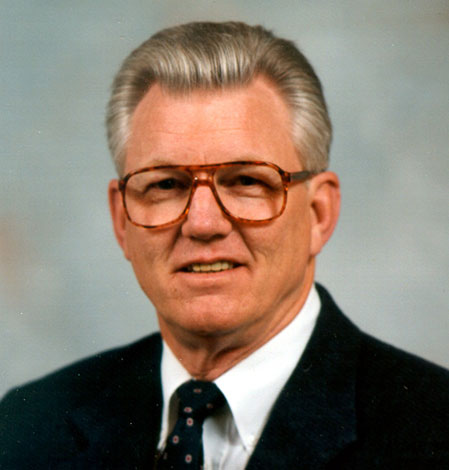 Charlie McBride served as an assistant coach at Nebraska for 23 seasons from 1977 to 1999, including the final 18 seasons as the Huskers' defensive coordinator. McBride's Blackshirt defenses ranked in the top 10 nationally in total defense 11 times, including leading the nation in 1984 and ranking fourth in his final season in 1999. This interview was done by David Max on February 16, 2006. Charlie will be the guest speaker at the Californians for Nebraska Banquet on March 4th and be part of the HuskerPedia™ events at the USC game this fall. He will also participate in the Spring Coaches Clinic this April.
DM: Where are you from originally?
CM: I'm originally from Chicago.
DM: Where did you go to college and when did you graduate?
CM: University of Colorado – 1962. My class finished in '62 of January but I actually wasn't finished till '63 because of my stint with the Broncos. All I had was student teaching remaining so my actual graduation date was January of'63.
DM: So you tried out for the Broncos.
CM: Yes, I was cut so I went back and did my student teaching and coached at Boulder High School in the fall of '62.
DM: What position did you play at Colorado?
CM: I was an end, offensive/defensive end and a punter.
DM: So your first coaching job was at Boulder High School?
CM: Yes, Hale Irwin was our quarterback and Dick Anderson, who played safety for the Miami Dolphins was our running back. We had a pretty good football team. What happened was that the basketball coach took another job. He was a football assistant so I basically filled in for him while student teaching.
DM: How long were you at Boulder?
CM: Just that semester, then I went back to Chicago and coached at Parker High School, which is now called Roberson.
DM: How long were you there?
CM: One year. I was what they call an FTB – Full-Time Basis teacher. They could move me around until I took the city exam. City exams are only given once every five years so you were placed where the city needed you. The next year I went to Fenger High School which is out by the high school I attended. I went to high school in Morgan Park and they are all on the far south side of Chicago. I stayed at Fenger one year and then went to the University of Colorado as a graduate assistant under Eddie Crowder.
DM: What was he like to work with?
CM: Good, he gave me an opportunity to get into college coaching. I had 2 boys and Debbie and I were expecting our third child when we went to Colorado. It was kind of a struggle but if you want to do something, you just do it. We lived in a Quonset hut and Graduate Assistants in those days made $78 a month, $45 of that went to rent. I got jobs lining the baseball field and teaching a couple of classes in physical education. My major was Administration but I took some courses in physical education and I taught physical education classes, so I could make some extra money.
DM: How many years were you at Colorado?
CM: I was there 1-1/2 years – my last semester of school I had four hours to finish my Master's and I got a job and I never finished. I went to Arizona State and coached on Frank Kush's staff as an offensive line coach.
DM: So he was probably a little different personality than Crowder, right?
CM: Yes, they were friends and that's probably one thing that helped me get the job. The coaches at Colorado really helped me out. I wanted to get into college coaching and they really helped me. I'm pretty grateful to them for getting me started. At one point it was late in March, it was almost spring practice time, in fact they had just started spring practice when I got the job at Arizona State. It was a fast move.
DM: What was your salary at Arizona State?
CM: I asked for $7,000 and he gave $9,000 – he said I'll put $2,000 in there for your moving expenses and I thought that was a good deal because it cost me $35 bucks for a U-Haul.
DM: Arizona State used to have pre-season camp where they would go out in the desert for a couple of weeks.
CM: We went to the mountains, to Camp Tontozona near Payson, Arizona. The camp was University owned; it was actually used for art students in the summer to go up to the mountains and paint. They had a flat field down there with a lot of rocks on it. We had the guys clean the rocks off and we had an area big enough for a football field and it really worked out good because of the heat in the valley. They still go up there every year. They actually fixed it up. They used to have outdoor dormitories with screens. The coaches had a small house. It was a great thing. We actually had three practices a day, early morning, then a special team's practice for an hour in the afternoon, then let them rest, then had a later practice in the afternoon. We did that for two weeks.
DM: How long were you at Arizona State?
CM: I was there three years. Then I went with Paul Roach who was coaching at the University of Wyoming. There were two coaches at Wyoming that I got close to, Fritz Schurmer and Paul Roach. Paul got the offensive coordinator job at the University of Wisconsin and asked me to go with him. I stayed at Wisconsin for seven years – '70 – '76.
DM: I went to graduate school in Indiana in '73 and '74 – I was there with Corso, probably on the opposite sideline from you.
CM: One year we played them up in Lincoln. Corso was great. Maybe he didn't have a good team, but I think he was a heck of a football coach. He just wasn't able to get the kind of people he needed. He was a gimmick guy. There were a lot of stories about him. I know my Mom lived in Michigan three miles from the Indiana border and she used to see his television show and she loved it. A funny thing about him was that they had played in Lincoln one year and I think the score ended up being 31-17. They had everybody coming back and we played in Bloomington the next year and when we went down there after the game Corso said that he felt like the program was finally able to see some light at the end of the tunnel. I don't know what the score was, about 62-0 and Corso's comment was, "well we thought we saw the light at the end of the tunnel and we did, it was a train coming."
DM: He was a funny guy, but he was gimmicky. But he did not lack for passion.
CM: They did their stretching in an open field outside the stadium before they played us. Then they brought the players in a double deck circus bus and dropped them off in the middle of the field. It was crazy.
DM: I can tell you a story about his very first game in Indiana, he did that two-story bus routine where he dropped them down and he told everybody to get there early because it's going to be a great warm-up. He warmed them up on the practice field and he was going to bring them down at the last minute because he wanted to see the full stands and the stands were completely full, but what he forgot was, it was band day and there was a whole bunch of high school bands on the road that does down to the stadium so he almost got a delay of game penalty. The team showed up at about 1:29 and the game was at 1:30. He talked about it for a week or two after that.
CM: The thing that was nice about him is he always picked us to lose when I was at Nebraska and I felt like, we're in business.
DM: How did you get the job at Nebraska?
CM: You'd have to ask Tom. I just know that he apparently found out through some coaches that I'd worked with. I never really asked him. I was at the coach's convention in Miami, Florida in 1977 and I wasn't really out looking for a job. A year before I had watched Oklahoma beat Nebraska with the "flea flicker" and I walked out to the kitchen after the game and said to my wife, you know, someday I'd really like to work for Coach Osborne. I didn't know him, but even then I had heard a lot of good things about him. Our program was not going well in Wisconsin and eventually I was going to have to make a move. Our head coach was having heart trouble; in fact he had a heart transplant and since died. I went to the coaches' convention. I got a phone call from Tom. Tom is very quiet on the phone. He said, this is Tom Osborne calling and he sounds very formal. I went, "yeah right". And he said no this really is Tom. And I said, "No really who is this?" And Tom said, "It's Coach Osborne and I'm down in room 215 right below you and he said I have an opening for a defensive line coach." To go back a little bit, I had always been an offensive line coach. At Wisconsin, before my last year there, they fired the defensive coordinator and had me take over as defensive coordinator and defensive line coach. Up until that point I had been an offensive line coach. I wasn't the coordinator at Nebraska when I first went there. I went down to Tom's room and he said "I've got 15 minutes and I have some other interviews and he said I'd just like to talk to you for a minute." I told him my wife was at the convention with me he asked if we'd have dinner with him that night. He said he had to do some recruiting that evening. Then I called the head coach at Wisconsin and told him what I was doing so he didn't hear it from someone else. We went to dinner at Denny's. It was kind of funny because my wife said all we did was sit around and draw circles on napkins. When we left he asked if I wanted the job. I didn't know exactly what to say because it was a little fast. I said yes I do. He said, I have to go back to Nebraska, but Saturday morning the Board of Regents meets and I'll get you approved and then I will call you at 10:30. I have three boys and, they were really young. My oldest son is Mike, Jeff is the middle one, and David is the youngest. I brought them into the family room, sat them down and told them we were going to Nebraska and they didn't say anything. My youngest son, David, was a really good hockey player and he just asked if they had hockey there. Tom had told me they had hockey in Omaha, and I didn't know how far Omaha was. That didn't work out and to this day David still brings it up. He was pretty upset. But the point of the story is that when I said we're going to Nebraska, they didn't say anything; they just kind of looked at me and then Jeff, who was the sports nut in our family, who knew every baseball score, every football person, every baseball player, stood up and said, "all right, we'll be number one!" January 17, 1977 was the day I started work at Nebraska.
DM: That was my next question – do you remember the day you started?
CM: I won't name the name, but it was on a Sunday when I came into town. On Monday I went to the office and I met everyone. One of the secretaries's said "you have somebody in your office." This person was in there and I went in and I'm greeted with "you shouldn't have this job, I should." I had no clue who this guy was and it didn't make any difference who he was. He sat there and told me, "I played at Nebraska and I applied for the job and I should have had this job and you shouldn't have it". I thought the guy was nuts or something. It was a complete surprise to me. So I went back to the outer office and the secretary just said, "Don't worry about it – he's basically harmless." So I went on my way and he finally left and we ended up being relatively good friends. Tom had recruited him to Nebraska and he was a high school coach. He thought he should have the job and of course he was mad at me for getting it. It took me by surprise; I thought he should be talking to Tom about this, not me. I was a little bit uneasy. I was recruiting in Chicago when I was at Wisconsin. That was where I coached and that's where I grew up and I knew all the coaches, so I was very familiar with the city and how to get around it. The next day I left for the "windy city" to recruit.
DM: What was a typical practice day like?
CM: We were really structured. We had quite a few players. In those days I think we had 135 or 140 guys on scholarship plus we had walk-ons so we probably had about 170 guys on the team and we started out with our normal group work with stretching. Then we worked individually with our players. Team work followed. We were able to have four stations, an offensive run station, and an offensive pass station, a defensive run station and defensive pass station. We actually had four groups going at once. The defense would rotate with the defense and the offense with the offense. We'd go from pass to run stations and so forth. That took a big part of our practice time and it was pretty basic.
DM: You already mentioned Chicago, but besides Chicago what areas of the country did you recruit?
CM: I recruited everywhere from eastern Kansas to Detroit. One of the last kids I recruited in Detroit had committed to Nebraska then Michigan sent all their plays from Detroit to visit with him. He switched to Michigan. That was Larry Foote, who is now the middle linebacker for the Steelers. He's a great kid. I've been back there to see him play at Michigan. When I retired, I went to Michigan's first game of the year. Lloyd Carr and I are good friends. I go there once a year still. We have a summer place in Michigan and go there for a couple of months each summer.
DM: What were some of the other people that you recruited?
CM: At Wisconsin the two biggest names that I recruited which you might not even know, but one would be Billy Marek. He was a kid from Chicago who went to St. Rita High School. In fact that year I recruited five kids out of St. Rita which was the city champion team. An outstanding prospect was a kid named Dennis Lick also from St. Rita. He was an offensive tackle who still to this day is the best high school lineman I ever saw and in reality the best I ever coached. Dennis was the second player picked in the draft by the Bears. An offensive lineman getting picked that early in the draft was amazing. Billy Marek was a kid that nobody wanted; he was too small, too slow, but nobody could tackle him. When he got loose, nobody could catch him either. When you timed him, he ran a 4.8 40 every time. He didn't run any better or worse, but when he left Wisconsin, he was the eighth leading rusher in the history of college football and he was doing 200 to 300 yards per game. He turned out to be a great player but he never played in the NFL. He played for the Chicago Fire or something like that. They both still live in Chicago. Our center and one linebacker came from that high school, and later on Dennis's brother, Steve, played for us. I had 33 guys on the team when I left Wisconsin. Two other kids that played on that same offensive line were Terry Stieve, who ended up being the captain of the Cardinals for about five or six years and Mike Webster who was a perennial all-pro player and played 18 years in the NFL. He was inducted into the Pro Football Hall of Fame and was a member of the Steelers four Super Bowl teams. Mike ended his career with the Kansas City Chiefs.
DM: What about Nebraska players?
CM: Well, I had a ton of them – Mike Brown was probably overall, when you look at a college player, the best. He had all the things that make a good player. He had leadership skills, people gravitated to him. He was tough. He was smart. He would line up our secondary at times when we got confused on the field during games. In fact, I told the Bears: he'll be lining you up pretty soon, and they told me the first year he was lining up the veterans. He played strong safety for us and he's now with the Bears. He made the Pro Bowl this year, but he had an injury at the end of the year and was unable to play. Bill Barnett, who played six or seven years with the Miami Dolphins, was in the first class that I had there and there were other good players. Rod Horn, who played the other tackle, was in the Super Bowl and played for the Cincinnati Bengals. He's another player that I had that first year. The first year, I think five went on to play in the NFL – Odious Lee, Dan Pensick, I think David Clark had a chance to play a little but Barnett and Horn were the guys that played the most. That was a good class. Barney Cotton played on defense his junior year. He was really a good football player but his senior year I felt like he had a chance to play pro ball and we moved him back to offense. He went on and played with the Cardinals. Neil Smith was an all pro player, defensive end, guys like Broderick Thomas – Danny Noonan, who had been an All-American went in the first round draft choice with Dallas. As you go through the years when you look at guys like John Parella, just finished his 12th year with the Raiders, Grant Wistrom, Jason Peter, Christian Peter. They were the real deal and Jason and Grant are both first round draft choices. I'm sure I'm leaving somebody out - Henry Waechter was a guy that we recruited out of junior college. I remember recruiting Henry. Oklahoma said he could start for them right away. Missouri said he could start for them right away. It's kind of interesting because I said he can't start for us right away and that he'd have to take a year to red shirt, get stronger. I said Henry if you want to play in the NFL you need another year to get stronger. You need to get some of that baby fat off of you. He ended up playing in the Super Bowl for the Bears and was with them for about six or seven years. I think he got a safety in the Super Bowl versus the Patriots.
DM: What was it like working with Tom Osborne?
CM: It was great. Tom was probably as patient a guy as you'd ever meet and a guy that let all of us coach. He believed in his coaches – there were very few times when Tom would say a whole lot about how you were teaching. A couple of times he thought I ought to slow down a little bit. I got a little carried away once in a while when I was younger. I may have been a little over aggressive or something of that nature. Tom would never embarrass anybody whether it be a player or coach. A lot of coaches yell at their assistants during a game or at practice. You would never see that with Tom. If he had something to say to you, it would be after practice or in private. You respected him for that – he treated you like a real person and he was a guy that was interested in your family and he always saw to it that we had time with our families. In the long run, you just worked harder for him. You worked hard because that was your job but I think subconsciously probably everybody worked a little harder. Our staff was kind of interesting because we didn't all hang around together off the field. We were just good working partners. Milt Tenopir and I were probably the closest; he was the offensive line coach and I was the defensive line coach. So our kids were banging on each other all the time and we had a good relationship. I had a good relationship with the offensive linemen as well as Milt had a good relationship with the defensive linemen and it made it more fun because it just wasn't one-sided. Those are the things you enjoy in coaching, your relationship with the players. All the kids that played for Milt over the years were great people. We had fun together even when were getting after each other. At times it was tense but also at times it was a lot of fun.
DM: Do you have any recruiting stories about some of the athletes you recruited?
CM: The best story I have is when I went to North High School in Wichita, Kansas to recruit a young man who was a friend of ex-husker Jeff Smith. Jeff now lives in Wichita and works in the justice system. He's a parole officer. Through the years Jeff has gotten to be really good friends with this one particular kid and, I didn't know this, but the player came up to me and said, coach, I'm so and so and I really want to go to Nebraska. He said Jeff has been one of my friends and he's talked to me about Nebraska. He got his degree there and that's what I really want to do. I looked at the kid and he was just a little guy. I look at this film and I'm saying to myself, you know we need to scholarship this guy. He was probably 155 – 160 pounds, probably 5'9". So I went back and showed Tom the film and he said, Charlie we can't recruit him. He said we're bringing in Johnny Rogers son and we cannot take two small running backs. We just can't do it. So I went and turned the kid down. His name was Barry Sanders. So I'm famous for turning Barry Sanders down and a lot of people through the years called me a lot of names, but of course after they read this segment, they may call me more. It was bad because Johnny's son Terry got hurt and never really played much. Barry Sanders was like trying to tackle an eel. The guy was probably the best back I ever saw, as far as running the football.
We were at Oklahoma State and the teams both went to the same movie theater. After the show Thurman Thomas, Oklahoma State's running back actually came on our bus. Broderick Thomas and Neil Smith were sitting up in the front of the bus. Thurman said "there's nobody on this bus that can take me one on one." I remember Neil Smith saying, "Well we believe that, but there's eleven of us that can". In the third quarter he had seven yards rushing and they put Sanders in and he had 77 in the fourth quarter. I looked at Tom and said "that's the guy we turned down" and he just shook his head and said, "Yeah I see that." Then we had to put up with him for the next three years or so.
One of the great kids I recruited was Nate Turner of Mt. Carmel in Chicago. Nate Turner was probably regarded as one of the top wide receivers in the country at the time and his father wanted him to go to Notre Dame. When I visited his home on the south side of Chicago, Nate talked to me before I talked to his parents and he said, "Coach, I'm going to tell you now. I want to go to Nebraska." I just about fell out of my chair, because Notre Dame and everybody else was recruiting this guy and he said "when I grew up we'd always watch the Nebraska/Oklahoma game and after the game was over every year we'd go out in the back yard and play football and I'd always be Nebraska." Nate grew up wanting to go to N.U. His family relented and he came to Nebraska and went on to play with the Buffalo Bills.
The other one was Eddie Stewart; Eddie was a really highly recruited strong safety in Chicago. Eddie ended up being an All-American linebacker for us at Nebraska. We moved him to linebacker which he didn't want to do. He was fast but maybe a step slow to be a really great defensive back. Now he's the Assistant Athletic Director at Missouri. He's really a first class young man. He received his Master's at Michigan State, and then went to Missouri.
The other was a kid named Mike Murray that started for us. He wrote me a letter and said, I'm Mike Murray from Mt. Carmel High School and my coach said to write you. He said I was recruited by nobody, nobody in any division was interested in me because I'm only 5'10" and I weigh, I think he said 235 lbs. He said "I made All City guard and linebacker and I am team Captain." We were taking walk-ons at the time and I called his coach and he said, "Charlie all I can tell you is he's the toughest kid I've ever been around." So I said, here's this little guy who is 5'10" and about 235. He ended up being second team All Conference Nose for us. He played between Tim Rother and Neil Smith and they were both like 6'5" and 6'7" and with him in there at Nose it looked like a freak show. I remember going to the coaches' convention and one of the linemen who had played for Colorado and went on to coach told me that Mike Murray was the best football player he ever played against. He said that they voted Mike first team all conference. Here's a kid that nobody even wanted. That to me is what is satisfying in coaching.
The coaching of Kenny Walker is something I will never forget. Kenny was from Crane, Texas. He had been totally deaf since the age of two. After a period of trial and error Kenny settled in at Defensive tackle and became the first deaf All-American in college football. A lot of the credit for his success should go to his interpreter – Mimi Mann. She worked with him every day. Kenny and Mimi had to create a totally new sign language that would fit our football terminology. Kenny went on to play with the Denver Broncos.
I'm really proud of so many of the players I coached. Many have their own businesses Rod Horn is working for the DNR in Sydney. Bill Barnett has his own advertising Agency in Lincoln and Henry Waechter has a farm supply business. Rob Stuckey is with Carlisle Group in Washington, D.C. Rob is from Lexington originally. Pat Engleburt and Kenny Graber are now Engineers in Omaha. The great thing is that I have stayed close to a lot of them. Last weekend Debbie and I went to Grant Wistrom's wedding in St. Louis. We went to Mike Brown's wedding in Maui. We plan to go to Chad Kelsey's and Loren Kaiser's wedding on our way to Michigan this May. I try to stay close to as many as possible. That's the fun part of it.
The first few years at Nebraska, maybe ten, were a little rough. When you have lost a great coach like Monte Kiffen, I'd hear "bring back Monte" I spent a long time fighting that one. I tried not to let it bother me, but I was only human. So many people were supportive and I really appreciated it.
One of the stories that was kind of interesting, the year that we lost to Colorado – I don't know if you know this, but I was on the last team at Colorado to beat Nebraska. Then I was coaching at Nebraska when they had beaten us for the first time in 20 some years. I got a lot of phone calls from people just ripping me. The funny thing was after I went to bed, my son, David, took a phone call from a group in Indiana and told me "Dad these people wanted to buy your contract out. They're willing to pay a million dollars." I said what did you tell them? He said I told them I didn't think it would take that much.
DM: Who were some of your former players who you think would be or currently are good coaches?
CM: Kenny Wilhite is with Tony Samuel at Southeast Missouri State. I didn't coach some of these kids. I don't think I have any kids that I coached on the defensive line in coaching because I told them you're not coaching. Steve Stannard is the defensive coordinator at Colorado State. Bill Bush was a graduate assistant for us as was Scott Downing. Jeff Jamrog is Head Coach at Minnesota Mankato and Mark Mauer is Head Coach at Concordia in St. Paul, Minnesota. There are also quite a few coaching in high schools around the country.
DM: Do you have a favorite regular season game that stands out?
CM: Probably the one that I always look back on was the last game in '78, It was a game that we were not supposed to win - Oklahoma, had Thomas Lott and Bill Sims. They had the number one offense in the country and we had as I remember six walk-ons starting on Defense. We ended up winning 17 to 14. I happened to be on the Barry Switzer show before the game and was asked how we were going to stop the number one offense in the country. I didn't know what to say so I said, "well I started going to church on Wednesday". I think O.U. had something like five or six turnovers and Sims had a two or three fumbles. At the end of the game we recovered a fumble on our two yard line as the clock ran out. That game John Ruud hit Kelly Phelps on the kickoff and the ball was separated. He was never down and we recovered the ball on Oklahoma's two-yard line. They brought it back and said it was O.U.'s ball. That game was really a special game. The player's effort was remarkable. The call by that official was the worst I ever saw.
DM: What about a bowl game:
CM: Of course you have the national championship ones but the one that stands out the most would be the '83 season, '84 Orange Bowl vs. Miami, where we went for two points. There was no question that that was what we were going to do, but there was a little history about this in all our minds – a few years before that Notre Dame had played for the tie and was really criticized. In a national championship, you do not go for a tie. When Tom asked us if we wanted to go for one, we all said absolutely not. We want to win this thing. We probably would have won the national championship that year if we had just kicked the extra point; instead we went for two and failed. We lost 31 to 30. Nebraska won more respect around the country for doing what we did. I think it really helped us in recruiting. As I went around the country a lot of high school coaches were saying how much they respected Tom. He had guts and really showed character. Basically, it cost us the national championship but it was the right thing to do. It was one of those games where the players played as hard as they could. We probably didn't do a good enough job defensively. That's why we began to change our defense. I think defensively if we had been a little better we would've won that game.
DM: That was the kind of coming out party for Kozar, wasn't it?
CM: Yes, probably. We made a lot of programs great in the past, it's kind of funny. Florida State came up and beat us and when you beat Nebraska sometimes it's kind of special. In those days it was a big deal and Coach Bowden said time and again that that was one of their biggest wins. Florida State was trying to get their program off the ground and that really helped. It made me sick.
DM: Tom Osborne at one time considered taking the Head job at Colorado. How close did that come to becoming a reality?
CM: I don't think very close. He went and visited, after talking to the whole staff. It was interesting because you would think that the older guys, Clete Fisher and Mike Corgan are going to naturally be against it, especially Clete, and he was the one that said, "Tom you'd better go look at that one." He went and visited; I don't think that they were willing to do some of the things with the staff that Tom felt were necessary and I think in another vein when it got down to it, Tom may have been a little bit bigger than life for them and they might have decided they'd go in another direction. In reality it looked like it was close, but I don't think it was as close as a lot of people think. Although, we would have had to make a decision if they were willing to do the things that Tom asked for, which wasn't a lot? There were some things they just weren't going to do and so I think Tom just figured, we're not going to do that.
DM: What Nebraska quarterback proved to be the most difficult to defend in practice?
CM: Well, you know that's hard to say, probably Turner Gill would be the one I'd think of first. Turner was really the best passer we had, as far as being really able to throw the ball. Tommie Frasier was good and Ed Burns, when I came there, who was third team. Believe it or not, he played pro ball. I remember a guy named Ray Jenkins who was one of my coaches my first year in college at Colorado and a Scout for the Saints. I told Ray, "I know he's third team, he can't run really well but he can throw the ball better than anybody we've got". He said, "Boy you're right" and he ended up getting on with the Saints. I think he was a backup quarterback for a few years. Bruce Mathison was another one who was a backup quarterback to Turner Gill who ended playing about six years in the NFL behind Faust at San Diego and Jim Kelly at Buffalo. When you get right down to it, running option football, Eric Crouch was probably the best runner of all of them. There wasn't any question about that, and probably Turner was the best thrower. When you go back and look at guys who could throw the ball – my first year there a guy that I was always impressed with was a second team quarterback, Randy Garcia. Randy in the 1977 Liberty Bowl came in for Tom Sorley in the second half and threw two touchdown passes. We were down, as I remember it, 17 to 7 and in the second half Randy Garcia came in. He was a senior and he threw a couple of touchdown passes, one was to Curtis Craig and the other Tim Smith. We ended up winning the game, 21-17. That was my first year, my first bowl game and that game always stood out in my mind.
DM: A lot of the coaches you worked with were there a lot of years. How much of an effect did that continuity have on your job?
CM: Great, because we all knew what each other was thinking most of the time. We worked together really well. We worked together very well on game day. I think the whole key to our success was our ability to adjust in games. Tony Samuels and George Darlington are really good coaches. We had Craig Bohl and John Melton who were hard workers and also great coaches. We were able to make adjustments in games and do things that maybe a lot of other teams weren't really able to do just because of our continuity.
DM: Do you miss coaching?
CM: Some. I do miss the practices and working with the players. I don't miss the recruiting and the meetings. I do miss the preparation part of it. I look back on it, and the thing that I enjoyed the most was spring ball, I loved it, because it was the greatest time to teach players. I always coached for depth. I think if you look at a lot of coaches, they seem to go with their first team guys and spend all their time with their best players. I knew the coaches I was working with could handle the first team so I'd go down with the two's and sometimes three's and work with them. I wanted them to feel they were as much a part of this team as the first unit I think, looking back; my feeling was to coach for depth so that the next year you didn't have to start all over again. I know on Thursday when we had ones against ones, twos against twos and then three's would scrimmage. I think with me hanging around the three's, it probably forced them to play a little better. In all the years we worked there I heard Tom say one time, "I don't want to ever see that defense again," He might come in and say to us "you may have too much in", and if we said, we think we can do it, he'd say okay. That's just the way he was. We were the ones that were studying it, so he just said; "you guys know what you're doing," and he let us handle it. We all really appreciated him for that. I've been with coaches that put the defensive game plan in and on Thursday, the head coach comes in and takes half of it out and you've been working your tails off on it all week. I missed Mike Corgan. He was one of the best football coaches I've ever been around. I learned a lot from him. He had the ability to reach kids. He spent time working with kids and talking about what they were going to do when they're out in life. I think if you ask Roger Craig and some of those guys, they would say that Mike Corgan taught them a lot about investing and taking care of their money. It was interesting because I'd go in his office and he'd be talking to Roger Craig about the stock market. You'd think if you go into a football office, they'd be talking about football. Mike and I became friends. When I first came to Nebraska, he took me under his wing. He was quite a guy and a great friend, and a guy you loved working with. You know, Clete Fisher was that same kind of guy as was John Melton. They are guys I'll never forget for their loyalty. They taught me a lot about Nebraska football when I arrived and I kind of followed them around for a while to see what was going on because you've got to learn about all aspects of the program to be a good football coach.
DM: It was recently reported that the University of Colorado wanted you to come back as a consultant – is there any truth to those rumors?
CM: No, although I have had a conversation with the new President Hank Brown. Hank was one of my roommate's in college. It wasn't about a job although last week I was offered a defensive line job at Arizona State if I wanted to come out of retirement. I said no. A divorce is not in my immediate plans.
DM: What are you doing in retirement?
CM: I'm on the Board of Directors of The National Football Foundation College Hall of Fame and I work a lot with the Play it Smart Program, which aims to keep kids in school. It's a life skills program and we have programs at a couple of different schools in the state. They are financed by the Hall of Fame and by the NFL. I talk to kids about things like leadership, responsibility and things that have to do with life after football. I'm also Board Member Emeritus for the Arizona High School Football Coaches Association, which is only three years old. They have a state athletic association but this is just football coaches. I was a consultant at Phoenix College. Their football program was shot. They were trying to start it up again. They hired me one spring to go over there and try to help them get started again, and that was kind of sad. They only had 19 guys out for spring practice. They have some good coaches and the program is on the move now. I talk to them weekly to see how things are going. That's been a lot of fun. I had some coaches from Montana fly down a couple of years ago and stayed with me here for three or four days. I didn't even know who they were. They just called up and wanted to talk football. They played with the old three four slant defense that we used a bit when I first went to Nebraska. The Head Coach called at the end of their season and said "we're in the state playoffs" They lost the State Championship but they had the best defense in the state. It sure made me feel good.
DM: What is your impression about the current state of the University of Nebraska football team?
CM: I think it's in great hands. I really do. I think the world of Bill. I've known him for a long time. And do you remember the story I told you about Nate Turner? The coach at that high school at Mt. Carmel is Bill's cousin. Mike White was the Head Coach at Illinois and Bill was the offensive line coach. I don't know if this was a joke or true story but it was said if Bill didn't get Nate Turner, Mike White was going to fire him, which I don't believe. Nate had decided to go to Nebraska real early. Mike White came down and put pressure on the high school coach because Bill was his cousin. Billy is from our neighborhood in Chicago. He went to the Catholic school and I went to the public school. I had known about him since high school and I recruited one of his best friends to go to Wisconsin. When they lost their job at Illinois, I hooked him up with a friend of mine who I had coached with at Arizona State - Larry Kentera was the head coach at Northern Arizona. Bill went to northern Arizona for a couple of years and that is where he met Andy Reid who was also an assistant there, as was Brad Childress. Then Bill went to Southern Illinois for a year or so, I think, and then he went on to Wisconsin for six or seven years and then on to Philadelphia and Oakland. I have followed his career. Jay Norvel was a ball boy at the University of Wisconsin and is from Madison. His mom was my wife's Mary Kay lady. I've known many of the staff members for a long time. They are a great staff. They are the real deal.
DM: What was your impression about the fans in Nebraska?
CM: When I came there they rattled my cage for about ten years. It wasn't exactly a honeymoon. Nine wins were fine, but it still wasn't good enough. We'd win a game and we might not do well on defense and that would be like losing. I think any time there is change in a program you can expect a little storm. Look what's going on with Davis, the basketball coach at Indiana. It's the same old thing. Bring back Bobby Knight, Bring back Tom Osborne, Bring back Solich. The more you complain about something the more the program is going to be beat down. So in essence all the negative feelings are going to tear the program down by continually discrediting Bill and Steve Pederson and all these people. Instead of saying, hey what's done is done, let's get going. This is Nebraska and let's storm 'em. Negative talk really affects the players. I think that has a lot to do with how they play. All the guys that I know that played for Billy at Oakland think the world of him. He got caught up in a situation with some older players in the pros who weren't getting to play enough; they weren't catching the ball enough. They were the guys that were the vocal ones. Players like John Parella and Adam Treu and some of the guys that were at Oakland loved him. They thought the world of him. That's just how pro ball goes. I think fans have to swallow some things once in a while and as bad as people had become because of what happened it's one of those things where you have to say "it happened, and am I a Nebraska fan or not? Or am I going to sit here and moan and groan for 2-3 years and then get rid of this coach and then get another one and he won't be good enough." Look at Oklahoma. They were getting head coaches in and out of there for a while. John Blake will tell you that. I personally believe that Billy is a better college coach than he is a pro coach. He has a great coaching personality and is a real worker. I was really disappointed in the way some people were so negative for a couple of years. I was back there and it really affected the players, and it affected some of the coaches. There's no place for that stuff. I understand there's passion in the game, but there's no reason to verbally tear coaches down especially when they are with their family. That's not Nebraska.
DM: How many games do you make it back for?
CM: I get back to at least two a year. Usually we try to get to one on the way home from Michigan which is usually one of the first two games and then we come back for one. Some years I've been back for three. Last week George Darlington called and he just left Marshall and took a job at Louisiana Tech and he said they open up with Nebraska. His children and grandchildren still live in Lincoln. We'll probably be back for that game.
DM: Is there anything that I didn't ask that you would want to add or a message to deliver to Nebraska fans?
CM: I just feel because of our tradition the more positive we can be about our program; the more we will maintain the great tradition we have. The more negative talk that we have around the program, the more it will tear that tradition down. The one thing I hate to see is how being negative affects the players and coaches. The players are there for their four or five years, something they'll remember for the rest of their lives. We should try to make it as positive as you can for them. When they go through the negative aspects it really makes their college career exasperating. At the end of last year the light went on and all of a sudden things started to fit together. They beat Colorado and Michigan. What excitement. That's pretty good duty. I just hope everybody stays positive with our players and the coaching staff. Go Red!!!
DM: Coach, thanks for taking the time to share your memories with us.
If you would like to comment on this article you can do so at this email.