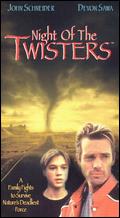 NIGHT OF THE TWISTERS
This 1996 made-for-TV movie about the 1980 Grand Island tornadoes stars John Schneider of "Dukes of Hazzard" fame. His character, Jack Hatch, is a former Nebraska football star. Early in the movie, he points to a photo in his shop window.
To many a longtime Husker fan, the photo in the window will look familiar, for it is a doctored version of one that appeared in Sports Illustrated after Nebraska's 1978 win over No. 1 Oklahoma. In the original, Jim Pillen is holding the ball aloft after recovering a Billy Sims fumble at the Nebraska 3-yard line to preserve the victory. Celebrating with him is Jeff Hansen, whose hit caused the fumble.
In the movie, Pillen's head is replaced by Schneider's, and his jersey number is changed from 29 to a more quarterback-like 12. (You're not alone, Mr. Pillen — the moviemakers changed Grand Island's name to Blainsworth and took a number of other liberties with Ivy Ruckman's book.)