Huskers Take Fight Out of Irish in 27-10 Win
Huskers Take Fight Out of Irish in 27-10 Win
Courtesy of Nebraska Athletics
Sept. 8, 2001
Lincoln — Junior I-back Dahrran Diedrick collected his second straight 100-yard rushing game and the Nebraska defense forced four Fighting Irish turnovers, as No. 5/4 Nebraska defeated No. 17/17 Notre Dame, 27-10, in front of a Memorial Stadium-record crowd of 78,118 Saturday.
Led by senior Jamie Burrow's 11 tackles, Nebraska's defense held Notre Dame (0-1) to just 162 yards of total offense, after allowing an average of 175.5 total offense in its first two contests. Nebraska (3-0) held the great advantage in yards gained as a result of its defense, as its four turnovers were half of Notre Dame's total from all of last season. The Fighting Irish allowed an NCAA-record low 0.73 turnovers per game (eight total all season) last year.
The Huskers set the tone early as rush end Demoine Adams forced a fumble on Notre Dame's first offensive possession of the game. Mike linebacker Jamie Burrow recovered the fumble to set up quarterback Eric Crouch's 22-yard touchdown pass to wingback John Gibson. It was Nebraska's first passing touchdown of the season.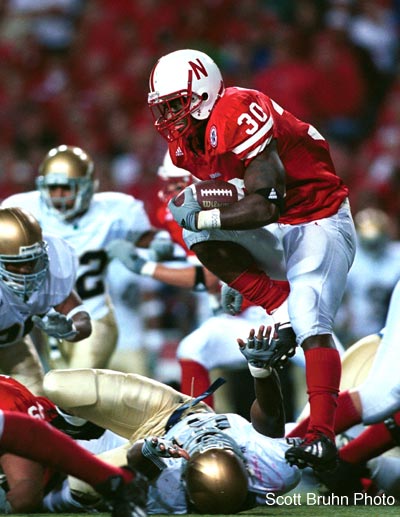 Dahrran Diedrick rushed for 133 yards against the Irish.
That score put Nebraska up 14-0 as the Huskers also scored on their opening drive of the night. Nebraska took the kickoff and marched 64 yards in nine plays, capped by Diedrick's two-yard touchdown run. With the score, which was Diedrick's team-leading fourth rushing touchdown of the season, Nebraska held a 7-0 lead just over four minutes into the contest.
Later in the second, John Crowther's snap went over Irish punter Joey Hildbold's head and Justin Smith recovered at the Notre Dame eight-yard line. The Irish defense held, forcing the Huskers to settle for a 19-yard Sandro DeAngelis field goal that gave the Huskers a 17-0 advantage. It was the first field goal of his career.
Nebraska had opportunities to extend the lead, but a pair of turnovers, including one deep in Irish territory, thwarted Husker threats. Behind reserve quarterback Carlyle Holiday, Notre Dame mounted its first serious threat of the evening, marching 64 yards to inside the Husker 10-yard line before Nicholas Setta's 29-yard field goal with 6:57 remaining in the half cut the Huskers' lead to 17-3.
Following the field goal, Diedrick rushed for 23 of his game-high 133 yards on Nebraska's fourth scoring drive. His three-yard run up the middle gave Nebraska a 24-3 lead with 2:57 left before intermission.
After the Blackshirts forced a Notre Dame punt with 2:02 to play, quarterback Eric Crouch guided the Huskers down the field for a last-second field goal to put NU ahead 27-3 at the break. Diedrick had 13 rushing yards on three consecutive carries, while Crouch hooked up with tight end Tracey Wistrom for completions of 14 and 20 yards, with the last moving the ball to the four-yard line setting up DeAngelis' 21-yard kick.
In the second half, both offenses were held in check while a mild rain fell in Lincoln. The only points either team could muster came on a Tony Fisher one-yard scoring run with 13:07 left in the game.
After struggling on special teams all of last season, the Husker return game received a strong effort from Josh Davis, who returned the ensuing kickoff 43 yards to near midfield.
Notes:
Tonight's game attracted media from all across the country as 717 media credentials were issued for the game, the most since 700 were issued for NU's game with Colorado in 1994…The victory by the Huskers snapped Notre Dame's streak of six straight season-opening victories, including four under Coach Bob Davie…The victory was Nebraska's 16th straight home win and Coach Frank Solich's ninth win against an AP top-25 ranked team in four years (9-6 record)…Nebraska, which has won three straight over the Fighting Irish, now owns the series lead at 8-7-1…The Blackshirts recorded their third straight game of holding an opponent to under 60 yards rushing, as Notre Dame earned just 43 on the ground tonight.