Huskers rout Alabama, 38-6, in second Game of Century
Miami, Florida (January 1, 1972) — The heralded national championship showdown between No. 1 Nebraska and No. 2 Alabama barely got started before the Cornhuskers erased all doubt.
Nebraska had won the National Championship on Thanksgiving by edging Oklahoma, and the Orange Bowl meeting was simply frosting on the coveted title cake.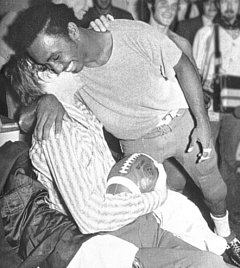 Johnny Rodgers gives the game ball to Rex Lowe, a split end from Milwaukee who lettered in 1969 and '70. Lowe had Hodgkin's lymphoma and died on Feb. 16, 1972.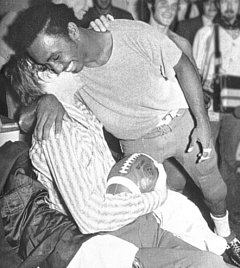 Johnny Rodgers
gives the game ball to
Rex Lowe
, a split end from Milwaukee who lettered in 1969 and '70. Lowe had Hodgkin's lymphoma and died on Feb. 16, 1972.

Heavy rain preceded the game but stopped before the kickoff.
The powerful Cornhuskers led 14-0 at the end of the first quarter and 28-0 at halftime, en route to a convincing 38-6 thrashing of the No. 2 ranked Crimson Tide. It was sweet revenge for Coach Bob Devaney, whose 1965 and 1966 teams had lost to Bear Bryant's Alabama clubs.
Nebraska unlimbered early, taking advantage of a Tide error, and marched 47 yards in five plays for a 6-0 lead on Jeff Kinney's plunge with 12:59 gone in the game.
On the last play of the quarter, Husker Johnny Rodgers recorded another of his sensational punt returns, this time for 77 yards and a 14-0 lead.
Demoralized, Alabama immediately fumbled the kickoff and Nebraska had to march only 27 yards to make it 21-0 with 2:17 gone in the second period. Jerry Tagge got the TD on a one-yard plunge.
Then came some dipsy-do as Tagge hit Rodgers with a 30-yard pass, but Johnny fumbled and Alabama recovered on the Tide one. Alabama then was forced to fumble by Rich Glover, and Bob Terrio recovered for the Huskers at the Tide four. Two plays later, Gary Dixon scored to make It 28-0 with 6:11 gone in the second quarter.
Midway in the third quarter, Alabama put together a 55-yard drive, but Nebraska countered immediately with an 80-yard march which ended in a Rich Sanger field goal of 21 yards. That made it 31-6 going into the final quarter.
Nebraska's final TD came when Jim Anderson — on his last play after starting 36 straight Husker games — intercepted a Tide pass and returned it 31 yards to the Alabama one, from where Van Brownson scored.
It was an anti-climactic victory in the wake of the Oklahoma conquest, but nevertheless the Nebraska Cornhuskers celebrated one of their more convincing and most satisfying victories in the 1972 Orange Bowl — they were No. 1 and no more questions were going to be asked.
FROM 1972 NEBRASKA MEDIA GUIDE