H U S K E R D A N

December 15, 2009


HEISMAN HOAX
To all you D-1 college defensive linemen: no matter how good you are, no matter how hard you work, no matter how much you dominate, no matter how many tackles, sacks, interceptions you may get, no matter if you're the best player in college football, you will never, ever win the Heisman trophy.
Proof of that came Saturday night in New York City at this year's Heisman trophy presentation when Nebraska's Ndamukong Suh (clearly the best player in the country) not only didn't win the award, but came up 4th in the voting. With their selection, the Heisman voters should come out and admit it. Unless you play a position that allows you to score lots of touchdowns, you don't stand a chance of winning the award.
Husker head football coach Bo Pelini was quoted after the ceremony saying that those who didn't vote for Suh, just weren't informed. And he's probably right. The only region that had Suh as its number one candidate was the Southwest Region, home of all but one of the states in the Big 12 Conference (the state of Iowa was the exception).
It's true that a 9-4 record this year for the Huskers didn't help Suh's cause, but Paul Hornung won the 1956 Heisman playing for a 2-8 Notre Dame team.
But not to worry. In a couple of months, Suh will be a multi-millionaire and will be able to tell his children and grandchildren about the Outland, Lombardi, Bronco Nagurski and the Chuck Bednarik awards he won this year.

THE BEST HUSKER OFFENSIVE PLAYERS NEVER TO WIN A HEISMAN
1.) Tommie Frazier QB
He was clearly the best option quarterback not only at Nebraska, but in all of college football.
2.) Lawrence Phillips RB
Although LP had myriad problems off the field, he was clearly the best running back Nebraska has ever had.
3.) Turner Gill QB
He was a marvelous player, great leader, could run and pass, was a very intelligent guy. The Huskers should have won a national championship in '82 and came within inches of another national championship the following season.
4.) Ahman Green RB
Had he stayed for his senior year, he would have been a Heisman candidate. He brought a combination of speed, quickness, power and agility that is rarely seen in running backs.

DOM-A-DON
Yesterday, my three year old grandson, Will, was playing a game with his 2 year old sister, Ella. The game is called, "I'm thinking of a..." The other player has to guess what it is the person is thinking of. So Will says, "I'm thinking of a football player...he likes to bam stuff..." Ella immediately yelled, "Dom-a-don-SUUUUU!" Priceless.

THE KUMBAYA CONFERENCE
With the hiring of Turner Gill as the new head football coach at Kansas, the Big 12 Conference just got a little mushier. Good grief, if it's not bad enough to have Oklahoma's Bob Stoops hugging the brothers Pelini, now we're going to have to put up with more hugs and smooches when the Huskers and Jayhawks play each other in football each year. It's a little bit too Kumbaya-ish for me.
Turner Gill is a class guy. A soft spoken gentleman. He'll do great things at Kansas, but what the conference needs is more coaches like Barry Switzer, Mike Leach, Rick "Skippy New-weasle" Neuheisel. Coaches you love to hate. Things are just getting too chummy. Sigh...

THE CARDINAL MOONEY BOWL
And if that's not enough, the Huskers' Holiday bowl opponent is the University of Arizona Wildcats coached by Mike Stoops. Mike is the brother of Oklahoma's Bob Stoops. Mike's brother, Mark, is Arizona's defensive coordinator. What the Pelini and Stoops brothers have in common is that they all are graduates of Cardinal Mooney High in Youngstown, Ohio. So now we'll have another Kumbaya moment when Bo and his brother Carl, meet before the came and have a huge hugfest with Mike and Mark. Where's the barf bag? I only hope that current Husker wide receiver Tim Marlowe, another CMHS grad, doesn't join them.

SOMETHING TO KICK ABOUT
The Wildcat place kicker is Alex Zendejas. If that name sounds familiar, it should. His uncle Max was a 1985 All American kicker at Arizona. His uncles, Luis and Alan kicked for Arizona State. Luis went on to kick in the NFL for Dallas and Philadelphia. Another uncle, Tony kicked for the NFL Oilers and Rams. (How many uncles does this kid have?) And Alex's father (Alex) kicked at Scottsdale Community College.

THE HUSKER NO-FENSE
Brad Dickson who is a former writer for "The Tonight Show with Jay Leno" now writes a column "Upon Further Review" that appears each Sunday in the Omaha World Herald. Last week, Omaha received a foot of snow that crippled the area. Tying the Husker offensive problems with the winter storm, Brad wrote, "I called this the 'Nebraska Offense Blizzard' because nobody was going anywhere.'"

AND YOU THOUGHT NDAMUKONG WAS BAD!
I pity this year's Holiday Bowl game day announcers. They'll have to struggle not only with Nebraska players who have eye-chart names like Ndamukong Suh and Curenski Gilleylen, but the Wildcats have some doozies of their own. Try these: brothers (?) Vuna, Sione and Apalata Tuihalamaka, or Taimi Tutogi, Conan Amituanai, Lolamana Mikaele and Haig Abnous. Good luck Greg Sharpe, Adrian Fiala, Lane Grindle and Matt Davison!

HUSKER DAN'S ARMY
Gary McGirr (President of the Northeast Kansans For Nebraska, a Husker alumni group in Topeka, Kansas) sent me the following letter he received recently from a Husker Dan's Army donor.
Dear Gary:
Enclosed is my check to help send gift boxes to our troops. Part of this donation is from my 12 year old daughter, Megan. She has been saving up her allowance and asked for donations instead of birthday gifts to help out a local animal shelter. When I told her I was sending you a check for the troops, she immediately offered to give me some of her shelter stash. Good kid, I think.
Regards
John Utecht
CW4, USA Retired
Gary's response:
Thanks for this donation. I appreciate your generosity. It is very special that a young person like Megan would sacrifice gifts for herself to help others. You have raised a special daughter.
To donate to Husker Dan's Army, send your tax deductible donation to:
Gary McGirr
Northeast Kansans For Nebraska
3610 SW Woodvalley Terrace
Topeka, Kansas 66614
Make your check payable to the Northeast Kansans For Nebraska. Be sure to indicate that your donation is to go to Husker Dan's Army. For every $50 raised, we send Husker Care Packages to US military personnel who are deployed in the Middle East. The Packages are filled and boxed by the Red Zone Husker apparel store in Omaha. To register, write me at
www.huskerdan@cox.net
. We will need the trooper's email address, APO address, branch of service and how long he'll be deployed.
Thanks to all of you who have already donated. Our brave service personnel don't ask for much. Your donation will help bring a touch of Nebraska to them.

PICTURES FROM IRAQ
Lt. Col. Todd Pennington, USAF sent these pictures taken in Iraq. One was taken of him standing in front of the skeleton of an Iraqi MiG 29 fighter jet at an Iraqi airbase in the western part of the country.
The other one shows Todd overlooking the ballroom at Al Faw Palace near the Baghdad International Airport. This building once served as the hunting lodge for Saddam Hussein when he was in power.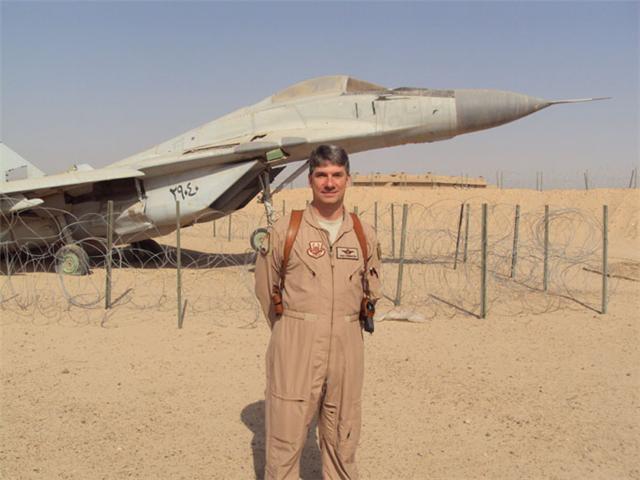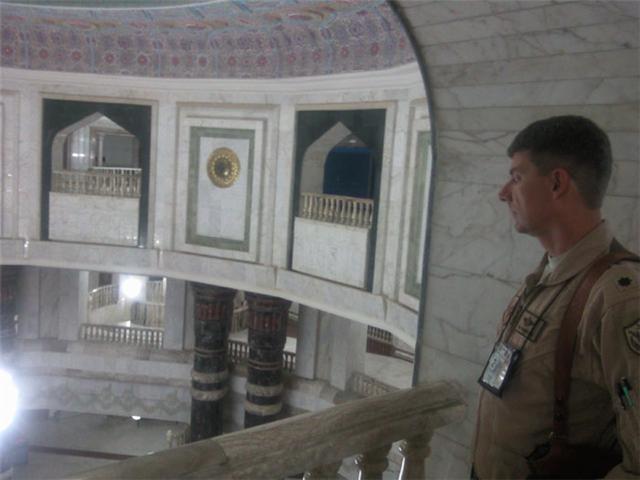 HUSKER FANS' SALUTE TO THE TROOPS
Plans are already underway for the third annual "Husker Fans' Salute To The Troops" celebration scheduled for the weekend of September 18-19th at the Cornhusker Marriott Hotel in Lincoln. Once again, there will be a Husker Football Watch Party (University of Washington Huskies) that will be held in the hotel's Grand Ballroom.
Troopers, veterans from any branch of service, from any war and their families are invited to attend.
To lean more about the event and to register and donate to this great cause, go to
www.huskersalute.org
.

MERRY CHRISTMAS
Mrs. Husker Dan and I wish you all the best during this Holiday Season.
I leave you with this dorky little quiz.

TAKE THE NDAMUKONG SUH QUIZ
1.) What's Ndamukong Suh's favorite football game?
The Suh-per Bowl
2.) What do opposing quarterbacks fear the most when they play Nebraska?
Getting Suh-ed
2.) What's his favorite car?
Suh-baru
3.) What's his favorite city in Iowa?
Suh City
4.) What are his favorite towns in Nebraska?
South Suh, Suh-ward, Suh-perior
4.) What are his favorite American Indian tribes?
Lakota Suh, Nakota Suh and Dakota Suh
5.) What's his favorite school nickname?
The Fighting Suh
6.) What's his favorite name?
Suh
7.) Favorite food?
Suh-shi
8.) Favorite country?
Suh-dan
9.) His favorite hero?
Suh-perman
11.) His favorite allergy medicine?
Suh-dafed
12.) Favorite table game?
Trivial Pur-Suht
12.) Favorite musical group?
The Suh-premes
13.) Favorite composer?
John Phillips Suh-za