H U S K E R D A N


November 10, 2009


OH! HANLON, HUSKER "D" STEAL THE SHOW, DOWN THE SOONERS 10-3


A LONG AND WINDING ROAD
One of my college buddies, Roger Bresnahan, used to drive a beat up '49 Chevy while we were both attending Omaha University back in the 60s. Roger, like most of us at that time, were chronically broke, had to work several part time jobs to pay for books and tuition and had just enough money left over for gas and oil. And when it came to car insurance, collision coverage was an unaffordable and an impractical luxury. Back then, you just hoped (and prayed) that your car keep running because if, God forbid, something did go wrong, you were SOL.

As fate would have it, Roger got in a wreck that left his car undriveable. He had it towed to his driveway where he thought he might be able to fix it. The problem was that the front fender was bent just enough that the wheel couldn't move. Armed with a crowbar and sledge hammer, Roger was able to bend the front fender just enough to make it driveable. He took it for a spin to see how it would drive, but soon discovered that although he could get the car to go in a straight line and could make left turns, he couldn't get it to turn right. No matter how much he pounded on the fender, he just couldn't get his car to make any right turns.

And until he could find some extra money to get it fixed, he was going to have make the most of it. The problem, of course was the daunting task of trying to figure out each day how he was going to navigate to work and school and then back home.

Omaha University at 60th & Dodge was a good five or six miles south and west from Rog's house in north "O". And his part time jobs weren't any closer, either.

His usual 15 or 20 minute commute was now going to take (on a good day) seemingly forever. And the art of parking at Omaha U had been turned into an Olympic event.

Why am I blathering on about a wrecked car? Because that's what the Nebraska football team with its woefully inept offense is having to contend with each week.

Pelini and Watson have been doing all they can to tweak the offense. They've tried two different quarterbacks, benched starters, threw newcomers in at running back and the receiver positions. Saturday's offensive game plan was simple.

Gone were the bubble screens, deep passes, and shots down the middle. Instead, we saw a lot of two tight end formations with the fullback as the lead blocker. Put simply, the game plan for the offense Saturday was: Don't screw up (read: don't make any turnovers), if possible, make some first downs and then turn it over to the Blackshirts and let them create turnovers.

And for the remainder of the season, the Huskers are like Roger's beat up Chevy. The Husker offense will continue to be limited in what it can do. The coaches will have to think of creative ways to win the next three (maybe five) ball games. And sadly, no amount of pounding on this year's offensive fender is apt to make much of a difference.

NUMBER 33 GETS 3
It was gratifying to see Matt O'Hanlon have a great game Saturday night and be recognized as the Big 12's Defensive Player of the Week. The Husker safety had 3 interceptions (almost 4) and led the Huskers in total tackles with 12. He said in an interview recently that not a day goes by that he doesn't think about the busted play that helped Virginia Tech put on a late rally to beat the Huskers earlier this fall. (Matt was unfairly blamed for the loss.)

Now Matt can replace the bad memories of the Virginia Tech game with the great memories of his and his team's outstanding performance in Saturday's Oklahoma game.

If you could have a team made up of players who have Matt's character, heart, guts and determination, you'd have a team that would be very hard to beat. Not bad for a walk-on from Bellevue, Nebraska.

THIS AND THAT
1) The Sooners had more turnovers (5) than points (3). 2) The Huskers had more punts (11) than points (10). 3) The last time the Huskers went into the game with Oklahoma with three losses was...last year. NU also did it in 2006 (Big 12 Championship game) and in 1968, all three were Husker losses. 4) Although the Sooners ran 30 more plays than Nebraska (87-57), the Huskers had the edge in Time Of Possession (31:42 to 28:18). Utterly amazing. 5) Up until Saturday's game with Nebraska, the Sooners had outscored their opponents in the first quarter this season, 79-0. 6) It was satisfying that former Sooner coach Barry Switzer was there to see his Sooners lose to Nebraska. All too often, his teams handed Nebraska some of its most gut wrenching losses. 7) And speaking of Switzer, the recent Husker/Sooner/ reunions have become a little too chummy for me. You see a hugfest between Bob Stoops, Bo and Carl Pelini before the games. Give me the old days, when the cocky, arrogant Sooners and Barry Switzer would come to Lincoln. The Husker-Sooner rivalry used to be war, now it's like a class reunion. 8) Please bring back the annual Husker-Sooner shoot-outs that we all came to love. Sadly, the Sooners won't be back to Lincoln until 2013. 9) The Huskers with six wins, are now bowl eligible. 10) Nebraska's record last year after 9 games was 5-4.

MEA CULPA
Of course you readers always let me know when I've managed to screw up and last week's column was no exception. Of course, Turner Gill's first start at Nebraska was against Colorado in Lincoln, October 10, 1981, not against the Missouri Tigers. Gill threw for 178 yards, ran for 46 yards and had 5 touchdown passes against CU. The Buffaloes, coached by Chuck Fairbanks, went on to a 3-8 record that year. It would also be his last year at Colorado. In a side note, Fairbanks was the head coach at Oklahoma in 1971 when the Huskers won "The Game of the Century".

VETERANS DAY ELVIS STYLE
Larry Brew, who is one of the three remaining Husker Elvises, sent me some pictures he had taken Saturday night in Lincoln at the Husker-Sooner game. The University made it possible for troopers to stand on the sidelines during the game. The Husker Elvises sang military songs to them. The Husker Elvises also performed at the Sidetrack, Embassy Suites and performed live on a local radio show the afternoon of the game.
http://www.huskerelvis.net/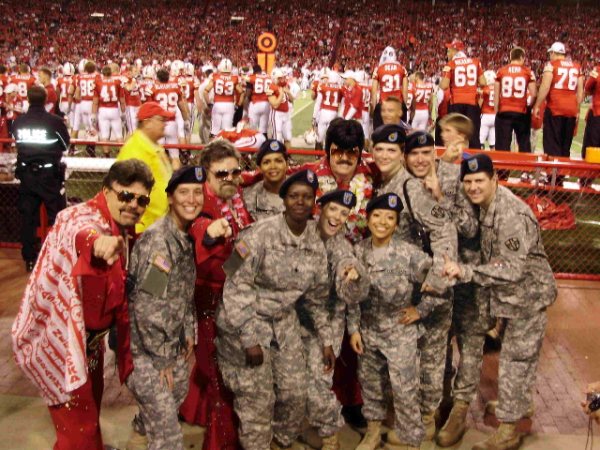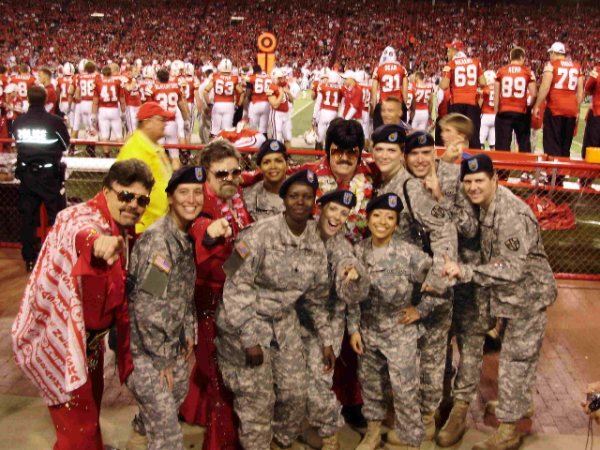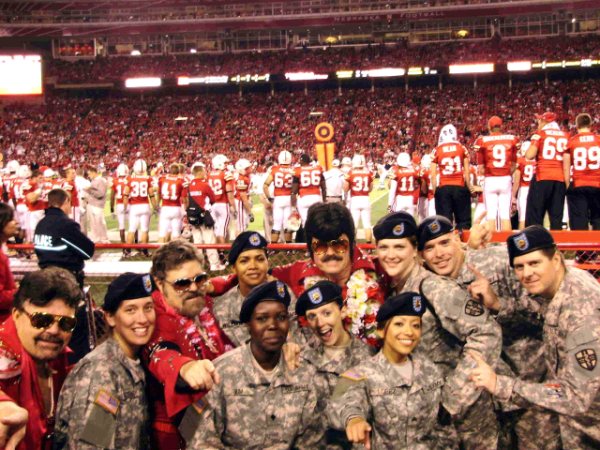 SALUTE THE VETERANS
I leave you with this fitting tribute to all those who have fought and died for our country. To all the veterans: We salute you. You are the true American heroes.


Send your comments to huskerdan@cox.net. For past Husker Dan columns, click here.