H U S K E R D A N

BLACKSHIRTS LEAVE BEARS UP A "CRICK", 20-10

Thank goodness Robert Griffin III didn't play quarterback for the Bears Saturday. Thank goodness for Baylor's woes on offense and special teams. But most of all, Husker fans should get down on their knees and be thankful for the outstanding performance of the Husker D-line. The double and triple teaming of Ndamukong Suh freed up Jared Crick to have a monster day with a school record 5 sacks.
THE FOUR-NADOES
Isn't it about time the D-line gets its own name? I mean, the Minnesota Vikings had the "Purple People Eaters", Dallas had its "Doomsday Defense" and the Rams had the "Fearsome Foursome". This group, by any name, just might be the finest defensive line in all of college football. If only the offense could carry its end of the bargain.
SIMPLE GREEN
Despite the starting of Cody Green at quarterback, the Husker offense is still fairly inept. I know, this was Green's first start as a Husker and OC Shawn Watson kept the game plan simple. And I know we are gradually running out of healthy running backs. Q is gone. Starting running back Roy Helu, Jr. is so banged up, he shouldn't be playing. True freshman Rex Burkhead is done for the season, true freshman Traye Robinson got dinged up and the Huskers were down to redshirt freshman Lester Ward and sophomore Austin Jones.

And starting receivers Curenski Gilleylen and Menelik Holt were benched for the game and were replaced by sophomore Brandon Kinnie and redshirt freshman Khiry Cooper.

So Cody Green didn't have a lot to work with when he played Saturday in Waco. His first half was good, with a beautiful strike to Niles Paul that set up a Traye Robinson touchdown. Husker fans had to love it when Cody ducked up field on a run, lowered his shoulder and laid a hit on a Baylor defender that sent him back about 3 yards. It was reminiscent of Eric Crouch's leveling of a safety at Iowa in 1999. But Green's second half Pik Six and a costly fumble late in the game, took away some of the luster of his first half performance.

How does Cody Green's first start stack up with that of other former Husker quarterbacks making their first starts?
THRILLER GILL
In 1981, Turner Gill who was a sophomore at the time (freshman were ineligible to play) made his first start with a win at Missouri. The Huskers were held scoreless until late in the fourth quarter when fullback Phil Bates gave the Huskers their only lead of the game, 6-0. The Tigers, coached by former Husker player and assistant, Warren Powers went on to an 8-4 record. Gill had 34 yards rushing and 99 passing. And guess who his running backs were? Future NFL great Roger Craig and eventual Heisman winner Mike Rozier. The Huskers won the next four games, including one at Oklahoma and finished the season at 9-3.
TOMMIE GUN
In 1992, true freshman Tommie Frazier made his debut as the Husker signal caller. In his very first start at Missouri, Frazier ran for three touchdowns as the Huskers beat Bob Stull's Tigers 34-24. The Tigers would finish the season at 3-8-0. Tommie was 9 of 20 for 157 yards passing and rushed 14 times for 77 yards. The Huskers finished the season 9-3.
ERIC THE RED
And in 1998, redshirt freshman Eric Crouch earned his first start as the 4th ranked Huskers beat unranked University of Alabama at Birmingham at home, 38-7. Eric had 7 carries for 69 yards and was 11 of 17 for 127 yards and ran for two touchdowns including a 59 yarder in the fourth quarter.
AND THE ENVELOPE, PLEASE
So how do Cody Green's numbers stack up with these former Husker greats? Cody was 12 of 21 for 128 yards with one interception and had 8 carries for 43 yards. Green stacks up okay. But we need to keep in mind that even though Green had the benefit of winter conditioning and spring ball, he's still just a true freshman.

Last Saturday, Cody had the "luxury" of facing one of the worst defenses in the country at Baylor, but will get his baptism of fire when the Oklahoma Sooners come to Lincoln this Saturday. They will be doing everything to make his life as miserable as they can. And with the Husker offense in its current fetal position, it doesn't bode well for the Big Red.

Let's hope that Green and the Husker offense grow up really fast.
IT'S den-NARD!!
I don't know why everyone mispronounces the names of at least two Husker players. All the broadcasters have to do is to watch HuskerVision when the starting players introduce themselves. It's Alfonzo den-NARD, not DEN-ard. And nearly everyone screws up #10's name. It's Roy HUH-lew, not HAY-lew or HEE-lew.
TROOPER PHOTOS
I recently received the following letter from Greg Kling, originally from Gering, Nebraska. He is a retired Army veteran. His brother (pictured) is serving his second tour in Iraq.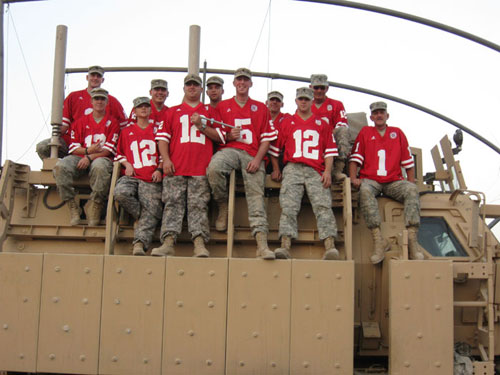 Husker Dan:
I received this photo from the 1195th Transportation Company out of the Kearney National Guard. They are currently deployed to Cp. Liberty, IRAQ, proudly serving our team, our state, and our nation. I was hoping that you might be able to mention these fine Nebraskans in one of your articles.
Bottom row from left to right:
SGT Jody Worm, SGT. Lauren Bunson, SGT Chad Coon, SPC Nick Schmidt, SPC Adam Fehringer and SSG Brad Kling
Second row from left to right:
CW2 Blake Bivona, SGT Jeremy Brill, SGT Brandon Wagner, SSG
Jeff Mashek and SFC Matt Talbert
As a retired member of the Armed Forces, I want to thank you for what you are doing for the troops. It means a lot to deployed troops around the world, Thanks for being there for them.
GO BIG RED
Greg Kling
SSG (R)
US ARMY
Dear Greg: It is an honor to post this picture. We are very proud of all those who serve this great country of ours. Good luck, God bless and GO HUSKERS!!!
WE SALUTE THE HEROES
This is a short, but fitting tribute to all those in the armed services. They are the real heroes.


HUSKER DAN'S ARMY
For all those who would like to contribute to Husker Dan's Army, send your tax deductible donations to:
Gary McGirr
Northeast Kansans For Nebraska
3610 SW Woodvalley Terrace
Topeka, KS 66614
Make your checks payable to:
Northeast Kansans For Nebraska
Attn: Husker Dan's Army
Remember, for every $50 we get in donations, the Red Zone in Omaha sends a Husker Care Package filled with Husker memorabilia such as caps, T-shirts, coins, media guides, sweatshirts etc. The boxes go to any trooper who registers with us and who is currently serving in the Middle East.
Also, in association with the University of Nebraska HuskerVision, we send Husker game day DVDs to any one serving in the armed forces in the Middle East. To register, just email me at HuskerDan@cox.net and we will add you to our list.
We need to know your name, APO address, email address and how long you will be deployed in the Middle East.
Send your comments to huskerdan@cox.net. For past Husker Dan columns, click here.