H U S K E R D A N

HUSKERS REBOUND, DOWN HAPLESS RAGIN' CAJUNS, 55-0
The seeds of this Saturday's victory over Louisiana Lafayette were no doubt planted in the aftermath of the Huskers' heartbreak loss at Virginia Tech the week before.

Saturday night in Lincoln, the Huskers came out with a passion and resolve Bo had promised us earlier in the week. And indeed, the Huskers played well in every facet of the game. It was nice to see the Huskers playing with a chip on their shoulder. They knew they blew it last week at Blacksburg. They also realize that the Hokies' pounding of the Miami Hurricanes this weekend, may be a sign that the Huskers are on their way back to national prominence.

As good as Saturday's 55-0 win over a hapless, beat up Ragin' Cajuns' football team was, a one point loss at Virginia Tech the week before, says much more about this year's Husker football team.

If Nebraska plays in Columbia with the same level of intensity they showed this Saturday, they will be hard to beat for the rest of the season. Having said that, no one should read too much more into Saturday's win.

That Virginia Tech climbed up to the No. 6 ranking this week after their convincing rain-soaked win over the Hurricanes is understandable and so is the Huskers' modest two notch rise after clobbering ULL.

Pollsters are not yet convinced Nebraska is the real deal. The fact remains, that the Huskers still haven't beat a Top 20 team on the road since 1997. Those Husker fans who are crying foul, just cool it. Nebraska will have ample time to redeem itself with games at Columbia and Lawrence and home games with Texas Tech and Oklahoma. Just win baby, and the polls will take care of themselves.
A PERFECT 300
All the hoopla surrounding the 300th consecutive sellout streak over-shadowed the game with Louisiana Lafayette. Few were talking about the game the week before and even fewer seem to care about it this week. On the other hand, the Missouri game is on everyone's mind.
KP'S MOST MEMORABLE
During the PPV broadcast of the game, sideline reporter, Kent Pavelka, revealed his Top 10 Most Memorable Plays of "The Streak". I agreed with most of them, but putting Gayle Sayers' 99 yard touchdown run of 1963 at the top of his list, left me scratching my head. It's almost sacrilegious (!) to pick an opponent's play as your top choice. Surely, there are many Husker plays more deserving.

And for the record, during Sayers' three years at Kansas, the Jayhawks never beat the Huskers. Oh, and stop calling me Shirley.
YOUR TOP PLAYS
Husker fans, please let me know what your top plays of "The Streak" are. I'll post them in my column. You may email me at huskerdan@cox.net. (I know, I still haven't posted last year's Husker nicknames yet...but I'm working on it.)
HUSKER DAN'S LIST
Some of my Most Memorable Moments (not just plays) during "The Streak", have to include the patriotic ceremony held before the Rice game of 2001, just days after the 9/11 attacks. Also on my list is the Missouri game played on October 29th, 1966 (my mom's 53rd birthday). That was the first Husker football game I ever saw at Memorial Stadium. I had tickets on the 50 yard line about 30 rows up on the West Stadium. The underdog Huskers crushed the Tigers 35-0.
EL NUMERO UNO
Also, I'm old enough to remember Sellout No. 1. It was the first Husker game I ever saw and the first televised Husker game I ever watched. Mel Allen was the TV announcer and I felt at the time that this fancy broadcast team form New York was being sent reluctantly to corn country to watch a bunch of hicks play football. It was a chance for Nebraska to strut its stuff that day, but instead, the Huskers fell short, 16-7.
I was crushed.
THROUGH ALL KINDS OF WEATHER
Weather conditions also make for some memorable moments. I've been so hot that I sweated more than Janeane Garofalo at a "9/12" rally; been pelted with rain, gale force winds; sat in fog, sleet, snow and endured Siberian like wind chill indexes. I've sat behind guys who were so huge they obstructed the sun. I've been scrunched in between two guys who could have won a "Mark Mangino Look Alike" contest (another one was a dead ringer for Charles Manson). I've drunk peppermint schnapps in the South end zone during the Huskers' 1978 win over the Sooners; I've had my feet stepped on seemingly by everyone who ever attended a Husker game; I've yelled so much that I couldn't talk for a week; cheered at great plays, booed opposing coaches like Barry Switzer (it seemed like a good idea at the time); booed crappy calls by officials; left games when the Huskers were ahead, only to see them lose and left Husker games when I was sure they were going to lose only to discover that they made a miraculous comeback to win; I've paid a scalper (once); I've had long stretches when I've had season tickets and other times (mostly) when I had to scrounge for tickets every week; I've had the luxury of watching games in a skybox; lied to employers so I could get off to watch Husker games; I've seen the Husker Marching Band strut down Stadium Way more times than I can ever hope to remember; I've listened to Shirley and the Band at the Sidetrack; been sworn into The Husker Elvises Society; I've seen teams coached by Bob Devaney, Tom Osborne, Frank Solich, Bill Callahan and Bo Pelini. Man, it's been one incredible ride!
THE PLAYERS CLUB
I've also had the privilege of seeing some of the greatest collegiate football players ever to play the game-players like Billy Sims, Josh White, Eric Crouch, Will Shields, Lawrence Phillips, Aaron Taylor, Dave Rimmington, Barry Sanders, Ahman Green, Curt Warner (the Penn State version), Adrian Peterson, Tommie Frazier, Daunte Culpepper, Michael Crabtree, Jason and Christian Peter, Grant Wistrom, Turner Gill, Mike Rozier, Irving Fryar, Dean Steinkuhler, Brook Berringer, Scott Frost, Demorrio Williams, Roger Craig, Ndamukong Suh, Junior Miller, Joel Makovicka, Andra Franklin, Bo Ruud, Dewey Selman, J.C. Watts, Marcus Dupree, Mike Brown, Kris Brown, Josh Brown, Ralph Brown, Broderick Thomas and Trev Alberts. There isn't enough space to list all of them in this column, but it has been a joy to see so many great players perform at Memorial Stadium.
HUSKER MARCHING BAND
Featured in the current issue of Nebraska Life magazine is the Cornhusker Marching Band. The piece is full of photographs and stories about this great Band. I highly recommend this magazine to anyone who loves the state of Nebraska.
FOLLOW THE HUSKERS
Gerry Gray with Great Plains Marketing wants to remind all those who are serving overseas in the military that they can keep up with the Huskers via the Internet on several Husker football radio shows.
These programs can be found by going to www.1620thezone.com. or go to Gerry's web site.
HUSKERS ILLUSTRATED
Recently, I wrote HI editor Aaron Babcock, telling him that before anyone can be considered as a true Husker fan, he must be an HI subscriber. There is so much information about Nebraska Football contained in each issue, that true Husker fans can't afford to miss even one issue. Contributing writers include Steve Sipple, Terry Douglas, Curt McKeever and the venerable Mike Babcock. There are pieces about current and former players as well as all the latest Husker recruiting information.
RETURN OF THE HUSKER ELVISES!
The great Husker Elvises were back in Lincoln Saturday performing at the Embassy Suites Hotel, the infamous Sidetrack Lounge and various other locations before the game. These guys are the best goodwill ambassadors the Husker football program could ever hope for. Here's a photo Larry Brew sent me. I know, it's a tough job guys, but somebody has to do it!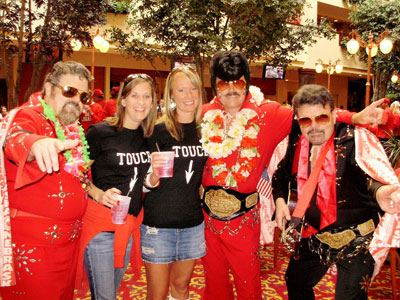 HUSKER DAN'S GRANDKIDS
Here is a photo of my two grand kids, Will (3.5) wearing his Roy Helu, Jr. jersey and Little Ella (2) wearing her Husker cheerleader outfit. Awwww, ain't they cute?!!
| | |
| --- | --- |
| | |
Send your comments to huskerdan@cox.net. For past Husker Dan columns, click here.