H U S K E R D A N
LET THE GAMES BEGIN
This Saturday the Florida Atlantic Owls, coached by Howard "Helicopter" Schnellenberger, will take on the Nebraska Cornhuskers at Memorial Stadium in Lincoln, Nebraska. For those of you too young to remember, it was Howard's Miami Hurricanes that handed Tom Osborne and the Huskers the most painful, aggravating, devastating, crushing, numbing, cataclysmic loss in the modern era (1962-2008) of Husker football history when they upset the Huskers in the 1984 Orange Bowl.
It's been over 25 years ago (even before the current Husker players were even born) and it still pains me. Turner Gill's attempted two point conversion pass to Jeff Smith fell harmlessly into the dark Miami sky, ending Tom Osborne's first chance in 11 years to grab a national championship.
In all my years as a Husker football fan, no loss even comes close to this one. For all of us geezers, galoots, old farts, and codgers who still remember, it would be very nice to see ol' Howie get an old country ass-whoopin' Saturday night. And no, any kind of a win wouldn't come close to making up for the loss. Sigh...
SOME RANDOM THOUGHTS...
1) I'm anxious to see how Shawn Watson's prize student, Zac Lee, does in his first season as the projected starter.
2) Will Cody Green have a big impact before the season ends?
3) I'm really looking forward to seeing "Ty-RUN-asauras Rex" Burkhead perform this fall.
4) Will he be able to pick up blitzing linebackers who want to take Zac Lee out of the game?
5) Why do people who drive dippy little 4 cylinder cars feel compelled to install super loud mufflers on them? Do they really think that suddenly they're driving a Top Fuelie dragster? It's a FOUR CYLINDER!
6) Okay, where was I? Right, football.
7) I want to see how the group of young and inexperienced linebackers perform this fall. They should be able to develop into a good crew, especially with the D-line anchored by the likes of Ndamukong Suh, Pierre Allen, Barry Turner and Jared Crick.
8) It'll be interesting to see how Virginia Tech fares at home against Alabama. Should the Hokies win, they would likely be a Top Five team when the Huskers come to Blacksburg.
9) Husker Trivia Question
Which former Nebraska head football coach holds the record for the highest winning percentage at the University of Nebraska?
a) Bob Devaney
b) Tom Osborne
c) Ewald O. "Jumbo" Stiehm
d) Walter C. "Bummy" Booth
e) Frank Solich
(The answer appears at the end of this column.)
10) Will Bo Pelini have a sideline meltdown this fall?
11) Will Alex Henery be able to find a deep snapper and holder so that he can resume his kicking success this fall?
12) Why do instructions for DVD recorders, cell phones etc. have to be so confusing? I know, it doesn't take much to get me confused.
13) Why do theaters charge the same price for all their first run movies? There are films that are less expensive to produce, are shorter, have fewer stars, but they all cost the same. I don't get it.
14) Will former Husker quarterback, Joe Ganz find a place in football after this fall?
15) Why does TV network feel the need to hire Lou Holtz as a broadcaster? It is painful to have to listen to him. Thank goodness for the mute button.
16) Can the Huskers avoid any meltdowns this fall?
17) Will Lane Grindle have to sub again for Greg Sharpe this fall?
18) I can't wait until September 19th when Tennessee travels to Florida.
19) BTW, the Gators will not win the national championship this year.
20) It's been really difficult trying to figure out the O-line this fall. Who's on first? What's on second? Very confusing.
KENT PAVELKA SIGHTING
Recently, I ran into Kent Pavelka, former voice of Cornhusker football. I asked him about the "BB HOF" tattoo I saw on his arm. He told me it was for his induction into the Nebraska Basketball Hall of Fame. He also "suggested" I pay more attention to Husker basketball.
Here are some links that will keep everyone posted on what Kent's doing these days.
MOVIE REVIEWS
Here is a review of some of the movies Mrs. Husker Dan and I have seen over the summer.
RATINGS CHART
5 Stars=The Best, a Classic
4 Stars=Good flick
3 Stars=Good, but not great
2 Stars=An hour and a half of your life you'll never get back
1 Star= Get your money back and sue the producer, director and the owner of the movie theater.
"Doubt" (4 Stars)
Meryl Streep
Amy Adams
Miranda Priestly meets, well, a priest.
"My Sister's Keeper" (2 1/2 Stars)
"Love Story" meets a Kleenix factory
"Gran Torino" (3.5 Stars)
Clint Eastwood
Dirty Harry meets Archie Bunker
"The Reader" (4 Stars)
Kate Winslet
"The Graduate" meets "The Nuremberg Trials"
"Slumdog Millionaire" (4 Stars)
Mahatma Ghandi meets Regis Philbin
"Sunshine Cleaning" (3.5 Stars)
Amy Adams
Alan Arkin
CSI meets "Little Miss Sunshine"
"NEW IN TOWN" (3.5 Stars)
Renee Zellweger
Harry Connick, Jr.
"Fargo meets "Tommy Boy"
Some great Norwegian lines ala "Fargo"
"Momma Mia!" (1 Star)
Meryl Streep
Guys: If your wife, girlfriend or ANYBODY asks you to watch this, run away as fast as you can! Just because Meryl Streep is in it, don't take the bait!
"Marley and Me" (1 star)
Owen Wilson and Jennifer Aniston
Maybe the book is better. If not, why would it be made into a movie? This is the story of a "cute" dog that does more damage to a house than Katrina did in New Orleans. The sad part is that the ending should have happened about 20 minutes into the movie.
ARE YOU READY?
KEEP UP WITH THE HUSKERS THIS FALL
Gerry Gray with Great Plains Marketing
http://www.greatplainsmktg.com/
wants to let all the service men and women who are stationed around the world to know that they can keep track of the latest Husker football news by tuning in to the "Husker Radio Hour" aired Thursday nights from 6:05-7:00 Central time. The show's co-hosts are former Husker greats Joel Makovicka and Matt Hoskinson. On Friday nights also from 6:05-7:00, they can tune in to the "Husker Beat Radio Show" hosted by 1620 The Zone's Mike'l Severe and Lincoln Journal sportswriter Steve Sipple. Both shows can be accessed via the Internet.
HUSKER TRIVIA ANSWER
c.)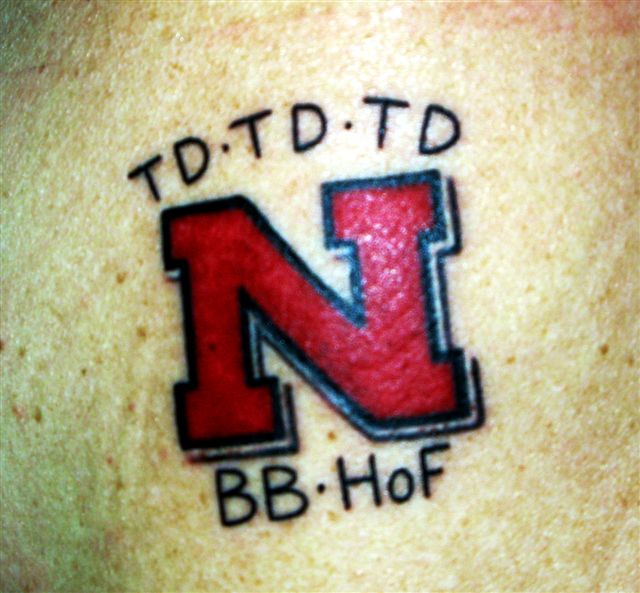 Send your comments to huskerdan@cox.net. For past Husker Dan columns, click here.