H U S K E R D A N
THIS AND THAT
Okay. It's official. The Huskers will be playing in the Gator Bowl New Year's Day in Jacksonville, Florida. Nebraska fans should be dancing in the streets with the news, especially since last year's bowl-less Huskers finished with a 5-7 record.
BOOK 'EM, DAN-O!
Dora Bitsos, general manager for Travel Leaders in Omaha (www.travelleadersomaha.com) said her company is offering a Gator Bowl package that includes a three night stay at the Wyndham River Walk Hotel (www.wyndham.com/hotels/JAXHT/main.wnt), which is about 10 minutes from the football stadium. The tour leaves for Jacksonville the morning of December 30th and returns to Omaha January 2nd. Dora said those staying at the hotel will have a front row observation point from which to watch the city of Jacksonville's giant fireworks display, set for New Year's Eve. She added that Orlando (read: Disney World) is only about 1.5 hours from Jacksonville.
DEJA VU-DO
I can understand Bill Snyder's desire to return as the head coach of the Kansas State Wildcats and I can understand why many K-State fans applaud that move. But it seems to me, that this is a short term, "feel-good" move to mollify Wildcat fans still betrayed by Ron Prince, who was fired last month.
I don't question Snyder's coaching ability - he performed a miracle when he took the worst program in all of college football and turned it into one of the strongest in the country. But at age 68, how long will he be able to coach and recruit effectively? If a kid comes out of high school in 2009 at age 18 and redshirts, he would be a senior in 2013. Would Snyder, who would turn 73 that year, be able to assure a recruit that he will be there for the kid's entire five year career? And how many years could he make that promise? I think Kansas State will come to regret re-hiring Bill Snyder.
NOTRE LAME
Notre Dame has decided to give Charlie Weis another year as the Notre Dame head football coach. This is another lame coaching decision that will come back to haunt the Golden Domers. I wouldn't be surprised if Charlie gets the boot next year-maybe even before the season has been completed. Charlie won his first two years at Notre Dame (9-3 and 10-3) with Ty Willingham's players, but last season, Notre Dame slipped to 3-9. With a bowl game yet to be played, this year's record stands at 6-6.
SO-SO SOLICH
I wonder if those who have longed for Frank Solich's return as the Husker head football coach are reconsidering their position. In his four years as head coach at Ohio University, the Bobcats have gone 4-7, 9-5, 6-6 and finished this season with a disappointing 4-8 record. You have to wonder how long the 'Cats will stick with Frank.
TURN AROUND TURNER GILL
Anyone who saw former Husker standout Turner Gill's Buffalo Bulls beat heavily favored Ball State in the MAC championship game last week, saw one of the most touching moments in all of college football. On a post game live TV interview, an emotional Turner Gill could barely get the words out to say how proud he was of his players. Mark this down: Turner Gill will get a very attractive D-1A head coaching job in the near future. And if he gets the right situation, he could end up becoming a great head coach.
Those of you who are wondering why after one year (2004) as an assistant under Bill Callahan at Nebraska, Gill resigned. He did so because he couldn't stand to see the demise of the once proud Husker football program. He saw that tradition was being swept under the rug by former A.D. Steve Pederson and former head coach Bill Callahan and he didn't want to be any part of it. That shows what a class act Turner is.
HUSKER ELVISES
The Husker Elvises (huskerelvis.net), who as a group are one of the best goodwill ambassadors the Husker football program has ever had, are still looking for someone to help sponsor their appearance at the Gator Bowl. If you know of anyone who can help, please contact Larry Brew at lbrew@hach.com. As Larry would say in his best Elvis snarl, "Thank yew, thankyewveramuch."
RECRUITING IN NEBRASKA
Those Husker fans who were expecting Bo Pelini's first "real" recruiting class to be sprinkled with a lot of home grown talent, might be disappointed. Of the first 20 recruits in the 2009 class, only two are from the state of Nebraska - Cole Pensick from Lincoln and C.J. Zimmerman of Omaha.
GET OUT THE VOTE
If I had a Heisman vote, it would look like this: 1.) Sam Bradford (Oklahoma) 2.) Colt McCoy (Texas) and 3.) Timothy Richard "Tim" Tebow (Florida).
Sam will win it because of his immense talent, his team's success, especially down the stretch; because Tim Tebow won it last year and Colt McCoy will be back next year for the Longhorns.
HUSKER DAN'S ARMY T-SHIRTS
Husker Dan's Army T-shirts are now available for you to order. By buying a
HDA T-shirt, you will help us to continue sending Husker Care Packages
overseas to the men and women serving our country in the armed services. All purchases are tax-deductible. The shirts come in Large and
X-Large only. The cost per shirt including shipping and handling is $20.00.
Please allow two weeks for delivery. We will make every effort to get these
to you in time for Christmas, but you must order quickly.

Make your check payable to:
Northeast Kansans For Nebraska Alumni Chapter
Att: Husker Dan's Army
Send your check to:
% Bob Elliott
Northeast Kansans For Nebraska Alumni Chapter
3405 Atwood Ave.
Topeka, KS 66614
Be sure to list your mailing address and size (L or X-L). neks4nebraska.com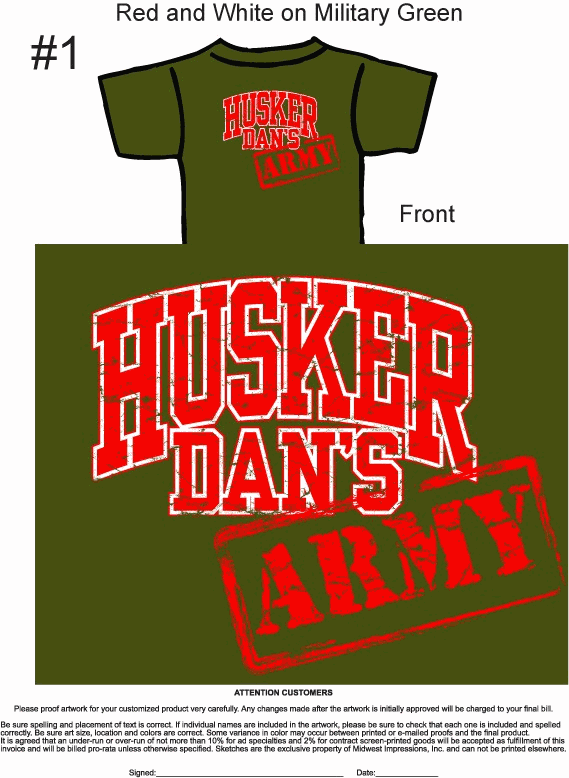 Send your comments to huskerdan@cox.net. For past Husker Dan columns, click here.