HUSKER DAN
FROM THE EMAIL BAG

Husker Dan:
You haven't written about this, but I'm wondering what your thoughts are about the way that Harvey Perlman went about doing his evaluation of Steve Pederson last summer, just before Pederson got a contract extension. I mean, asking the members of Pederson's staff to email their comments about their boss seems rather lame. And when Perlman got only two responses, shouldn't that have thrown up a red flag? I think Perlman is either incompetent or stupid and should be fired. What do you think of this Perlman B.S.?
Linas Krimmage
Beckworth, Tennessee
I agree with your assessment of Perlman's evaluation methods. With everyone in the A.D. department risking his job, it's no wonder Perlman got so few responses. What he should have done is send one of his minions to interview (off campus, if necessary) everyone who worked for Pederson. Then and only then, would people be willing to reveal their feelings about working for Steve Pederson.

Harvey Perlman will never be fired or asked to resign because of two very important reasons. #1.) He fired Steve Pederson. #2.) He hired Tom Osborne. End of discussion.
Husker Dan:
Last week you said Tom Osborne could do no wrong and that having him in charge would ensure that the Huskers hired the right man for the head coaching job. You conveniently forgot that it was Tom Osborne himself who hand picked Frank Solich to succeed Tom as the head coach. Solich turned an elite program into a mediocre one. So much for the genius of Tom Osborne.
Ahman DeFone
Torrance, CA
I agree with you about Tom's decision to hand the reins over to Solich. Frank was a very good assistant coach, very well liked, but was ill-fit to take on the responsibilities of a football program like Nebraska's. My point about Osborne is, who would you rather have running the ship than Tom Osborne? Who else would Husker fans have trusted with that role? While Tom is not infallible, I'm so glad and thankful he was in charge of finding the new Husker head football coach.
Husker Dan:
What do you think of Tom Osborne's and Bo Pelini's commitment to put more of an emphasis on home-grown football talent and to re-instate the Husker Walk-On program? Hugh DeManne
Fargo, ND
Tom Osborne got an in-state commitment from Micah Kreikemeier (West Point) in his first week back recruiting for the Huskers. But since then, Nebraska lost out on Trevor Robinson, a blue chipper from Elkhorn, who's headed for Notre Dame. Also the Prater brothers from Omaha Central (Shaun and Shane) turned down scholarship offers from Nebraska, opting instead for Iowa. And earlier this week, the Huskers had a few more decommits including Simi Kuli, Will Compton and Doug Rippy. It's way too early to make any predictions about the '08 recruiting class, but I think Bo and his staff will be good recruiters. I just hope we don't give up on going after the best talent no matter where it's located. The Walk-On program under Frank Solich mushroomed out of control and thankfully, on Callahan's watch, the size was reduced considerably.
Husker Dan:
How bad do you think the loss of Blaine Gabbert will be to this year's recruiting class?
Justin Kase
Winter Park, FL
The Huskers are least vulnerable at the quarterback position. I don't know why, but I get the feeling that Gabbert may be another Harrison Beck. There is still plenty of time to find another QB in this year's class. With Joe Ganz, Patrick Witt and Zac Lee scheduled to return this fall, the Huskers should be fine at that position.
Husker Dan:
What do you think of Barney Cotton, Marv Sanders, Jeff Jamrog, Carl Pelini and Ron Brown returning to the Husker football program? Doesn't this sound like "Solich Lite"?
G. Whiluckers
Searcy, AR
Bo is going to fill the spots with people he knows, trusts and who also know what Bo expects of them. Hiring coaches, much like recruiting football players is not an exact science. We have to trust Bo to make the right decisions. I would hope that if an assistant isn't getting the job done, Bo replaces him with someone who can. What led to Callahan's demise, was hanging on way too long to his old pal, Kevin Cosgrove.
Husker Dan:
You hit the nail on the head by campaigning for Kent Pavelka to return as the Husker play-by-play guy for Husker football. The guy they had as a substitute for Jim Rose is a pretty good announcer, but I hope he's doesn't get the gig. If he does get the job, Bob Devaney will turn over in his grave knowing that the Husker PBP guy used to do Kansas State football games! Is nothing sacred anymore?
M. T. Sietz
Wichita, KS
As I wrote in last week's column, all of you who want Kent to return as the Husker PBP guy need to write Dave Witty dave.witty@huskersportsnetwork.com who is the General Manager at the Husker Sports Network and Tom Osborne ahackbart@huskers.com Dave Witty is the main guy, but there will also be input from the University as well.
BIG RED BETTY
Readers: I received a very nice letter from Big Red Betty (Betty Walker of Lincoln, California) telling me how much she appreciated hearing from so many Husker fans (100 and counting) who took the time to send their good wishes. She is overwhelmed with the kindness you great fans have shown her.

Betty is in the fight for her life. If you'd like to send her your best wishes, she can be emailed at: bigredbetty@aol.com. She's a real sweetheart and believe me, this lady is passionate about Husker football!
HUSKER DAN'S ARMY
HUSKER DAN:
I read your article on HuskerPedia and always enjoy it. I am probably the oldest armed combatant in Iraq at age 63. I am assigned to the 4th Striker Brigade Combat team in Diyala Province. I am a forensics guy and go on patrols to assist in evidence collection, photography, and everything related to crime scene investigation.

I have only recently arrived but have already 'hung the flag' outside my quarters. I went to watch the Colorado game while at Camp Victory in Baghdad thinking there would be a large crowd. I was the only person in the room. No one to rag on, and no one to rag back.

Now that I am here I have already met another Husker, but he will be out of here before next season. I am looking forward to the Pelini era at Nebraska even if I get the scores late.
Go Big Red
Loren L. Zimmerman, MFS
202 BSB, 4th BGE, 2nd ID, SBCT
FOB Warhorse
APO AE 09336
Dear Loren: First of all, thank you for serving our country. Thanks for sending me the picture of your Husker flag. Merry Christmas, God speed and Go Huskers!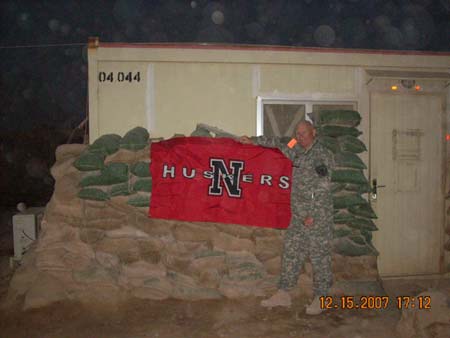 If you'd like to contribute to Husker Dan's Army, send your checks to:
Husker Dan's Army
%Bob Elliott
Northeast Kansans For Nebraska
3405 SW Atwood Ave.
Topeka, KS 66614

"DIARY OF A HUSKER"
Recently, I spoke with David Kolowski, author of "Diary Of A Husker" . David said that book sales have been brisk, adding that he's even working on an audio version of his book that will be out later this year.
If you'd like to give Husker Dan a piece of your mind you may email Husker Dan at
huskerdan@cox.net
. For past Husker Dan columns,
click here
.