HUSKER DAN
TIGERS' "CHASE" THROWS HUSKERS FOR A LOOP, 41-6

BIG WED WAP-UP
Some buddies of mine and I were talking Friday about what we thought would be the number of points the Husker-Missouri winner would need Saturday night in Columbia. The predictions ranged 28 to 48 points.

Little did we know that Missouri, on their opening drive of the game, would have all the points it needed to win. The Tigers got a touchdown and kicked the extra point. Seven points is all it took to beat the Huskers. Seven points.
A SHOW OF HANDS
Raise your hands if you thought the Huskers would score only 6 points and would not even get a touchdown all night? Most people figured that since both teams had prolific offenses and inept defenses, this game would be an old fashioned shootout with the winner likely to be the one who had the ball last.

Everyone knew that the Husker defense would be in for a struggle most of the night, but who knew that the offense would also be a No-Show? Gary Pinkle, long criticized for his poor play calling, out coached his Husker counterparts all night. When all the Huskers could muster was 297 yards of total offense including a net of 74 yards rushing-against the 93rd ranked defense in the country-something is wrong. Terribly wrong.
THE REAL BLACKSHIRTS
Credit the Tigers' much maligned defense for stepping up Saturday. From the beginning, the black jerseys worn by the Missouri Tigers, were, indeed, the real Blackshirts Saturday night. The Tigers came to play; the Huskers didn't. The team that wanted it more, won going away.
NON STOP
For the fourth game in a row, the Huskers' Non-Stop defense was weak and inept and ill-conceived. And fellow Husker fans, the scary part is that there isn't a team left on our schedule that isn't more than capable of beating Nebraska.

If the Huskers can win the remaining home games, Nebraska will be eligible for an obscure bowl. If things don't improve quickly, the Huskers will struggle to have a winning season.

I don't know what Bill Callahan can do, or even if he can do anything to quickly change things. But the future just got really scary-especially seeing the play of Oklahoma State, Kansas State, Kansas, Colorado and Texas A&M. Things may get worse before they get better.
UN-GAME
What Husker fans saw Saturday night in Columbia, Missouri was unbelievable, unimaginative and totally unacceptable. If the problems aren't corrected soon, the only thing Husker fans will be hearing Saturdays at Memorial Stadium will be the crickets chirping.
WORTH QUOTING:
I heard this from a rabid Husker fan who says she won't be going to this Saturday's Oklahoma State game, "It's hard to care when they (the Huskers) don't care".
CAN IT BE?
Is there any truth to the rumor that Husker assistant coaches are required to spend most of the week traveling on recruiting trips? If that is true, that could explain a lot about what's happening to our beloved Huskers this fall.
MORE FROM HUSKER DAN'S ARMY
Husker Dan:
A few years ago I was a young Captain in Afghanistan and I wrote you asking for help getting Husker stuff sent over to the troops for the NU vs CO (2002) watch party. You and your legions responded en mass and it meant the world to me. I still tell people about it. I am now a Company Commander in Iraq and interestingly, one of the supporters of my unit d my name and the note I sent to you came up. They wrote to tell me about it so, I thought I would send you an updated picture of me and some of the Nebraska Boys here in Baghdad (see photo) .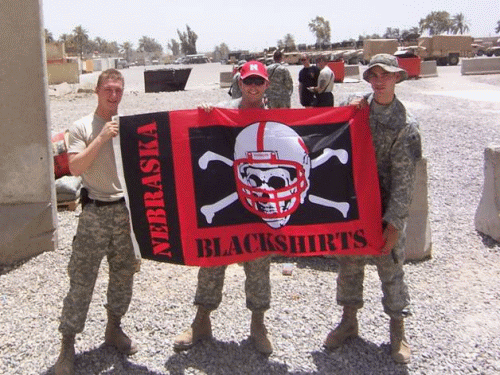 I also would like to express my sincere thanks to the Husker fans in and around North Carolina . I am from FT Bragg and I read on Huskerpedia that after the Wake game there was a push for Husker fans who purchased Wake season tickets to donate the remainder of the season tickets to Womack Army Medical Center at FT Bragg for the troopers in the Wounded Warrior Program there. As a Paratrooper and card-carrying Husker Nation member, nothing could have made me prouder than to see the generosity of our fans paying tribute to those who have been wounded in service here and in Afghanistan .
Go Big Red!
All the way...and then some!
CPT Jonathan L. Harvey
CDR, HHC/2BCT, 82d ABN DIV
Dear Husker Dan:
My name is Angie Masloski and my sister, Alison Anderson, is a Marine currently serving in Iraq. She is a Battalion Commander and is in charge to transporting her Marines to the town they are protecting. She is currently stationed out side of Fullujah and every other day she is transporting soldiers. This is a very dangerous position and we are scared she will not make it home. They had a close call the other day because they were running late they were not hit with a bomb. Alison can't get any of the Husker games in Iraq and she is a huge Husker fan. She has asked us to find Husker merchandise and if we can send it to her. None of my family lives in Nebraska and I was hoping you would be able to help send some Husker stuff to her. I am sure you get a lot of requests but even the smallest thing would be wonderful. If you are able to provide anything you can send it to my address below or you can send it directly to Alison. Here's her address:
1st Lt. Anderson, Alison M.
2nd Sup Bn (-) (Rein)
TS Co 3rd Plt
Unit 73716
FPO-AE 09509-3716
If you can find it in your heart to send her something to help keep her morale up, my family would appreciate it. If you are able to send multiple items, she will hand them out to soldiers who do not receive any mail or packages (isn't that horrible). I am currently putting packages together to send to her and her soldiers. We try to send 2 of everything so she can hand them out to other soldiers. We are trying very hard to keep their morale up and let them know we support them. Once again, anything you can provide will be much appreciated. If you are not able to send anything, please let me know and I will keep looking.
Angie Masloski
Kansas City, Kansas
Angie: First of all, thanks to your sister for serving her country. The real heroes of our time are not those who score touchdowns, but are people like Angie who make sacrifices every day defending the cause of freedom. I will send your letter to Gary McGirr (www.neks4nebraska.com) with the Northeast Kansans For Nebraska. His alumni group coordinates the Husker Dan's Army project which began more than a year ago. Alison will be on Husker Dan's Army register and will be sent a Husker "Care Package" and game DVDs of each Husker football game. The DVDs come compliments of HuskerVision and the UNL Athletic Department. For every $100 we raise in donations to Husker Dan's Army, The Red Zone in Omaha sends each soldier a Husker "Care Package" that contains media guides, caps T-shirts etc. We will get Alison set up immediately. May God Bless Alison and all our brave men and women serving our country.
NOTE TO HUSKER FANS:
Husker Dan's Army is running out of funds to help these soldiers in need. They don't ask for much, so I'm asking all Husker fans to donate whatever you can to Husker Dan's Army. Go to the
Northeast Kansans For Nebraska web site
. There is
a link
to Husker Dan's Army:
Checks can be made to "Husker Dan's Army" and sent to:
Bob Elliott
Northeast Kansans For Nebraska
3405 SW Atwood Avenue
Topeka, KS 66614
HUSKER DAN SEZ
It goes without saying that this week's game with Oklahoma State is a huge game for the beleaguered Husker football program. The Huskers have a chance, albeit slim, to get back on track with a win over the up and down Cowboys. If Husker fans think things can't much worse, think again. If the Huskers get humiliated at home, this season is going to get really ugly. This game may be the turning point for the Callahan Era of Husker football. Win this one and maybe, just maybe, the Huskers can crawl back out of the abyss they currently find themselves.
The Huskers are favored at home, but we all know what a 41 point dog (Stanford) did to the almighty Southern California Trojans last Saturday. Amazingly, the Cardinal won at USC. I'm not making any predictions for this game, but I am pleading that no matter what happens, do not boo our Husker football team or the coaches. Be the class act true Husker fans are known to be.
If you'd like to give Husker Dan a piece of your mind you may email Husker Dan at
huskerdan@cox.net
. For past Husker Dan columns,
click here
.