H U S K E R D A N
A BRAND-NEW HUSKER FAN
Last month, Mrs. Husker Dan and I became grandparents for the first time. Of course, he's adorable and we're going to spoil him. One of my duties is to make sure the little nipper is raised in a tender, loving, Husker environment. When I held my grandson for the first time, I sang several choruses of "There Is No Place Like Nebraska" to him. When I was done, he looked up at me and smiled. Mrs. Husker Dan, thinking I was making too much of the deal, cautioned, "He's just glad you're finished."
HUSKER DAN'S ARMY
The following is a letter from a Husker soldier who is serving in Iraq. Earlier this year, Spc. James McGill had sent me a letter that I forwarded to one of the key members of Husker Dan's Army. Here is his response.
Dear Husker Dan:
My Name is SPC James McGill and I am part of Bco 563rd ASB stationed in Balad Iraq.
I got to see hi-lights of the Alamo Bowl game a week and a half ago after it was played. I was impressed. I really think the team is coming along. I received some packages from a Husker fan in PA. His name is Bill Moran I thought that was very nice of you to forward my address to him. He seems very nice. I liked your insight on the season.
I also am wondering what positions do you think we need to fill in the offseason. Besides the O-line I was thinking DB's and DE/DT it is good that Carriker is staying. What else do you see the team lacking? I will be here when next season starts. I need to go thanks.
Spc James A. McGill
jamesamcgill@gmail.com
Bco 563rd ASB
159th AVN
APO, AE 09391
Dear James: First of all, thanks for your service to your country. Regarding what the new recruiting class is like, please see my section on the Class of 2006.
Dear Husker Dan:
I am stationed at Ramstein Air Base in Germany and get the bulk of my Husker news from Huskerpedia. Christmas came early for me when Tom Osborne flew through Ramstein and I was lucky enough to have lunch with him. He was kind enough to sign a football for me and it proudly sits in my office. Keep up the good work and the faith.
Go Big Red!
Kevin Benda
M MSgt 435 MUNS/LGWKB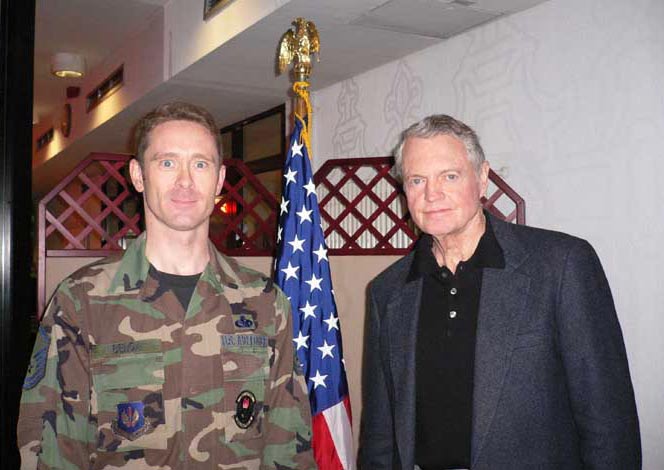 Dear Kevin: Thanks for the letter and the photo of you and Coach Osborne.
ALAMO ANNOUNCERS
Is there a better college football TV broadcasting team than Kirk Herbstriet and Mike Turico? Coach C should send Kirk a letter thanking him for the great endorsement of the Husker football program. You just can't buy that kind of pub.
THE CLASS OF 2006
Twelve hundred of my closest friends and I attended the Husker Recruiting Banquet held in earlier this month. All the coaches were there, including the Big Kahuna himself, Nebraska head football coach Bill Callahan. As he was introduced, he received a big ovation. When the applause died down, he announced, "Since I've been here at Nebraska, I've learned how to spell the word 'patience'". After a brief pause, he deadpanned, "W-I-N!"

Bingo, more cheers.

I've never seen Coach C so relaxed and happy. Maybe he was just relieved that the monkey, at least for now, has been taken off his back. Welcome to Nebraska, Coach. May you have many, many more years of smiling with the Huskers.
CLASS ACT
Do not, I repeat, do not listen to those who think this year's crop of recruits is not a good one. Just because the Husker commit QB Josh Freeman bolted at the last minute for K-State and the Huskers weren't able to sign another QB, the coaching staff was able to fill the positions critical to the Huskers taking the next step in the Big 12. In fact, I wouldn't be surprised if this class turns out to be better than last year's.

They signed huge, aggressive offensive linemen; tall, speedy receivers; defensive linemen and some DBs. The coaches kept saying that this bunch of recruits is "nasty' and the videos shown of the players seemed to back up what they were saying.

Recruits who stood out were OL Cruz Barrett, OL D.J. Jones, WR Maurice Purify, DB Ricky Thenarse, OL Victory Haines and WR Menelik Holt. Others who drew gasps from the audience were DT Seth Jensen (the kid loves to hit!), OL Ricky Henry, DT Brandon "The Beast" Johnson and Butler JC running back Kenny Wilson.

Husker fans are going to love this class. I can't wait for the season to begin!
HUSKER 2005 RECAP TOP 25
1.) The most resilient Husker player: #13 Zac Taylor. Every time he got knocked down (and that happened too often), he scraped himself off the turf and focused on the next play. He never complained to the officials, he just went on with the game. Taylor's poise, character, courage, guts and determination stood for what the Huskers were all about this year.
2.) The two players who will be the hardest to replace: RB Porkchop and PK Sam "You Send Me" Koch.
3.) Best game: Michigan
4.) Second best game: Colorado
5.) Ugliest game: Pittsburgh (Second: K-State)
6.) Best tackle: QB Harrison Beck's tackle of the defender who intercepted Beck's pass late in the K-State game. Had he not made the tackle, the Huskers likely would have lost the game.
7.) Worst Husker fumble: LeKevin Smith's-late in the T-Tech game...sigh
8.) Dumbest play by a Husker opponent: Pitt Panther's deep snapper Mike McGlynn, hitting the holder on the head on a late game field goal attempt.
9.) Second worst fumble by a Husker opponent: Nick Leader's fumble of a "sure" interception of a Zac Taylor pass in OT. Had Nick held on, the Huskers would have had another loss.
10.) Wackiest play of the season: See #8. (Second wackiest Husker play of the season: Zac Taylor's attempted pass in the K-State game. Deep in his own territory, the ball slipped out of his hand, but he was able to grab the fumble and run for a Husker first down.)
11.) Most improved phase of the Huskers: Special teams. The Huskers went from worst to first in the Big 12.
12.) Most exciting Husker football season: 2005. I can't remember a more exciting season, one in which almost every game for the Huskers was a toss-up.
13.) Best coaching performance by the staff: Tie-CU and Michigan.
14.) Best coaching performance by a Husker assistant: Three-way tie. Wags' offensive line in the last three games. Bill Busch's special teams play in the Alamo Bowl. He lost 7 starters on special teams in that game, but the Huskers kept coming after the Wolverines. DC coach Kevin Cosgrove. He lost three great linebackers, Stew Bradley, Steve Octavien and Bo Ruud but his kids kept fighting.
15.) Biggest non-issue: Gesture-gate.
16.) Biggest surprise: WR Nate Swift, LB Cory McKeon, OL Matt Slauson, OL Chris Patrick and a Top 25 finish for the Huskers.
17.) Costliest Husker incomplete pass: Taylor to a wide-open Swift late in the Sooner game.
18.) Best defensive stand: Tie: The third quarter of the Oklahoma game in which the Sooners registered 1 first down and 11 total yards of offense. The fourth quarter of the Alamo Bowl game in which the Huskers, down by 11, were able to hold the Weasels scoreless late in the game and come back to win the game.
19.) Worst defensive performance: Tie: Missouri game, 2nd half. Kansas game, 4th quarter.
20.) Best Husker home win: Tie: K-State (ugly game, but the Huskers became bowl eligible). The double OT win over the Cyclones.
21.) Worst Husker home loss: T-Tech.
22.) Worst loss of the season: Kansas
23.) Best win: Michigan.
24.) Most valuable '05 Husker recruit: QB Zac Taylor
25.) Second most valuable '05 Husker recruit: Three-way tie: PK Jordan Congdon, S Zack Bowman, OL Matt Slauson.
MORE ON THE ALAMO BOWL
Gary McGirr with the Northeast Kansans For Nebraska in Topeka, Kansas filed a report from the Alamo Bowl. He did a great job of interviewing Husker fans before the game, taking pictures of the pre-game atmosphere. The following are some highlights of his journalistic efforts:

We left about 6:15 – 6:30 to walk to the Alamo Dome. We were in section 310, so we had to walk up about three flights of stairs. We were in row 12 of the upper deck. We were on the 20 yard line behind the Husker bench. About 60% of the north end zone was all red. 95% of the Husker side of the field (East) was red. It was reported that we had approximately 22,000 fans at the game.
It was rumored that Michigan had contacted the Alamo bowl about not being able to sell their allotment of tickets (10,800). It was also said that the Alamo Bowl folks contacted an agency in Nebraska to sell the additional tickets that Michigan could not sell.

I don't know if you noticed this during the game, but here is another interesting contrast to the number of Husker versus Michigan fans in attendance.
On New Year's day my family and I watched a tape of the game Alamo bowl. It seemed like every time they showed the Michigan fans, they zoomed in to show about 30 or 40 fans in the shot. There was never any long distance shots of the Michigan crowd. My theory is that is because there wasn't one. The Michigan band was in the south end zone and the main grouping of their fans was next to them. There might have been 2000 tops in that area.
The cameras would pull back and show the Husker crowds around the stadium, mostly the north end. You could see a lot of Red.
It was really fun talking to all these people about Husker and Michigan football. All the people I talked to were very nice and receptive. I walked up to folks and said "I am interviewing Husker and MU fans for Husker Dan, a sports writer for HuskerPedia™, a Husker information web site. Dan is from Omaha and could not attend the game so he asked me to interview some folks and write some game day events while we were in San Antonio."
My family and I were absolutely amazed how receptive people were to being interviewed. This was a lot of fun. We thoroughly enjoyed the day and talking to the fans. The only interview I missed was talking to a family divided (i.e. Husker Husband and an MU wife or visa versa).
Dear Gary: Thanks for all your great work!
FROM THE EMAIL BAG
HUSKER COLLECTOR
Dear Husker Dan:
I've been collecting Husker memorabilia for many years. I would like to buy some Husker record albums that are out of print. Do you know where I might find such a thing?
David S.
Baltimore, MD
Dear David: Being the expert that I am, go to the following site: http://cyrcomusic.com/; click on "Non-Music Albums". The owner, Jeff, a rabid Husker fan, has over 200,000 records for sale. And no, they're not all Husker albums. Good luck.
THE HUSKER ELVISES
Dear Husker Dan:
We have just launched our new web site for the Husker Elvises. It is:
http://www.huskerelvis.net/ My brothers and I are trying to get some sponsors to help pay for our road trip to Southern California this fall. We would be available to sing, to sign copies of our Husker Elvises posters and to make personal appearances while we are in the LA area. Why don't you join us as well?
Larry Brew
Ft. Collins, CO
Dear Larry: First of all, congratulations on the new web site. Your many fans will love keeping up with all the latest on The Husker Elvises. Sponsors, are you listening? You may contact me (huskerdan@cox.net), or the Husker Elvises (www.huskerelvis.net). Thanks for writing. BTW, I'd love to join you!
CUTEST HUSKER FAN EVER!!!
Dear Husker Dan:
I saw some pics in your last column of some little husker fans, so I had to send my pride and joy to you as well. Her name is Isabella. I hope it makes it into one of your columns.
Thanks
Brad H.
Ft. Collins, CO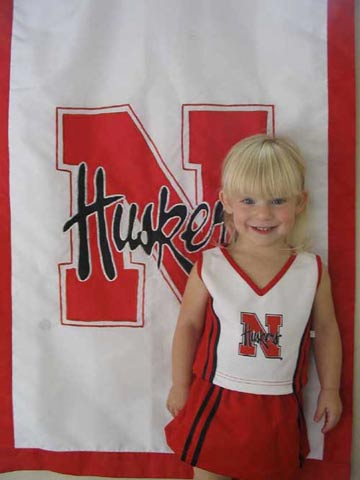 PAVELKA! PAVELKA! PAVELKA!
Dear Husker Dan:
I just wanted to comment about your interview with Kent Pavelka earlier this month. Being a KP fan from his years as the football voice, I found it timely & informative. Because of the interview I was able to tune in & hear his call of the ISU basketball game this past Wednesday, and I believe he's a sharp as ever, miles ahead of most play-by-play guys on the radio today (being in Denver, I hear quite a few).
I'm curious if there is any effort among Kent fans to swing the powers-that-be's attention to getting him back in NU's corner... do you have any info on that? Do you know of any email address I could write to, Pinnacle perhaps? Just wondering...
I still have tapes of Kent's call of some of the most classic Husker games. Having them brings back great memories, and really underlines the difference of his style of call, which, to me, is detailed, colorful, informative & purely Husker. Thanks again for the interview, and any feedback would be greatly appreciated! GBR!
Ken
Loveland, CO
Dear Ken: There used to be a web site devoted to trying to bring Pavelka back to do the PBP for Husker games, but I don't know if it's still running. If anyone knows of a phone number, address or web site for this purpose, let me know and I'll post it in this column.
Dear Husker Dan:
I really enjoyed your interview with Kent Pavelka. I have known him for a few years and really appreciate what he brings to the table. As a broadcaster, he is way above anybody in this area. To this day I don't think that anybody matches his clarity in doing play by play for NU football or basketball. And, while he is passionate about what he does and how he supports NU, you do not ever get the impression that it's all about him. He doesn't have to do a "core dump" on every little statistic that he ever read or memorized to be effective and believable. I know I miss him in the booth - it hasn't been close to the same since he and Gary left the NU stadium - and many, many people I run into say the same. I hope we get to hear more of him and about him as time goes on. Thanks for keeping everybody in touch with one of the great class broadcasters of our era.
Mike S.
Omaha, NE
Dear Husker Dan:
Thanks for doing such a great job on the Kent Pavelka interview. You had some great questions and I found out some interesting stuff about Kent I never knew. Very informative and interesting to read. I especially liked the part about how Callahan mentioned who Kent was and what he meant to NU. It was also very interesting to find out that Kent's Grandmother was the inspiration for Willa Cather's book. My Step-Dad is an Uncle to Kent's wife and I never even knew that. I, unfortunately, have never met Kent in person--just talked thru some emails and met his wife once. Kent and his wife are very nice people. I love all the work you and everybody else does at Huskerpedia. Keep it up!
Paul
Dear Husker Dan:
Thanks for a wonderful interview with my favorite pbp announcer of all time. Kent brought football games to my home when I was growing up with clarity, color and that AWESOME BIASED (which I very much enjoyed) enthusiasm that no hd tv can touch. Thanks Husker Dan, and thank you, Mr. Pavelka, for creating some of my fondest childhood memories. TOUCHDOWN! TOUCHDOWN! TOUCHDOWN!
Bryan B.
Princeton, NJ (I grew up in rural Oak Nebraska. Thanks! GBR!)
Dear Husker Dan:
The aura within the Husker Nation just has not been the same since Pavelka left the radio broadcast. Rose and the crew are ho-hum, frankly. Pavelka is sorely missed. To this Husker fan since '62, Kent was getting close to the class of Bremser. Nice interview.
Buck in 'Zona
Dear Husker Dan:
Thanks so much. We thought Pavelka was a great addition to the Husker family, and have sorely missed his announcing over the last several years. My 16 year old and I still use the phrase "Touchdown! Touchdown! Touchdown!" when the Huskers score. It's indelibly etched in our brains. To us, Kent epitomized Husker football in the 80's and 90's. Thanks again for the update on Kent, and keep up the good work.
Rob P.
South Bend, Indiana
BYE-BYE
Unless something drastic happens, this will be my last column for the season. I'll probably do a piece on the Spring Game, but this will be it until August. It's always an honor and a pleasure to write for the many fans of Huskerpedia™. If you'd like to write Husker Dan, you can email him here. For past Husker Dan columns click here.