H U S K E R D A N
HUSKER SPRING GAME HEADLINE:
HUSKER OFFENSE IS TAYLOR-MADE (Groan)
BIG WED WAP-UP
SPRING FORWARD, FALL BACK
Daniel Bullocks may have taken more with him into the end zone Saturday than just the pass he intercepted from Husker quarterback Joe Dailey. Bullocks' interception helped put the final dagger into the young quarterback's career at Nebraska.

It was obvious after last year's performance when he threw a school record 19 interceptions and helped leave the Huskers with a 5-6 record, that QB Joe Dailey was skating on very thin ice. Things didn't get any better for Dailey when Zac Taylor joined the Huskers in January.

MONTHLY DAILEY
And speaking of turnovers, that's what inevitably resulted in Dailey's demise. Last year, Dailey was all coach Bill Callahan had. It was The Joe Show or The No Show.

Dailey did his best to learn the offense within the short time he had, but all too often his miscues gave opponents short fields from which to navigate. The result was the first losing season for the Huskers since 1961 and its first non-bowl season since 1968.

Dailey had his moments last year, but was never consistent. His good games became too rare. Joe Dailey became Joe Monthly (thanks Bud) with good performances being the exception rather than the rule. Perhaps JD will be better suited for a smaller program like Ohio University.

NEVAH HAPPEN
What was Joe Dailey thinking when right after the Spring Game, he referred to Coach Bill Callahan as "Billy C.". It's hard to comprehend. Can you imagine any player during Osborne's career calling him "Tommy O."? It would NEVER have happened. Never. Ever.

CON-SPIRACY
The latest controversy surrounding Joe Dailey is that JD was "set up" to fail in the Spring Game. Here's how it goes:

On Dailey's interception that was returned by Bullocks for a touchdown, there was a blitz called on the play. No big deal, right? Wrong, according to Dailey's defenders. The blitz was the only one called the entire game, they say, and maintain that the only reason it was called was to make Dailey look bad. Sigh.

Maybe it was the only blitz called that afternoon, but with two spring camps and eleven starts under his belt, shouldn't Dailey have been expected to read the blitz? Shouldn't Dailey, because of his experience, be held to a higher standard? What is wrong with the coaches trying to see if Dailey had learned from his performances last year? Aren't the coaches justified, even obligated to test their 2004 starter? Sigh.

THE ZAC ATTACK
Barring a phenomenal Fall Camp by any of the other quarterbacks or an injury to Zac Taylor, the keys to Bill Callahan's WCO this season will be in number 13's hands.

It will be his job to lose. Yes, there is the freshman-to-be phenom, Harrison Beck who will hit Lincoln this summer, but he'll be just 17 years old and have no college game experience.

Having said that, Husker fans may not want to read too much into Taylor's record-breaking performance in Saturday's Spring Game. As impressive as it was, his Spring Game passing record was achieved against vanilla defenses. The real test will be this fall when Zac has to face defenses that will be out to rip his head off. If Zac holds up mentally and physically against defenses such as Oklahoma's, K-State's, Pittsburgh's and Texas Tech's, he has a chance to be one of the all time Husker greats.

To be sure, Callahan will have to have at least three very good quarterbacks who can grasp the WCO and more importantly, don't turn the ball over.

MORE THOUGHTS ON THE SPRING GAME
If there were any doubts about the loyalty, dedication and devotion of Husker football fans, it was erased Saturday when over 63,000 fans showed up for a scrimmage. Amazing-absolutely amazing. Truly, "There Is No Place Like Nebraska".

I lost track of how many times Husker radio p-b-p man Jim Rose said in his pre-game interview, "the aforementioned", as in "the aforementioned Chris Kelsay", or "the aforementioned Turner Gill" etc.

It was great to see Gill, Rozier and Fryar together again at Memorial Stadium for the first time since '83. The Scoring Explosion trio averaged an amazing 52 points a game in that year. If only that team could have had the '84 defense to go with it...sigh.

When asked on KFAB about what he thought of the West Coast Offense, 1983 Heisman winner Mike Rozier quipped, "I hate it, man, I like to run the ball!".

MILK CARTONS
Zac Taylor had a stunning performance in the game, but I recall some other great Spring Game performances that ended up putting the players' pictures on milk cartons:

Todd Uhlir set the Spring Game rushing record a number of years ago (never started)
Garth Glissman had a very good Spring Game a couple of years ago (never started)
Joe Dailey broke the Spring Game record for passing yardage last year (also established the single season NU record for the most interceptions by a quarterback)

STEVIE WONDER
Kudos to Steve Pederson for the awesome marketing job that brought former Husker greats and present Husker NFL players to the game. The "MNF" theme music that was played when each former Husker great was introduced before the game was fantastic!

Is there any truth to the rumor that the ovation Jammal Lord received prior to the game Saturday was by Husker fans who were glad he was in Houston and not playing quarterback for the Huskers?

STILL MORE...
Last year was the first time I can remember that "The Wave" never got going. Does anyone know when the first "Wave" was performed in Memorial Stadium?

BANQUET HIGHLIGHT
I went to the Husker Recruiting Banquet February 2nd in Omaha and sat at a table with Doug, Larry, Brandon, Natalie and some other rabid Husker fans. There was a record turn-away crowd of 1,400 (the largest crowd anyone could remember prior to that, was 1,000 when Osborne was the coach). By far, the highlight of the night was this:

WE'LL TAKE BLAKE
Film of the new recruits was shown by position and as a follow up, each position coach came up to talk about each player.

After films of the defensive linemen were shown, the position coach was introduced. "And now, the defensive line coach, John Blake". Instantly, 1,400 people leaped to their feet and gave Coach Blake one of the loudest and longest ovations I can ever remember.

Coach Blake waited until the applause died down. Without acknowledging the ovation, he spoke very deliberately. "Last year the best athletic director in the country went out and hired the best college football coach in country, who in turn, hired the best assistant coaches in the country. Those coaches worked hard and recruited the best college football players in the country to come to the University of Nebraska."

He paused a moment and said very matter-of-factly, "And we're gonna turn this mutha around."
He left the stage and immediately, the crowd leaped to their feet for another thunderous ovation.

After the banquet, I introduced myself to NU head coach Bill Callahan (no, I didn't use my Husker Dan moniker). I thanked him for coming to Nebraska and wished him luck for the coming season. I also visited with Randy Jordan-a very funny guy and Jay Norvell-a very sharp guy. I saved the best for last. I went up to Coach Blake shook his hand and talked with him about the ovations he received. He has a very engaging personality, people immediately like him. Before I'd met him, I thought this guy was big, as in fat, not as in muscle. Boy was I wrong.

I'm convinced that John Blake is big enough and strong enough and mean enough to uproot small to medium size trees. The man is built like a planet.

I also attended a couple of other football banquets hosted by Phil Elmassian and Kevin Cosgrove. There should be no doubt about the ability, honesty, character and integrity of the current Husker coaching staff. If they don't "turn this mutha around", I will be absolutely amazed. Be patient Husker fans, in the next few years, you are going to see some great Husker teams.

OSBORNE IN IRAQ
Dear Husker Dan:
My name is Sgt. Hornig and I'm in the Nebraska National Guard stationed with the 313th Medical Company out of Lincoln. I'm a big fan of huskerpedia.com and check it whenever I get the chance to keep updated on recruiting and other husker news. Anyways, Tom Osborne visited us last Saturday over here, reminding me why I am such a huge Husker fan. Anyways, I thought you might be interested.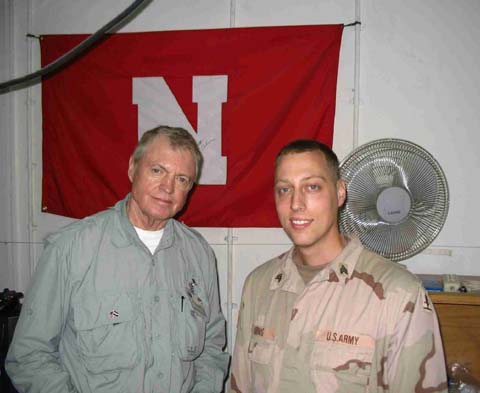 Thanks,
Sgt. Hornig

Dear Sgt. Hornig: Thanks for the great photo of you and Tom Osborne and thanks for letting us share this with other Husker fans. Good luck and Godspeed!
You can contact Husker Dan at: huskerdan@cox.net For past Husker Dan columns click here.