H U S K E R D A N
HUSKER HEADLINES
BUGEATERS BASH BAYLOR BEARS 59-27
DAILEY BREAKS RECORD AND BEARS' BACK, 59-27
DIE BAYLOR BEARRAN GETZ GERSCHTOMPED VON DEM BIG RETT, 59-27
(From the Berlin newspaper, Der Ninnkompoopen Zeit)

(CAUTION: YOU ARE ABOUT TO ENTER A SPIN ZONE THAT OFFERS BRIEF GLANCES AT FULL FRONTAL PARODY, SOME RAW SATIRE AND OCCASIONAL LAME ATTEMPTS AT HUMOR. ENTER AT YOUR OWN RISK.)
BIG WED WAP-UP
HERE'S THE DEAL
Okay, if someone would have told you last week, in the shadow of the worst loss in Husker history ("The Trainwreck at Texas Tech"), that in the next game with Baylor:
A.) The Huskers would win the game, you would have taken it.
B.) The Huskers would score 59 points, you would have taken it.
C.) The Huskers would win by 32 points, you would have taken it.
C.) Joe Dailey would tie the all time record for TD passes thrown in a game, you would have taken it.
D.) Not only would Dailey tie that record, but he would also break the all time school record for most passing yardage in a game, you would have taken it.

We all would. In a flash. A heartbeat. In a New York minute.

So what's the problem?

The Baylor game was like your 16 year old driving your new car home an hour before curfew, smiling, handing you a report card with straight A's, but oops! there's a dent in the fender that wasn't there before.

It's true that Baylor might be the Western Illinois of Division I football, but Saturday's win was a good win, especially after last week's Lynching in Lubbock. Remember, this year any win is a good win. Take it. Enjoy it. Lap it up. Love it.
THE DEFENSE RESTS
The dent in the Husker fender this week was the sobering fact that the vaunted Blackshirts gave up 21 third quarter points Saturday to a Bear offense that ranked 111th in Division I football. They also surrendered a stunning 400 yards of offense to them. Add the totals from the past two weeks, the Huskers have given up almost 1,000 yards and 97 points to two unranked teams. Scary, ain't it.
NUMBERS GAME
But the two stats that stand out after last week's win over Baylor are: Zero and Four. Zero, as in no Husker turnovers. NO HUSKER TURNOVERS! Zip, zilch, nada. Four, as in four wins this season. The Huskers need just two more in the next five to continue our current streak of 35 consecutive bowl appearances. Going to a bowl game this year, will be an accomplishment for this team. So, as I said, enjoy any and all Husker wins this year.
MECHANICS, ANYONE?
All you had to do Saturday was put the binoculars on number 12 to know if his passes would likely be completed. His form was good. He squared up, threw correctly. Yes, he did side-arm some throws, but his mechanics were maybe the best he's had all season. Maybe the benching at T-Tech was good. Dailey seemed much more focused, and yet, it was Western Illinois, er Baylor.
THIS AND THAT
1.) Am I the only one who sees the incredible irony of Tommy Lee deploying the Der Wienerschlinger Saturday? Who thought up that dumb idea? Sigh.
2.) What happened to Ross "The Boss" Pilkington Saturday?
3.) The Huskers missed at least two "sure" interceptions against Baylor. Fabian dropped a "gimmie" in the end zone and two Husker defenders collided going after another "sure" one.
4.) And what's with Tommy Lee playing in the Cornhusker Marching Band? Sigh.
5.) Why was our first string offense on the field late in the 4th quarter when the game was a rout?
6.) Why does Coach Callahan wear a black outfit when he is on the sidelines?
7.) Husker fans should read the current issue of Nebraska Life magazine. The cover story is about Husker "Game Day" written by David L. Bristow. The article is right on. The magazine captures the spirit and the heart of Huskerland like no other magazine. For more information, go to: www.nebraskalife.com. A subscription would make a great Holiday gift.
8.) It was good to see Brandon Jackson getting some valuable return yardage-something that has been missing all year.
9.) Who would have thought this year's Husker team at this point in the season, would have more wins than Ohio State, Arkansas, Oregon, Oregon State, Washington, Washington State, Fresno State and Kansas State? Or that it would have as many wins as Florida, Cal, Iowa and LSU?
10.) Comment: The New York Yankees suffered the worst lost in franchise history this summer in a 22-0 loss and yet (at the time of this writing) they are just one win away from playing in the World Series.

FROM THE EMAIL BAG
Dear Husker Dan:
1.) Cute song you wrote about Marques Simmons.
2.) By the way, he'll be starting Saturday against Ohio State.
How's Nebraska doing this year without him?
3.) And I know Roger Craig, and the only reason he went there was because Iowa sucked at the time and he got a free ride for his cousin, who ran track, as well.
4.) Keep writing those songs, (censored).
5.) Go Hawks. Huskers suck.
Jeff S.
Hawkeye Fan

Dear Jeff:
1.) Thanks, but I wrote the lyrics, not the song.
2.) Marques is starting because the three backs in front of him are out with injuries. If you think the Huskers would be 5-0 with Marques in the NU lineup, you must be joking. (Note: Marques was injured in the first quarter and rushed for a total of 20 yards in the Ohio State game.)
3.) Roger Craig was recruited after his brother, Curtis, a wingback, played for the Huskers from '75-'77.
4.) Again, I don't write songs, just lyrics.
5.) As far as the saying the Huskers suck, is that the best you can come up with?
Comment:
1982 Huskers 42-Iowa 7
1999 Huskers 42-Iowa 7
2000 Huskers 42-Iowa 13
Also, when is the last year the Hawkeyes won a national championship? When have they even played for a national championship? How many consecutive home sellouts has Iowa had in the past 42 years? How many academic All-Americans have the Hawkeyes produced? How many conference championships have the Hawkeyes won? Sigh.

Dear Husker Dan:
Let's suppose, just suppose for a minute that your boss comes into your office and tells you that you are not doing your job (50% level) and that you need to make improvements or you will be fired. So you make the changes and your improvement shoots up dramatically, to say, 90%. He comes in after you have just put the finishing touches on a great comeback, and he fires you. 5 minute meeting, BAM, you're gone. How would you feel? Steve Pederson is that kind of a Boss.

We can't get K-State on TV so us folk out of the area can't get to watch the Huskers anymore...but we aren't going to get many TV slots after 7 turnovers at TTech and a 70-10 pasting on national TV. The defense is in dire need of a Pellini type of personality. The players wanted Pelini. Wisconsin is tops in defense now that Cosgrove is outa there.

Championships are won by defense. They are not playing with heart anymore.
Grant C.
Whitinsville, Massachusetts

Dear Husker Dan:
Can you tell me the words to "Come a runnin boys"? That's one of the only ones I didn't know!! Thanks!
Katelyn C.

Dear Katelyn:
You are in luck! Here's the web page that has the information.
http://mynptv.org/sportsFeat/pioneer/hc_mediaclips/audio.html

Dear Husker Dan,
I would like to share a special picture of my son Nathan to your audience. He is just 8 months old in this picture and he might turn out to be one of those Husker offensive linemen (the glory day ones).
We live in Shrewsbury, Pennsylvania just south of Harrisburg, PA. Originally we are from Scottsbluff. Today my little boy is wearing his Husker jumpsuit at the daycare, where he is converting Penn State fans into Husker fans. We find there are a lot of Huskers out here in PA. In fact, my Husker buddy in Harrisburg took me to see the Pitt game and we were very impressed with the Husker fans showing up. I would have to say the Pitt fans were much better fans than the Penn State fans.
Eric F.
Shrewsbury, PA
Eric: The picture of Nathan is posted. Thanks.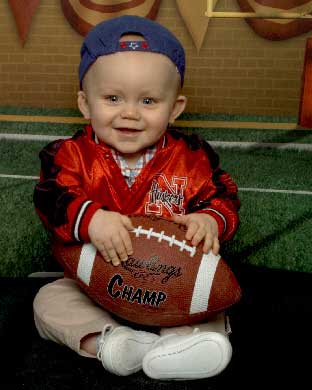 HUSKER STORIES
NEW YORK HUSKER FAN
I don't have a story as good as the Greg Pruitt one but my memory of first falling for the Huskers is mine oh mine. I was eleven years old living in Brooklyn, New York and trust me all we knew from sports was the Mets, the Knicks, the Rangers, the Jets, the Giants and some fools actually followed the Yankees. We'd gotten over our hangover from 2 years prior when the Mets, Jets and Knicks all won within a year of each other and the Rangers almost made it to the Stanley Cup finals.

The Yankees, almost as happily, sucked. Suffice it to say we did not know from college football. Us New Yorkers couldn't have picked Bob Devaney or Bear Bryant out of a lineup. That all changed "that fateful Thanksgiving Day" when I was sitting with the men folk at my grandparents' house watching Nebraska/Oklahoma simply because we always watched sports and there was nothing else on. I guess Detroit and Dallas weren't a staple back then.

Anyway, the game was on, but all my father and uncles seemed interested in was the scotch and the smell of my Nana's Kugel pudding. For some reason I had my eye on the TV (at eleven the scotch didn't yet appeal to me) and oh my God, who is that guy running back that punt? 2 hours later I wouldn't go in to eat until the game was over and I was a Husker fan for life. Me, who has never set foot in Nebraska, who still roots for the Mets and Giants but no longer the Knicks or Rangers, lives and dies with a team from a State I've only flown over.

My wife and friends think I'm out of my mind when I still decorate my office with Husker plaques and posters and proudly put on the latest bumper sticker next to my Grateful Dead sticker. But I think they understand when I explain it's not simply a team, it's a state of mind. It's unequaled academic all-Americans, it's Tom Osborne keeping his priorities straight regardless of what Barry Switzer might do to give his team an unfair advantage. It's not bitching publicly about calls that have cost us at least 2 NC's and not publicly lobbying in '94 and '97 to be voted #1 when it was obvious we were the superior team both times.

I've been to several road games and one of these days I'll take a trip to Mecca, that is Lincoln. When I walk into Memorial Stadium for the first time I will think back to that Thanksgiving Day 33 years ago and remember my Nana's food cooking and the thrill of watching Johnny Rodgers and company for the first time. Go Big Red!
Andy F.
Lynbrook, NY.

BRAND NEW HUSKER FAN
I recently had my first child this January. A boy, his name is Franklin. on the day he was born I was wearing my favorite shirt. A husker shirt. Due to complications, after he was born he had to stay in the hospital for a week. During our visits there, my wife and I befriended another couple. Also Husker fans. All through my wife's pregnancy my wife and I watched all but 2 Nebraska games. It was her first season watching college football. And she learned a lot, surprising me with her knowledge of the game.

After the season ended, we both were looking forward to 2004. In part because our son (who will start at QB for Nebraska someday) would get to enjoy the experience with us. We are a new family and we wanted to include Husker Tradition with our own. But, because of circumstance the first game my son and I saw together was last Saturday's game, 70-10. I couldn't imagined anything worse. You see, even though he may not remember, I was waiting for this day. To share this with my firstborn son. Not to sound dramatic but now that has been ruined. Don't get me wrong, we won't lose our love for Nebraska one bit. But something special has kind of been lost. It just leaves a bad taste in your mouth....
Daniel G.
Woodland Hills,Ca

PICTURE PERFECT
I took my son to the Oklahoma State game last year which if you remember was the first for Husker Nation. This was the first Husker game my son who is 7 has been to. We went into the stadium when the gates opened and was sitting in the stands when the camera man spotted us and put us on the big screen my son loved it. Then we were walking through the trophy hall and spotted Frank Solich standing just inside the banquet room. I made a B line straight for him and asked if he would pose for a picture with my son which he did. Come to find out he was greeting recruits for a pregame dinner (whoops). Then we were watching as all the past Huskers were walking into the trophy hall. I stopped Tommie Frazier and Mike Rozier who posed with my son for a picture. Then spotted Tom Osborne who also posed with my son for a picture. I explained to my son that he will realize when he gets older how cool this experience was.
Chad S
Baldwin City KS.

Readers: All of you have a Husker memory or story you need to share with Husker Pride Worldwide. Your story might be about the first Husker game you ever saw; it could be about the last Husker game you shared with a loved one, or maybe it's a story of what you had to do in order to get Husker tickets. It could be a funny story or just a memorable one. Whatever memory you have, send them to huskerdan@cox.net and Husker Dan will post the best ones in his column.

HUSKER DAN SEZ
What stands out about this year's Wildcat-Husker matchup is that not one television network thinks enough of the game to carry it. To be sure, at 2-4 Kansas State is not the darling of the Big Twelve that it was just 10 months ago when they overwhelmed a good Sooner team for the BT championship. Gone are a host of great 'Cat players, not the least of which was Ell Roberson, the kingpin of the 'Cat Machine that caught on fire after a shaky start last year.

Can this young and inexperienced K-State team rebound yet another year? Dylan Meier the talented Cat QB has been prone to injuries and may not even play Saturday. Running back Darren Sproles has not had the supporting cast he had last year, and his stats show it.

The Huskers seem to be rebounding, but again, it was just Baylor, but I think the Huskers have enough firepower to overcome the struggling 'Cats. Yes, the Wildcats lost by 12 to a very good Texas A&M and at home by 10 to highly regarded Oklahoma. So the 'Cats also have more than enough to beat the Huskers.

Once again, turnovers will decide this game. If JD & Company can go mistake free, the Huskers will prevail. Have the Huskers turned the corner? Can the defense shut down somebody? Stay tuned.

This one's on the radio, a flashback to the old days when very few games were televised. This will likely be another cliffhanger. This one will go down to the wire.

HUSKERS 24
WILDCATS 21