H U S K E R D A N
HUSKER HEADLINES:

HUSKERS "PASS" FIRST TEST, 56-17
WEST COAST MAKES TOAST OF LEATHERNECKS, 56-17
BIG RED WRECKS LEATHERNECKS, 56-17
DIE GROSSE ROTEN GESCHTOMPEN DER KRAPPEN VON DEM LIEDERNECKTEN, 56-17
(From the Berlin sports magazine, "Der Schpinnmeister")
BIG WED WAP-UP
GETTING SIDETRACKED
Husker Dan decided to take the advice of many of you who said that to experience the "real" Husker pre-game atmosphere, a visit to the Sidetrack located near 10th & O Street in Lincoln is a must.
Huskerpedia's David Max and I tried to connect there (we've never met each other before), but unfortunately due to some communication problems (it was so loud at the Sidetrack that neither of us could hear our cell phones ringing), we weren't able to hook up.
Despite the noise, the Sidetrack more than lived up to its billing. Entertaining the Husker fans was the house band "Joyce and the Sidetrack Band" (Joyce Durand on keyboards; there were drums, gee-tar and an upright bass). There were also guest appearances by the Husker Pep Band, "The Husker Elvises" (Elvis "Parsley" impersonators), and a guy who led the packed crowd in singing several choruses of "Du, Du Liegst Im Mir Hertzen". It was smoky (but not too bad), it was loud but everyone appeared to be having a blast! (Check out the pictures at the end of this column.)
GOOSEBUMPS
About an hour before kickoff, I watched the Cornhusker Marching Band performing their half time routine outside the band building. I walked ahead of them as they marched down Stadium Way (another great Husker experience). After they played "The Band Song" and two choruses of "Hail Varsity" (I still get goose bumps every time I hear them play it), I worked my way through the throngs of red-clad Huskers to my seat in the East stadium.
A FIRST
Saturday night, wasn't just any season opener-it was the start of a new Husker era. I wasn't able to see Devaney's and Osborne's first games, but I did not want to miss Callahan's debut.
The stadium was packed long before the 6 p.m. kickoff. People were anxious to see the new Tunnel Walk (I missed new "The Walk" in which fans line up to meet the Husker players as they walk from the buses to the stadium 2 1/4 hours before gametime). Fans were eager to see Bill Callahan run on to the field with his team for the very first time in a real game atmosphere. And fans couldn't wait to see what the first play was going to be; who would score the first touchdown; who would kick the first extra point and so on.
There were fireworks outside the stadium before the kickoff and but there were more "real" fireworks in the stadium as the Huskers rolled up 42 points first half points.
We sat, what seemed like, 2 feet from the newly relocated temporary loudspeakers (emphasis on the LOUD). To get the crowd jacked up and geeked up (whatever that means), there were songs by the Stones, AC-DC, Tina Turner and others.
THE GAME
It was an awesome night for Husker Pride Worldwide.
It's true, WIU isn't USC or Oklahoma or even Missouri, but it was the perfect first game for the young Huskers. Night games are special at Memorial Stadium and to add to the excitement, it was opening night for the new West Coast Offense. And as with most opening nights, there were errors that if not corrected, will lose games against good opponents down the road.
But all the errors can be fixed. It's said that a team makes its greatest improvement between the first and second games. The Huskers will need to continue to improve this season if they are to compete in the BTN.
It is astonishing what Bill Callahan and his staff have been able to accomplish in such a short time. The new offense is explosive, exciting and complicated. Callahan changed the play calling in the 2nd half, to run as much clock as he could and to introduce more plays into the offense. The play selection backfired a bit, but this is going to be a fun team to watch.
Despite his 4 interceptions (he had 2 tipped passes that were intercepted), Dailey played with a great deal of poise. Terrence Nunn started at receiver and in doing so, became the first true freshman to start an opening game for the Huskers since the Roosevelt administration. Tierre Green showed flashes of brilliance (great footwork and speed), as did the leaner and meaner "Pork Chop" Cory Ross (he has more moves than Phil Elmassian). Throw in Brandon Jackson and the Huskers have a potentially great running back crew. The offensive line (minus Richie Incognito and Darren DeLone) with Kurt Mann and Seppo Evwaraye, performed well, giving Joe Dailey ample time to run the offense.
LIGHTS OUT
The defense played lights out football. They will continue to get better as the season progresses. Ira Cooper had a great night as did Lornell McPherson, Bernard Thomas Adam Carriker, Wali Muhammad and even Little Bo Ruud go into the mix.
NOT SO SPECIAL
Did I mention special teams? That's another story. I do think that's the last time this year the Huskers will look as inept and confused in that department.
All in all, it was a very good opening night performance.
LOON SWAN SONG
Steve, The Red Clad Loon, a regular contributor for several years to Huskerpedia and to his own site, has apparently hung it up and will no longer be writing his Husker football column. Steve is one of the best sports writers I've ever had the pleasure of reading. His Dennis Miller-like wit was brilliantly fresh,crisp and creative. He reinforced the idea that you can push the envelop using humor and still be passionate about Husker football. Steve, if you are listening, you have thousands of readers who are feeling a sense of emptiness now that you have retired. Could you please reconsider?
HUSKER DAN WANTS YOUR STORIES:
Last year, I received a very touching letter from a Husker fan who told me a story about his father who had just passed away. The son went on to say that on his dad's last day on earth, the two of them sang, "There Is No Place Like Nebraska."
There are hundreds of Husker stories Big Red fans have experienced through the years. Your story might be a touching one; it could be one that's funny; it could be one about your first Husker game, or it might be how you drove to the game in Lincoln and realized you left your tickets back at home in North Platte.
Whatever, just send your Husker stories and Husker Dan will post the best ones in his columns this fall. HD reserves the right to edit your story for form and content. Please include your name (unless otherwise directed, HD will use your first name and last initial) and the city and town in which you live. Send your stories to huskerdan@cox.net. Thanks.
FROM THE EMAIL BAG
PREDICTIONS
Dear Husker Dan:
If Bo Ruud breaks Jerry Murtaugh's record for career tackles this year (343), that would REALLY be an accomplishment. Why don't you have him as the Big 12 Newcomer of the Year? Also, you said that Joe Dailey would see a lot of playing time this season. Well, duh, he's our starting quarterback.
Gene Poole
Atlanta, GA.
Dear Gene (aka Mr. Smarty Pants): How many times do I have to tell you, Husker Dan intentionally includes errors in his column just to see if readers like you are on your toes. Of course, it's BARRETT Ruud, not his "little" brother, Bo. Regarding the Dailey comment, there was a great deal of talk (foolishly, IMO) that Little Joe wouldn't be able to beat either Beau Davis or Jordan Adams for the starting quarterback spot. It was not (and is not) a given that Dailey will be the guy for the entire year. To his credit and because of his dedication, J.D. has thusfar maintained his #1 status. For insurance purposes, Adams, when (and if) he returns at full strength, also will likely see considerable playing time. Ryan Goodman holds the #2 spot and saw some playing time Saturday night.
GO BIG FRED
Dear Husker Dan:
I really liked your touching piece about your Uncle Freddie. My hope is that when I die, I will also be remembered as a good Husker fan.
Ford C.
Muncie, ID
(NU class of '92)
Dear Ford: Thanks for the kind words. I'm sure if you are a good person, eat your greens, say your prayers, root for the Huskers through thick and through thin, that when you go to that big end zone in the sky, there will be a seat for you on the 50 yard line somewhere up in Husker Paradise.
Dear Husker Dan:
I was deeply touched by your story about your Uncle Fred. My father-in-law died unexpectedly in mid-July. We faithfully watched games on TV together over the past fourteen years. He had a stuffed monkey to "help" the Huskers and if that didn't help, he would toss it back up on the shelf in disgust. The day he died, I said to one of his friends, "Who am I going to watch the Husker with?" I was so looking forward to this season. I'm sure I'll make it through this year, but it won't be the same. Here's to your Uncle Fred and my father-in-law. GBR and RIP.
Landy S.
(I'm originally a northeast Nebraska boy from Ponca, NE)
Dear Larry: I'm sorry about the loss of your father-in-law. The best way to honor our loved ones who were rabid Husker fans, is to continue the tradition. GO BIG RED!!
DEFENDING THE DEFENSE
Dear Husker Dan:
How can the Husker defense be better than it was last year when we lose DeMorrio Williams and Bo Pelini? I don't get it.
Hal O'Burton
Missoula, MT
Dear Hal:
It's simple. The offense is going to be much better than last year when #5 ran for his life on every play. All too often, the offense went 3 and out, especially in crucial games. The defense, as good as it was last year, couldn't get a breather. This fall, the Blackshirts will have an offense they can be proud of.
GAME #1
Dear Husker Dan:
It's nice to see a running back (or 2) have more rushing yards than the quarterback!
Chris W.
Arlington, TX
Dear Chris:
Yes, what a concept!!
Dear Husker Dan:
What stood out to me was the total organization of the team. We didn't waste our time-outs or incur delay penalties...We have the perfect schedule to have the team firing on all cylinders by the time we play OU, KSU and Mizzou...We haven't abandoned the running game as so many have predicted. Teams can no longer put 8 or 9 in the box...I believe we have found the right coach at the right time to bring greatness back to our program.
Craig L.
Connecticut
Dear Craig:
I couldn't agree with you more.
Dear Husker Dan:
The new Husker offense is like going from a Pinto to a Porche. GO BIG RED!!!
Mike F.
Omaha, NE
Dear Mike: Careful, I used to own a Pinto!!!!
Dear Husker Dan:
Remember how terrible of a passer Jammal Lord was because he completed only 48% of his passes? Well, your man Dailey hit 50%. People, including yourself, were just looking for somebody to blame, and it fell on Lord.
Luke C.
Mustang, OK
Dear Luke:
Comparing Dailey's one game stats (a true sophomore making his first start) with 2 year starter Jammal Lord's is unfair to both quarterbacks. Dailey's completion rate will continue to go up as the season progresses. My sense is, the NU quarterback pass completion rate will be around 65% for the season.
Dear Husker Dan:
I don't get it. Why did we dismiss a great, talented coaching staff and replace them with castoffs from such "powerhouses" like Purdue, Wisconsin, Fresno State, Pitt. None of these assistants ever won a national championship. This program is going downhill, if you ask me.
Juan Downtuetogow
Avarda, CO
Dear Juan :
The horse we had been riding for many years did well, but it was starting to tire. If Nebraska limited its hiring of coaches to just those who had come from national championship programs, we would never have had Bob Devaney, Tom Osborne, Monte Kiffin, Charlie McBride, Turner Gill etc. Stay tuned, this Husker program is going to get better each year.
GROANERS
SEAT
Saturday's home opener was another sellout, but Bill Callahan couldn't help notice as he looked up into the stands that there was an empty seat near the top of the stadium. He sent offensive line coach Dennis Wagner to find out why the seat was empty.
Sitting next to the empty seat is an 85 year old lady with her Husker pennant, her Husker blanket and her Big Red hat.
"Excuse me ma'am", he said, "but the seat next to yours is empty".
"Yes, I know it is", the lady said softly.
"Who does it belong to?"
"My husband."
"Why isn't he here?"
"Well, you see, he passed away."
"I'm sorry to hear that, but couldn't you have given the seat to one of your children, or a friend or a relative?"
"Nope, they all went to the funeral."
(Sent by Larry S. Fresno, CA)
HOT DOGS
In another bold move, Husker A.D. Steve Pederson announced that he has banned the popular Der Weinerschlinger vendor from Memorial Coliseum. It seems that Pederson doesn't want any more Franks in the stadium...
NAME THAT HUSKER
Two elderly Husker fans who had been friends for a long time, ran into each other this summer. The one man says to the other, "Do you know who I am?"
The other man paused and then said, "How soon do you need to know?"
HUSKER DAN SEZ
This week's game with So. Mississippi Golden Eagles will be much more of a test for the revamped Huskers. Last year the Huskers jumped to a 17 point first quarter lead and hung on for a 38-14 win.
The Eagles have lost 9 starters from last season, with 7 of them on defense. It's true the Eagles have had an extra week to prepare for the WCO, but it will be hard to defend the new offense, especially with an inexperienced defense.
Look for the WCO to get started early once again. Look for Dailey, Nunn, Amos, Ross, Herian and Green to explode. Look for the Blackshirts to dominate.
Coach "C" will once again, have the luxury of playing a lot of players.
After the Husker fun,
The Eagles will be,
Oh and one.
HUSKERS 42
GOLDEN EAGLES 10
You may email Husker Dan at
huskerdan@cox.net
. To view all of Husker Dan's past columns
click here
.
Pictures: Libby Lou Whalen, age 1. Sent to me by her parents Tim and Lisa Whalen of Omaha.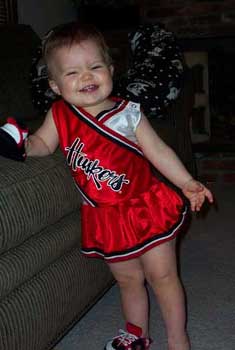 Kelly Notarfranceso from Portland, Oregon with the "Husker Elvises".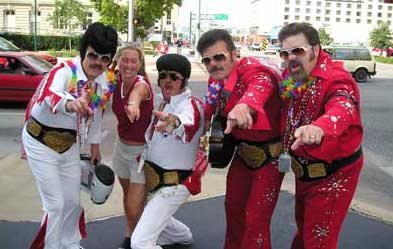 You may email Husker Dan at
huskerdan@cox.net
. To view all of Husker Dan's past columns
click here
.