H U S K E R D A N
HUSKER HEADLINES!!!!!!
BURNT ORANGE SEES RED, DOWNS HUSKERS, 31-7
TWO-HEADED "MACK" ATTACK, CRACKS HUSKERS, 31-7
HORNS HUMBLE HUSKERS, 31-7
COWS CRUSH CORNHUSKERS, 31-7
HORNS EXTEND HUSKER ROAD WOES. 31-7
"YOUNG" COWS RUN PAST HUSKERS, 31-7
DIE KATTLE GESCHWINDER DER KORNFLOPPEN, 31-7
(From the German newspaper "Der Wienerschlinger")
BIG WED WAP-UP
Some days you're the pigeon and some days you're the statue.
November 1st was to be "Separation Saturday" and nowhere was it more apparent then at Austin, Texas Saturday.
DEAR OLD NEBRASKA
The Huskers are getting beat by teams that look like Nebraska teams of old. The Huskers are being exposed as a team in search of itself. Saturday, Texas showed how far Nebraska, in the past couple of years, has been separated from its perch atop the college football elite.
TALENT NO-SHOW
Texas always seems to have some of the nation's the best recruiting classes each year. Amazingly, Frank Solich has more Big 12 championships (1) than Mack Brown (0). While Texas' recruiting classes have stayed the same, the Huskers' classes for the past 3 or 4 years have been disappointing. The recent Husker classes have been filled with defections, personal problems, injuries, academic issues and recruiting misses. And the lack of talent becomes very evident when Nebraska faces programs that do have good talent.
RECORD YEAR
The Husker record stands at 7-2, not bad when compared with last year's 7-7 season. But this year's record should be tempered with the fact that Penn State and Iowa State, teams that beat NU soundly last year, are mere shadows of themselves this year. If both teams were as good or better this year, the Huskers might be nursing a 5-4 record at this point in the season. A really scary thought.
FLAT TIRED
What should be an alarm for HUSKER PRIDE WORLDWIDE, is that several Huskers said after Saturday's game, they came out flat for the Texas game. Flat???? For Texas???
How in the name of Bob Devaney, can the Huskers come out flat in a game of this magnitude? It's hard to comprehend. This was going to be a Jammal Lord Coming Out Party, but instead, Lord and some of his teammates came out flat. It's inexcusable and unbelievable. I just don't get it.
THE BLAME GAME
There was enough blame to go around the entire Husker program for the loss at Texas. Yes, our offensive line is banged up and has little depth, but Texas out-hustled, out-played and out-coached the Huskers all day long. The Cows have more depth, better athletes and maybe better coaches. We brought our D+ game; the 'Horns brought their A game. They didn't hesitate to play 2 quarterbacks, while we stubbornly stuck with a quarterback who was ineffective. We had no running game, no consistent passing threat. We had bad center snaps. We overthrew and underthrew wide-open receivers. We got beat up front all game. Our offensive line couldn't block. Our defense wore out in the (gulp!) first quarter. We couldn't make adjustments on offense (no surprise) or defense (big surprise).
A MATTER OF TIME
At least in the Missouri game, the Huskers held a lead going into the fourth quarter. But the Texas game was over before the half. It was like watching a bulldozer moving a mound of dirt. It was just a matter of time before the Huskers were finished.
REBOUNDERS
To be sure, in our two losses, we've faced two good teams that had a lot to prove. With Missouri, it was the embarrassment of losing to Kansas two weeks earlier. With Texas, it was losing earlier at home to a 4-3 Arkansas team and getting annihilated by the Sooners, 65-13 in Dallas.
All week long before they played the Huskers, the Texas defenders heard that they were soft up the middle and they couldn't stop a good running team like Nebraska's. After all, hadn't Lord run through them for 234 yards in Lincoln just a year ago? So Texas came out with a chip on their shoulder and had a lot to prove. And they did.
Maybe the Huskers aren't that bad. The Longhorns may have played their best game of the year. The Huskers manage to bring out the best (worst, if you're a Husker fan) in their opponents. We're kind of like the BASF commercial:
"We don't make opponents' football teams-we make opponents' football teams better."
SOME OF THE MANY THINGS I DON'T UNDERSTAND
1.) Why VCRs can't remember the correct time, but always manage to remember "12:00".
2.) Why all TV news shows take commercial breaks at the same time.
3.) How a thermos knows how keeps warm things warm and cold things cold.
4.) What Julia Roberts ever saw in Lyle Lovett.
5.) Why Kenny G albums are carried in the Jazz section at record stores.
6.) Why Kenny G CDs are carried in any record store.
7.) Why the Huskers continued to try to run wide on Texas' defense when the Cows have way too much speed.
8.) And why Frank Solich didn't give Joe Dailey a shot when Lord continued to miss wide open receivers (he didn't even come close to hitting Judd Davies on a simple screen pass) and took sacks instead of just throwing the freakin' ball away.
COMMITTED
I just don't get it. Since the coaching staff (hint: Frank Solich) is committed to Lord and won't play Joe Dailey, we must conclude that Dailey is one of the worst quarterbacks in the entire country. Think about it.
If you're worse than Lord, perhaps you shouldn't be playing D-I football. Maybe Curt Dukes got the message. "I must be an awful quarterback. I'm outta here."
We know this for sure: Lord melts in tough games. And where is it usually tougher to play? At home or on the road?
LORD'S ABILITY
Maybe Solich is tired of coaching. Lord may not have the ability to succeed at quarterback, but he may have what it takes to get his coach fired. And you have to look at Lord's position coach, Turner Gill, and wonder what's going on there, too.
REVOLTIN' DEVELOPMENT
Under Gill's tutelage, how has Lord developed as a quarterback? Does he have good footwork? Are his passing mechanics good? Does he make good reads? Does he know defenses? Can he spot and hit wide-open receivers consistently? Can he find and hit secondary receivers? Is he a good role model and a leader for the team? Can he rally his team late in a game? Is he getting any better? Is Lord's successor, Joe Dailey being groomed for next year? With away games at Pittsburgh, Oklahoma and Kansas State next season, there will be little time to grow up. Are Husker fans going to be patient through another roller coaster season next year?
WHOSE TEAM IS THIS, ANYWAY?
If Barney Cotton is the offensive co-coordinator and Turner Gill is his position coach, then why is it that when Lord comes to the sideline, he meets with Solich? Is Solich micro-managing the offense? How much freedom is he giving Cotton? Is this Cotton's team, or is it Solich's offensive team? You have to wonder.
NEW LEVELS
What is going on down there? Have we sunk to the level that Lord is the best quarterback our program can attract? Is he the best we can get? We've had the likes of Crouch, Newcombe, Frost, Frazier, Gdowski, Berringer. What in the hell has happened to this line of Husker greats? Jammal would have trouble making the scout teams when those guys were playing. I just don't get it.
Why is it you can watch almost any college football game from top to bottom and find better quarterbacks than the one we have? Which team in the Big 12, or maybe even the country, would trade its starting quarterback for Jammal Lord? Name one. Name some. Name any.
More importantly, why does Solich stick with Lord? I just don't get it.
BARNEY-FRANK
How far have we fallen in the recruiting battles since Solich has been the head coach? Our offense played Texas, a team weak against the run, and all we could muster was an embarrassing 53 yards on the ground. I don't get it Do we really think the Barney-Frank offense can consistently compete in the upper levels of the Big 12?
These are questions that maybe some of us don't want to know the answers to. Thank goodness we have Kansas this week. And that K-State is at home and Colorado is having a bad year. If not for that, we could be looking at 3 more regular season losses. How pathetic would that be? At 7-5 or 7-6, you wonder how long Pederson would stay with Solich. Pederson is no fool. He's a football guy, all the way. He's made tough decisions before and will make them again.
EASY DOES IT
It has to be easy for opposing defensive coordinators to draw up defensive schemes when they play the Huskers. Put 8-10 guys close to the line of scrimmage and make Lord beat you with his arm. Even when receivers are begging for the ball because they are so frickin' wide open, Lord will usually miss them by a mile. Yes, he's hit Herian for some good yardage, but defenses are willing to surrender a long ball or two occasionally because they know we are a one (or as in the Texas game) a none-dimensional team. Make Lord beat you with his arm! Imagine that! Lord couldn't pass gas if he spent all day at a chili-eating contest.
No one is questioning Lord's heart, athleticism, courage or determination, but he just doesn't have what it takes to compete as a Big 12 quarterback.
THE PLAY'S THE THING
Nebraska needs to take a long, hard look at recruiting. If Lord's the best quarterback this program can attract, we are in serious trouble. Our offensive line didn't give Lord much time to operate, and what about the play calling? First and 10, pitch to the I-back. Second and 8, option to the short side. Third down and 12, throw deep to Herian. Fourth and 18, punt. Thank God for Larson.
Where are the short passes? Why couldn't Solich try something different? All we seem to have is a screen pass and a Hail Mary. Isn't there something in between? I thought our offense would have new wrinkles this year. We're worse than we were last year.
INSANITY BY DEFINITION
Remember the definition of insanity is doing the same thing over and over and expecting different results. What do you have to lose by bringing in Dailey? We may have still lost the game, but wouldn't it be good to try to developed Little Joe for next year? If he doesn't get much playing time this year, we'll be right where we were last year with an inexperienced quarterback who is going to have to face teams like Pittsburgh and Oklahoma and K-State all on the road. I just don't get it, Husker fans, and neither should you.
2003 NUKE 'EM AWARD NOMINATIONS
Here are some of those you want included on the 2002 Nuke 'Em Award watch list. If you will recall, the award is presented each year to the person, player, newspaper, magazine, coach, broadcaster, sportswriter or other entity that has brought the most grief, embarrassment and/or anger to HUSKER PRIDE WORLDWIDE. The nominees may be from any era. The list is not in any particular order. Remember, these nominees are the ones you readers have submitted.
1.) Terry Bowden (ABC sports commentator and former Auburn head coach)
2.) Bill Byrne (former Husker AD)
3.) Steve Pederson (current Husker AD)
4.) Eric Crouch (former Husker player and Heisman winner)
5.) Warren Swain (former Husker football play-by-play announcer)
6.) The Southern Mississippi University student section
7.) Colorado Buffalo fans
8.) Scott Shanle (former Husker and current St. Louis Rams player)
9.) DeAngelo Evans
10.) Jammal Lord
Former award winners:
2001 Bobbie Newcombe
2002 Lawrence Phillips
GIVE US A BREAK
It's happened all too often. The radio broadcast station, in order to fulfill its monetary contractual obligations for the exclusive broadcasting rights to Nebraska football, are cramming more and more commercials into each broadcast. Sometimes plays are missed and there are times in which plays are not even over and the announcers are cramming yet another stupid pitch down our throats. Thankfully, this practice wasn't in place in 1971 at the "Game of the Century". If it had been, here's how "JR Superstar's" punt return may have sounded:
"Rodgers takes the ball at the 27 and cuts up to the 35. Speaking of 35, did you know Round-Up Herbicide can increase your corn production by 35% over the competition? He's out to the 50, to the 45, he gets another block, cuts up field. Speaking of field, you'll have field day at Sid Dillon Auto in Lincoln. Check out their new fall close out sale going on this week. Rodgers to the 25, he's to the 15, the 10. Speaking of 10, did you know you could save 10% on your auto insurance when you sign up with State Farm? He SCORES!!!!!"
(Sigh....)
BOWL MATCH-UPS WE'D LIKE TO SEE:
Brown-Rice in the "Carry Out Bowl".
Maryland-La. Monroe in the "Hollywood Bowl".
Baylor University and Texas Tech (BU-TT) in "The Gluteus Maximus Bowl".
Southern Mississippi State University and North Texas State University (SMSU-NTSU) in the "Acronym Bowl".
Colgate-Ipana in the "Incisor.com Bowl".
Southern Methodist University and Texas Tech (SMU-TT) in the "Toilet Bowl".
USC-CSU in the "Dyslexia Bowl".
Nebraska verses North Dakota State in the "Cotton-Bohl" game.
NEBRASKA HIGH SCHOOL GAMES WE'D LIKE TO SEE:
The Herman-Gering game.
LETTERS
Rex E. Cross in Key West, FL writes:
I have seen the term "Throwing the Bones" several times on Huskerpedia. What does this mean? Does it come from the skull and crossbones that the Blackshirts use for their logo?
Readers? What say you?
Colorado Roy writes:
My mother who lives in Sidney, Nebraska gave me her acrylic sweater she got decades ago on a trip to Lincoln. She doesn't remember the year, so I thought you might know when this mascot version was introduced.
Readers?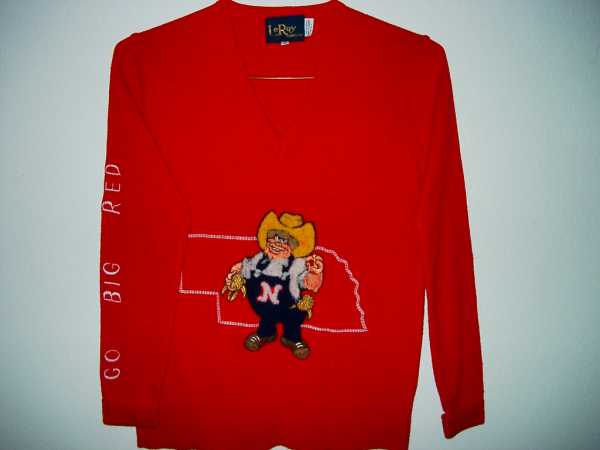 ---
You can write
Husker Dan
at
huskerdan@cox.net
. You can read all the past Husker Dan columns by going to huskerpedia.com; scroll down toward the bottom to "Extras"; look to the right to
"Husker Dan".