H U S K E R D A N
HUSKER DAN FINALLY GETS AROUND TO ANSWERING SOME OF HIS EMAIL:

LOVE FROM THE LOONS
Dear Husker Dan:
My little sister Lena, said to me the other day, she said, "You know something, we really should write Husker Dan and say 'Thanks a bunch' for the column that he does for Huskerpedia." So then I said, "You're darn tootin'!" So anyways, here goes! Keep up the good work, okie-dokie? Me and my sisters all got degrees from Nebraska in animal husbandry. (Little did we know that we'd end up with husbands that are animals, but that's another story-ha-ha-ha!) Although we live in a state with 10,000 lakes, they always leave out the part about this is also the land of 10 billion mosquitoes that are about the size of caribou. Anyways, thanks a bunch! Keep up the good work! And, aww geez, GO HUSKERS!!!
The Ginster Sisters
Ima, Lena and Rubba
Big Trout Lake, Minnesota
Dear Sisters:
You betchya! Have you ever seen the movie "Fargo"? Just curious. Anyway, thanks for the nice words of encouragement. You made my day! Keep reading Huskerpedia.com!
HD

BONUS ONUS
Dear Husker Dan:
What do you make of this crap about the coaches getting big, fat raises after such a el-stinko year like last year? This comes right when Steve Pederson lays off 22 people. What's more incredible is that coaches like Craig Bohl, Nelson Barnes and George Darlington who aren't even with the team anymore, still get bonuses. I don't get it. It's a joke! So what's your take?
Heywood Banxbehopinn
Broken Axle, OK
Dear Heywood:
I agree that the timing of the news about the bonuses was not good. As far as paying bonuses to the football coaches after last year's 7-7 season, a contract is a contract. Coaches are paid for a variety of reasons, not just on the won-loss record. Also, even though a coach may no longer be with the program, his contract may provide for bonuses based on the last season in which he did coach.
As far as the layoffs go, Steve Pederson is essentially the CEO of a $50 million corporation. If he's convinced he can effectively run his company with fewer people, he has an obligation to do so. Thanks for writing.

SOONER OR LATER
Dear Husker Dan:
Hey, I have a question for you. Who was the running back that played for the Sooners back in the early 80's and kinda faded and then went on to play in the USFL? He was a heck of a player. Big and fast!
Adair Yewtue
Beansprout, Oregon
Adair:
Hey, even though this isn't a column about Sooner football, I will try to answer your question. I think the player you might be thinking of is Marcus DuPree. He was big and fast, but didn't last. (Hey,that rhymes!)
HD

SONG SUNG LOW
Husker Dan:
I really didn't like you attacking Marques Simmons and Garth Glissman with your stupid songs. You get laughs at their expense. These are just kids that are trying their best. I'll bet you never even put on a jockstrap, right? You should be ashamed of yourself. It just goes to prove that any idiot that puts "Husker" in front of his name thinks he can be a writer. Your not that good. Don't quit your day job. That's all I got to say.
Robb Banks
Schicklegruber, Ohio
Dear Robb:
Robb: Don't worry, I won't be quitting my day job any time soon! I created this column six years ago because I have a passion for the Big Red and I really love writing.
I have several criteria for writing. What I compose must be (to me):
1. Amusing or entertaining
2. Creative
3. Interesting
4. Moving
5. Funny
If what I've written meets any one of those criteria, I will offer it for publication. The bottom line is, I have to like the piece or I won't release it.
As far as the songs to Marques and Garth go, I think both pieces meet the first two requirements. The summer months (May-July)are a tough time to write about Husker football. Spring ball was over and the team hadn't started fall camp, so what was a guy to write about?
In my Marques piece, "The Flintstones" theme was a difficult format with which to work. The meter and rhythm of the original song made it a challenge. So at least cut me some slack for degree of difficulty!
As far as my getting laughs at someone else's expense, you really need to re-read those songs. There is no disrespect made or intended to either of those players. I have nothing but admiration for any kid who comes to Nebraska, puts on a chin strap and plays his guts out for the Huskers.
By the way, since the Huskerpeida web site and the Husker Dan column didn't cost you anything, think of the bargain you're getting!! Thanks for writing and GO HUSKERS!!!
HD

DUKES JUKES TO DUKE
Husker Dan:
Man, what do you make of this Curt Dukes thing? I mean, first he shows up a semester early and everybody thinks he's the second coming of Scott Frost already, then he ups and leaves the program. I don't get it. Crime-anetly, is there something going on in Lincoln that we don't know about? What's your take on this, anyways?
Lottie Dahh
East Jesus, Texas
Dear : Lottie
You've asked a great question. Curt Dukes bled Husker Red. He left high school a semester early so he could get the benefit of an extra spring practice in Lincoln. He appeared to have all the requisites to succeed at Nebraska-attitude, skill, determination and intelligence. All he needed was experience. So what did he do with all that potential? He transferred to that football "powerhouse," Duke University!!!
Why would he leave Nebraska for Duke, a perennial top ten power in basketball, but a 90 lb weakling in football? It's like Bobby Hurley leaving Duke to play basketball for Danny Nee. (Yes, I remember Bill Jackman!)
The answers may lie in one or more of the following.
1.) He was homesick.
2.) He wanted to be with his girlfriend who is enrolled at Duke. (Probably a significant factor)
3.) He wanted to go to a better academic school. (?)
4.) He didn't get a fair shake at Nebraska. (?)
5.) He was frustrated with injuries. (Good point)
6.) He became discouraged and frustrated that he couldn't beat Jammal Lord (one of the weaker quarterbacks in the conference) for the starting job, or Mike Stuntz for the backup job. (?)
7.) He thought incoming freshman, Joe Dailey, would be Lord's backup this year and successor in '04. (?)
8.) He didn't believe he could compete at the Big 12 level of play.
The bottom line is, his decision to transfer is probably best for Curt Dukes, Nebraska and Duke University. As to what led him to change his mind, take your pick. Hopefully, Curt Dukes will be happier wearing Blue Devil Blue. There is more to life than just college football, you know. (I can't believe I just said that!)
HD

MORE 100 REASONS
Dan, Dan, Dan:
I know you're a busy guy and excited about the upcoming season, but I said I got my NICKNAME from a friend who called me "Biff" Jones, after the coach. I did not say I AM Major Lawrence McCeney "Biff" Jones. I mean, the guy died in 1976 at the age of 84.
Steve "Biff" Jones
Georgians for Nebraska
Go Big Red!
Steve, Steve, Steve:
I'm sorry for the mix-up!!!! I really must blame my copy editor...Yeah, yeah. It's all his fault!!!! I must have been burning the midnight oil when I compiled the response list. Thanks for bringing the error to my attention.
HD
Husker Dan:
In your "100 Reasons" list, you listed a photographer named Michael Forsberg and you said he was "Nebraska's own". Where can I see his works? Does he have a web page? Let me know. Thanks.
Sue Pranos
Tunawunda, Florida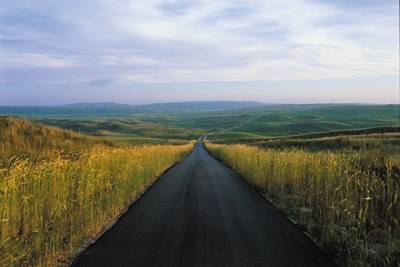 Dear Sue: Thanks for your letter. Michael used to work for Nebraskaland Magazine, but now is a free lance photographer. Many of his works still appear in Nebraskaland, including a featured article in this month's issue. Michael also has a gallery in the Haymarket in Lincoln. You can visit his web page at http://www.michaelforsberg.com. Above is one of my favorite Forsberg photographs. Thanks for writing.
HD

CROUCH OUCH
Dear Husker Dan:
I hate to write this letter, but I feel I just have to. It's about Eric Crouch. He's getting bashed for leaving the Green Bay Packers, the second NFL team he's quit in less than a year. I know Eric's not a quitter, but I'll admit I gotta wonder, why would he turn down a possible career in the NFL? He could have stayed on and maybe gotten a chance down the road. What say you?
Betty Kant
Frozen Faucet, North Dakota
Dear Betty:
You've probably read what everyone else has read. I don't think we need to put any more into it than what already has been said.
You are correct, Eric is no quitter. He played with so many injuries and so much pain during his years at Nebraska, no one should ever question his guts or determination. Eric's choices were to remain with the Packers' "taxi squad" where he wouldn't get any playing time at quarterback (he would not make very much money in that role); or he could play in the NFL Europe (he would have to uproot his family at an time in which his daughter would just be starting school). Eric didn't want to leave his family. (Eric's own painful experience as a young boy may have influenced his decision.)
Many of us tend to live vicariously through our favorite Husker players. We don't like it when "one of our own" doesn't live up to our expectations. And Nebraska fans are frustrated that the Huskers haven't produced a starting NFL quarterback in about 30 years (Vince Farragamo). And there's the "Heisman Jinx."
We just KNEW Eric would be an exception. He would be different. He would succeed in the NFL. No problem. Well, our dreams aren't Eric's. He has to make decisions that are the best for him and his family. He owns up to no one else. No one.
Rest assured, Husker fans, we may all be seeing a lot more of Eric on the football field. Only this time he'll be carrying a microphone, not a football. Stay tuned!