Husker Dan: Ryan Held, a man of many moves
I've been everywhere, man
I've been everywhere, man
Crossed the deserts bare, man
I've breathed the mountain air, man
Travel, I've had my share, man
I've been everywhere 
"I've Been Everywhere" 
Johnny Cash
Ryan Held, the peripatetic Husker running backs coach, would do well to adopt Johnny Cash's recording as his new theme song.
And you wouldn't get any argument from Held.  "I HAVE been everywhere!" he joked recently.
In case you're wondering, peripatetic means "traveling from place to place, especially working or based in various places for relatively short periods."  It also applies to someone who moves a lot.
Moves?  Coach Held has more moves than Johnny Rodgers, Joe Washington and Barry Sanders combined.  He keeps his movers and realtors on retainers.  His has more addresses than a phone book.  Badda bing!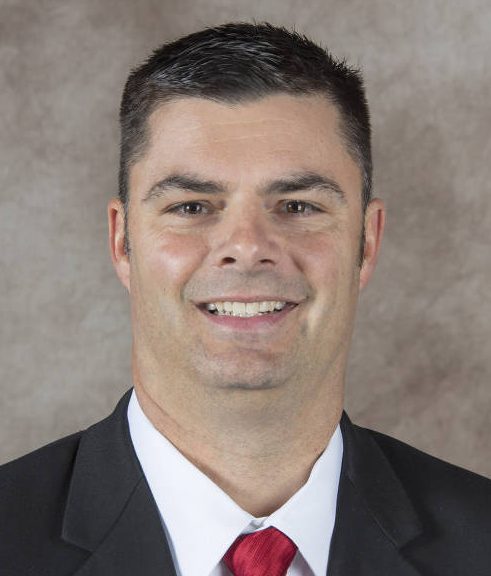 Ryan Held (Courtesy Nebraska Athletics)
Check this out:  He grew up in the Kansas City area, walked on at Nebraska, played QB and WR ('93-'96), was a student assistant after graduating from NU.  And then it was off to Tennessee, Peru (NE) State, Oklahoma Panhandle, SW Oklahoma State, Butler CC, Highland (KS) CC, Northeast Oklahoma A&M, then to Central Florida and finally, back to Nebraska.
I caught up with Coach Held last month when he was the featured speaker at our Fifth Annual Husker Fans Salute The Troops Golf Scramble in Ashland, NE (www.huskersalute.org).  Held came to Nebraska this winter when Scott Frost got the head coaching job at Nebraska.
And fittingly,  just before he attended our Golf Scramble, Coach Held drove up that afternoon from a recruiting trip in Kansas.
So what else would you expect?
The first thing you notice about Ryan Held is his passion for the game of football, the players and the fans.  And his passion doesn't seem to be the rah rah type we've seen in past Husker assistants.  His seems more genuine.  More down to earth.
I asked him what his favorite thing is about coaching.  He said, "I don't want to make this sound wrong, but more than winning — and I do love winning — the thing I get most out of coaching is seeing kids reach their potential.  Helping players be all they can be is what I value most.  Those people who get into coaching for the short term will most always be disappointed," he added.
And how about the thing he likes the least?
"It's well-intentioned people who give advice that is not in the best interest of the players.  Kids can really get confused."
We talked about his role and his new status as a Husker assistant.  "It's true that I am making a lot more money now, but I will tell you this: money will never change me.  I still buy the cheapest brands when I shop."
I asked him how he came by his firm foundation.
"My father, who is 72, is the same way.  He's always been a very frugal person."
I asked him about his recruitment to Nebraska.  "I grew up living and dying Husker football.  Those Husker games with Oklahoma were always a huge thing to me.  And you know who was my host when I came up to Lincoln on my recruiting trip?  Brook Berringer."
I asked him about the running backs he has going into this fall.  Each one I mentioned got the same answer from him.  It didn't matter if it was Tre Bryant, Devine Ozigbo, Greg Bell, Jaylin Bradley, Mikale Wilbon, the answer was always the same.  "He has a chance."  Well spoken for a new coach learning all about his new players.
And the coming season?  "It's a series of small steps, but the coaches are doing all they can to make this team as good as possible."
Thanks, coach.  And one more thing:  Let's hope your stay in Lincoln is a long one.
To contact the writer, go to HuskerDan@cox.net
Husker Dan
---