Husker Dan: Post Spring Game Red Flags
This is the first in a series that will address Five Big Red Flags that if not addressed by the time of the Husker football opener August 28th, could limit the success of the Nebraska Cornhusker football team this season.
QUESTION
1.) QB Adrian Martinez will likely be the starter come fall, but will he have improved enough to reverse NU's trend of four consecutive losing seasons? (Mike Riley's 2017 season was also a losing season.) And who will be Martinez's backup?
BIG RED FLAG #1 (THE QB ROOM)
Going into the 2019 season, the QB corps looked to be fairly solid. The depth chart included two year starter, Adrian Martinez, UCF transfer Noah Vedral (recruited to be AM's backup), two freshmen, Luke McCaffrey and Logan Smothers as well as redshirt freshman walk-on Matt Masker.
But that depth quickly dwindled when QB Noah Vedral decided to enter the transfer portal. He left NU after spending the previous two years at Nebraska. (When Frost was at Central Florida, he recruited Vedral to backup QB McKenzie Milton and when Frost left UCF for Nebraska, he lured Vedral to Lincoln where he was the backup to Adrian Martinez. And in the winter of 2020, Vedral transferred to Rutgers where he earned the starting role last fall.)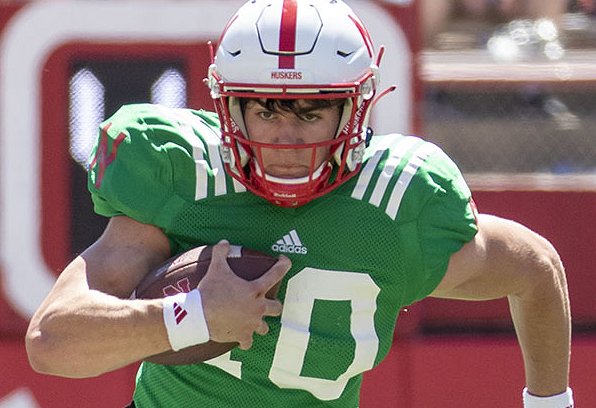 Heinrich Haarberg
| Kenny Larabee photo
And the Husker QB depth chart got even thinner when Luke McCaffrey, once heralded by Husker head football coach, Scott Frost as the "future of the Husker offense," decided to transfer to the University of Louisville. (McCaffrey saw limited snaps in his two years at Nebraska ('19 and '20), going 1-1 in his only two starts last year.)
So who are the Huskers left with? The good news is there is a lot of potential. The bad news is, no one behind 2AM (Adrian Martinez wears jersey #2) has ever taken a snap in D-1 football. Gulp. The battle for the backup spot is going to be fought by Logan Smothers (RFr.) from Muscle Shoals, Alabama, Heinrich Haarberg (true freshman) and walk-on sophomore Matt Masker both from Kearney Catholic High School in Kearney, Nebraska.
Smothers' strength is his running ability (his passing needs work) while Haarberg is a very good runner who also has an NFL arm. HH does have a tremendous amount of potential, but he's as green as County Mayo in April.
And Matt Masker who had a very successful high school career hasn't seen much game action since he's been at Nebraska.
If 2AM stays healthy throughout the entire season, then Big Red Flag #1 becomes a moot issue. But the odds of his getting through a season unscathed are about the same as Warren Buffett qualifying for food stamps.
In fact, Martinez's problems with injuries began in high school when he played at Clovis West in Fresno, California. Because of an injury, he had to miss his entire senior football season.
And what about his three years as the starter at Nebraska? More injuries. In fact, Martinez has yet to make it through a season without being injured. And what about the games he has started? In his three years as a starter at Nebraska, he's won a total of eleven games. (And one of those wins was over FCS opponent, Bethune-Cookman.)
So what happens when Martinez does go down? Let's jump to a hypothetical. Nebraska's fourth game of the season at Norman, Oklahoma, will be the 50th anniversary of "The Game of the Century." What happens if 2AM can't play?
How effective will the Huskers be with any of Nebraska's backup QBs, all of whom have zero experience in a D-1 game? And what if 2AM misses several games? The schedule is not going to get any easier after the game with the Sooners. The Huskers have home games with Ohio State, Michigan and Iowa as well as contests @Minnesota and @Wisconsin.
The concern is, unless he improves his game, how effective can even a healthy Martinez be this fall? Remember, it's not like the Huskers have been scoring juggernauts when he's in the lineup.
But apparently coming out of winter conditioning, Martinez has become leaner, faster and his arm strength and accuracy have really improved. That's good news, of course. But what has plagued Adrian Martinez has been his knack of self-destructing. Going into this fall, we don't know which AM is going to show up.
Let's take a look at 2AM's stats through his first three years at Nebraska:
2018:          11 Games
Passing:           2,617 Total Yards, 7.5 YPA, 12 TDs, 8 INTs, 237 AYPG
Comp. %:         64.6%
Rushing:            629 TY, 8 TDs, 4.49 AYPC, 57.18 YPG
Total Offense:  3,246 YDS (295 YPG)
2019             10 Games
Passing:            1,956 TY, 7.8 YPA, 10 TDs, 9 INTs, 195.6 AYPG
Comp. %:          59.4%
Rushing:            626 TY, 7 TDs, 4.35 AYPC, 62.6 YPG
Total Offense:   2,582 YDS (258.2 YPG)
2020                  7 Games
Passing:               1,055 TY, 7.0 YPA.  4 TDs, 3 INTs, and 150.7 AYPG
Comp. %:             71.5%
Rushing:               521 TY, 7 TDs, 5.73 AYPC, 74.4 AYPG
Total Offense:      1,576 TY (225.1 YPG)
(Key: TY=Total Yards, TDs=Touchdowns, INTs=Interceptions, AYPG=Average Yards Per Game, YPG=Yards Per Game and YPC= Yards Per Carry.)
Martinez's first year at Nebraska (2018) was really impressive and some of that was probably because he had better players surrounding him. He had two really good receivers in JD Spielman and Stanley Morgan, Jr. and a 1,000 yard rusher in Devine Ozigbo. All of them could move the chains.
But perhaps the single greatest threat to Martinez's health this fall is going to be the number of rushing yards he has. The more he has, the greater the chance he'll be injured.
Assuming he plays at least a 12 game schedule, his rushing total needs to be limited to around 300 for the year. If he's up in the 500-600 yard range for the year, he's most certainly going to be injured. The equation for Martinez this year should be run fewer times and have fewer injuries.
In 2019, AM didn't have Stanley Morgan, Jr. or Devine Ozigbo and that may have kept his numbers down. And last year he didn't have JD Spielman, one of the best receivers in school history.
The shortened 2020 season saw Martinez's numbers drop in most categories except completion percentage which soared to 71.5%
I'm not sure how many fumbles AM has had in his career, but he's thrown for 26 TDs and tossed 20 interceptions. That kind of play has helped contribute to three consecutive losing seasons at Nebraska.
To be sure, the 2021 Huskers' fall schedule is as daunting as trying to climb Mt. Everest on a pogo stick. To have a successful season, 2AM needs to vastly improve his game in all facets. And he needs to stay healthy.
Martinez should have an O-line that has good depth, but he's going to need receivers who can spread the field and a corps of running backs who can compete in the B1G.
The QB pecking order coming out of the Spring Game in my view is: Martinez (starter), Logan Smothers (#2), Matt Masker (#3) and Heinrich Haarberg (#4). Injuries notwithstanding, the coaches would like to limit HH's play to no more than 4 games so he can retain his redshirt status.
QB ROOM GRADE: B-
This rating may be a bit generous, considering the lack of depth.
Next time, we'll take a look at the state of the Husker running back corps.
You may contact the writer at HuskerDan@cox.net.
.author-container, .byline, .article-header, .page-title, .tags {text-align:center !important;} #photo-containers, .photo-rotator, .feat-img-row, .wp-post-image, .photo-caption-container, #photo-caption-container-1 { display: none !important; }
---
---
---